Community Collaboration at Kettles Yard
Over the summer, I was lucky enough to have undertaken my placement as Community CoLAB Assistant Curator at Kettle's Yard. CoLAB was a pilot project that took over Kettle's Yard's Clore Learning Studio from July to September 2022. The studio was transformed into a creative research lab and communities in and around Cambridge were invited to take part.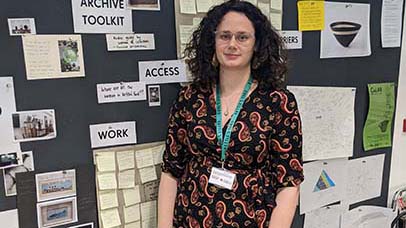 My role involved assisting with all elements of the project including organisation, development, and delivery. It was a pleasure to work closely with Karen and Imogen in the Community and Learning team and with CoLAB's artist-in-residence Kaitlin Ferguson. When transforming the Learning Studio, Kaitlin and I met frequently with a group of community collaborators who shared their perspectives on making the space as welcoming and inclusive as possible.
The first time the collaborators saw everything in place was wonderful – they were so excited that their ideas had made a difference to everything we had put together. CoLAB's final display also allowed others who had been involved to see their impact on the project. People who had taken part in a workshop, drawn something during an open day, or just dropped in for a chat could come and see their ideas, reflections, and artworks exhibited. It felt really special to be able to put their work in the context of Kettle's Yard, and to share that with them and everyone else who came to look. Researching and writing an evaluation of CoLAB has helped me to reflect on how much I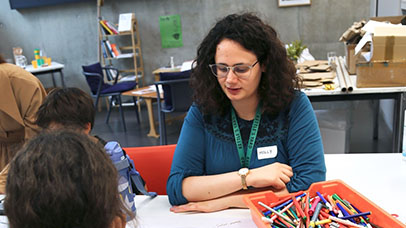 have learned from the placement. I can now see that the compromises necessary for collaboration often result in something more exciting than anyone could have envisioned by themselves. I have also gained countless completely new skills, from managing budgets to using a raised-line printer and washing clay out of 3D printer nozzles.
I am so grateful to the staff at Kettle's Yard for being so welcoming and supportive. I have learned so much and thoroughly enjoyed working with everyone here. I have just started a new Learning and Engagement job in Sussex, but I can't wait to see CoLAB's final artistic output, which Kaitlin is designing this autumn, and to come back to Kettle's Yard as a visitor whenever I can.
Molly Stock-Duerdoth
MA Museum Studies
Currently Learning and Engagement Coordinator, Glyndebourne Opera House
(Left Image: Molly at CoLab, standing in front of the final display , Right Image: In the learning studio at Kettle's Yard (Credit: Kettle's Yard))