Steve Baker BA
Project Officer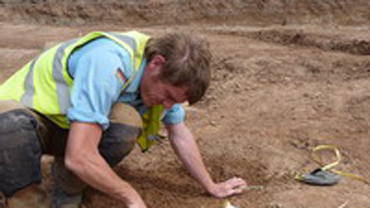 sb3990@le.ac.uk
Steve is a Project Officer at ULAS, with over 15 years experience of excavating and supervising on rural and urban sites in the region and further afield.
Graduating with an Archaeology BA from the University of Leicester in 1996, he joined ULAS in 2003. He has supervised extensively in the Highcross developments in the City of Leicester. He has supervised and directed large multi-period sites at Brixworth, in Northamptonshire, Oakham in Rutland and at Oxford Street in Leicester City Centre and produced extensive reports following these. He was also involved in the King Richard III excavations.
He is particularly skilled and experienced at excavating cemeteries, having supervised sites in both Italy and the Fazzan Sahara, Libya (the latter published by the Society for Libyan Studies). He has been involved with an Operation Nightingale project on RAF Akrotiri on Cyprus for wounded service personal, he has also volunteered as an assistant at the Young Archaeologists Club.