Year 10 and 11 summer schools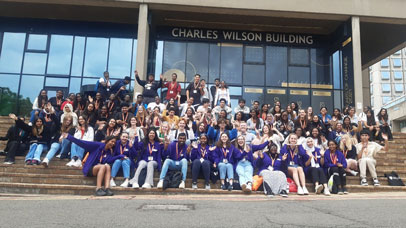 Our summer schools are back! Taking place on Wednesday 26 July – Friday 28 July 2023, our three-day residential summer school programme is available for students in years 10 and 11, and is completely free to attend.
Students must be from the East Midlands to apply. Please see our 'Who are Summer Schools for?' section below for more details on the eligibility criteria.
We also offer Summer Schools for Year 12 students.
It was a lot of fun and I really enjoyed it. I am extremely grateful to my mentors who helped us. They made me feel so welcome and included.
What is a summer school?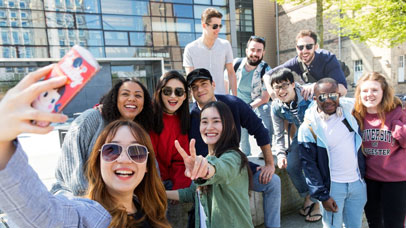 Summer schools are a fantastic opportunity for young people to visit the University of Leicester campus and halls of residence, and experience what it is like to study at university. It will be a packed schedule filled with various activities to showcase the University, including:
Spending two nights in the University of Leicester halls of residence
Taking part in taster lectures and seminars
Getting involved in social and leisure activities
Importantly, our summer schools are free for students to attend. This includes the cost of travel to/from the University of Leicester, your accommodation, food, and social activities.
What subjects will we cover?
This year we have two strands to our summer school.
Business
You will attend a variety of engaging academic taster sessions and take part in hands-on activities in the areas of Economics, Business and Management and Accounting and Finance. You will also use our state-of-the-art Bloomberg terminals in the Trading Room to analyse real time market data. There will also be an opportunity to meet our current students and find out about what it is like being a student at the University while exploring both our business and main campus. In-between academic sessions you will be working in a group to design a business start-up using what you have learnt from the taster sessions.
Medicine and Healthcare
It's not just a doctor's job to help patients, it takes a multi-disciplinary team to deal with a patient and you can experience a range of the jobs on this programme. Learn about what happens in the day in a life of a healthcare professional as well as developing skills you might need on your chosen course or career. If you're thinking of a future in the NHS, then this programme can give you that insight into pathways into becoming a healthcare professional.
You will be able to select one of these two strands to take part in. Which one you pick will determine which taster lectures and seminars you attend. The social and leisure activities will involve students across both strands.
Who are summer schools for?
We host our summer school to give young people in years 10 and 11, from state schools only, the opportunity to fully engage in life as a university student. We have limited spaces in our summer school so will be prioritising spaces for students who meet one or more of the following indicators and live within one hour travel distance from the University:
Students who are eligible for free school meals and/or discretionary payments from the school or college
Students who live in a postcode where there are low rates of progression to HE
Students with experience in the care system
Students who are young carers
Students whose parent/carer did not go to university
Students who are estranged from their parents
Students from a priority engagement group, including asylum seekers or refugees, gypsy, Roma, and traveller communities, or children of military families
Students who have a disability or a long-term mental health condition and are in receipt of the PIP
The summer school is only open to students. We are not inviting teachers, parents, or carers to accompany students. This allows students to gain independence and become fully immersed in university life. However, the University of Leicester staff will be present 24/7 in case of any concerns and we encourage students to remain in contact with parents/carers.
How can students apply?
Applications are now closed for 2023. If you have applied, we will be in touch shortly with further information about your application.
I have really enjoyed this experience as it was useful and fun but more importantly really really informative. I am truly grateful for such an amazing experience.