Year 12 Summer Schools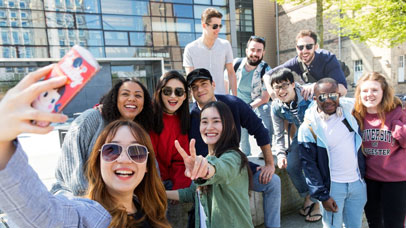 Our summer schools are back! Taking place on Monday 31 July – Thursday 3 August 2023, our four-day residential summer school programme is available for students in year 12, and is completely free to attend.
I have really enjoyed this experience as it was useful and fun but more importantly really really informative. I am truly grateful for such an amazing experience.
Why attend our summer schools?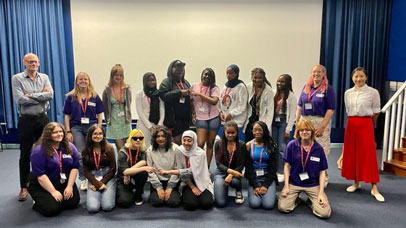 Experience university life first-hand, taking part in lectures, seminars and taster sessions designed by world-leading academic staff
Work on one of six group projects, across the following subjects:

Biological Sciences
Business and Enterprise
English, Film, History and Politics
Healthcare
Law and Criminology
Medicine

Spend three nights in real student accommodation
Develop essential skills required to be a successful university student
Collaborate and work with other students from across the country
Prepare to make the transition from school/college to higher education
Work alongside our team of summer school mentors, who are all undergraduate students from the University of Leicester
Get involved in our daily social media challenges, with prizes to be won
Who are summer schools for?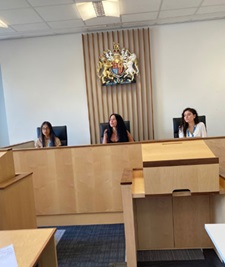 In order to eligible to apply for a summer school place, all students must:
be a Year 12 or equivalent (lower sixth) student at the point of application.
currently attend a non-selective state school/college/sixth-form (i.e. you do not pay for your education).
be living permanently in England and be under the age of 18 at the time of the last day of the summer school (3 August 2023).
We host our summer schools to give year 12 students the opportunity to fully engage in life as a university student. We have limited spaces in our summer schools so will be prioritising spaces for students who meet one or more of the following indicators:
Students who are eligible for free school meals and/or discretionary payments from the school or college.
Students who live in a postcode where there are low rates of progression to HE.
Students with experience in the care system.
Students who are young carers.
Students whose parent/carer did not go to university.
Students who are estranged from their parents.
Students from a priority engagement group, including asylum seekers or refugees, gypsy, Roma, and traveller communities, or children of military families.
Students who have a disability or a long-term mental health condition and are in receipt of the PIP.
Students that attended a non-selective state school for your secondary education (11-16), where that school performed below the national average.
The summer school is only open to students. We are not inviting teachers, parents, or carers to accompany students. This means that students will gain independence and become fully immersed in university life. University of Leicester staff will be present 24/7 in case of any problems.
How much does it cost?
Nothing! Our summer schools are entirely free to participate in, including your accommodation, travel, and food!
How to apply
Applications are now closed for 2023. If you have applied, we will be in touch shortly with further information about your application.
It was a lot of fun and I really enjoyed it. I am extremely grateful to my mentors who helped us. They made me feel so welcome and included.
Group projects
This is the core element of your summer school experience. In your summer school mentor groups, you will work on one of six group projects; designed exclusively for you by our expert academic staff at the University of Leicester. Take a look below for an overview of each project to help you decide which summer school strand is the one for you.
Biological Sciences
Join us on our Biological Sciences Summer School, where you will experience life as a university student. You will take part in genetics labs, where you will extract your own DNA, explore our extensive plant collection (herbarium), which houses over 140,000 dried specimens, and use microscopes to observe pollination in plants. There will also be an opportunity for you to learn more about career opportunities within biosciences, and gain transferable skills by taking part in an exciting group project.
Business and Enterprise
You will attend a variety of engaging academic taster sessions and take part in hands-on activities in the areas of Economics, Business and Management and Accounting and Finance. You will also use our state-of-the-art Bloomberg terminals in the Trading Room to analyse real time market data. There will also be an opportunity to meet our current students and find out about working a year in industry, attend engagement talks and learn more on student finance and student health and wellbeing. In our Innovation sessions, you will work in your mentor groups to design a quality business proposal poster. On the final day, we host our Business Proposal Poster Coffee Morning, which will be a fantastic informal opportunity for you to get feedback from our academics and professional staff on your business proposals, and discover other groups' innovative ideas.
English, Film, History and Politics
You will take part in sessions learning more about the representation of outer space in science fiction writing and film. There will also be an opportunity to have a taster of one of our Politics modules; Space Politics. You will then visit our very own Special Collections in the David Wilson Library, taking a look at some manuscripts of Medieval Arabic Astrology and can even see an early copy of the Quran.
Healthcare
Join us as we explore a variety of roles on offer within Healthcare. Come and learn more about how technology mixes with patient care in our Diagnostic Radiography degree and learn how Midwifery is so much more than delivering babies! This is a great opportunity to learn more about the different career options available to you within Healthcare.
Law and Criminology
Your journey begins by delving into a crime scene and gathering evidence, before moving onto interviewing the accused in police custody. You then assume the role of legal counsel, advising on how to proceed in the upcoming trial. The story continues to follow the accused through the criminal justice system, exploring some the big issues along the way. How it unfolds from there, you'll have to join us to find out…
Medicine
You will track the journey of a fictitious stroke patient, all the way from diagnosis, through treatment and onto rehabilitation. Assuming the role of doctors, you will experience how a multi-disciplinary team of healthcare professionals combine, overcoming unforeseen challenges along the way, to provide a first-rate health service for our patient.