Sport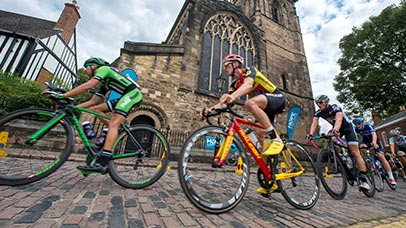 We're passionate about sport in Leicester. In 2016, ESPN ranked Leicester number one in their list of the UK's Greatest Sporting Cities.
All sports fans will be aware of the remarkable story of Leicester City FC and their phenomenal Premier League title victory in 2016 overcoming odds of 5,000/1 and making headlines all over the world.
The formidable Leicester Tigers have an illustrious history dating back to 1880 and are the best-supported and most successful club in English rugby. Come along to Welford Road and hear the Tigers roar!
Leicester is also home to the oldest basketball club in Britain - Leicester Riders. In January 2016 the Riders moved to a new home in the 3,000-capacity Leicester Arena and were crowned League Champions.
There's also top flight cricket, hockey, speedway and racing – and you can even watch elite cyclists in the Leicester Castle Classic each August.
While at Leicester you can take the opportunity to watch top-flight sport or just take time out to enjoy the city's parks and open spaces.
Like our city, we take sport seriously. Sport is a significant part of university life, and if you feel inspired to get involved, you can take advantage of our excellent sports facilities available on campus and in the Oadby Student Village.