Nixon Court Block L temporary accommodation
Nixon Court Block L temporary accommodation
Due to an unforeseen issue, the completion and handover of Nixon Court Block L has been delayed and will prevent students moving into the block in September. We understand this is not an ideal situation, but have put in place suitable alternative arrangements and extra support for those residents affected. We want to ensure that all our students can still get the best possible start to their university experience!
If we haven't answered your query below, get in touch with our team 24/7.
Why can't I move into my room in Nixon Court Block L?
Due to an unforeseen last minute maintenance issue, the completion and handover of the Nixon Court Block L has been delayed.
When will I be able to move into my room in Block L?
We will be in touch with you regularly to provide progress updates and let you know when you are able to move into your new room.
Once your room is ready to be occupied (at the start of Semester 2, 8 January) we will share information about moving out of your temporary accommodation and make arrangements to help you move into your brand-new term time room (including providing packing materials and necessary transport).
Where can I live instead?
We currently have a number of nominated options available for temporary accommodation which are all single bedroom with washbasin room types. These are in The Village in Glebe Court and Meadow Court, as well as at The City in Nixon Court A-E.
Wherever possible, you will be allocated with the people you will continue to live once you move into your new term time room. This means you won't be separated from your new friends when you move!
How can I apply for temporary accommodation?
You will be required to fill out a temporary room accommodation application form by visiting rooms.le.ac.uk. When selecting your application pathway, please ensure that you select 'Nixon L Temporary Rooms' then select the following options: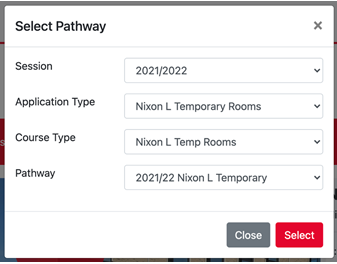 How many people will I be sharing with?
This depends on the room type you were offered in L Block and the temporary accommodation you choose to move to. We will also minimise the number of people in each block to give you the best possible ratio of students per bathroom and kitchen.
Can I not have an ensuite?
Unfortunately we do not have the availability to offer ensuite rooms but we will do our best to allocate students into smaller groups meaning the student to bathroom ratio is better. The temporary rooms generally have a bathroom ratio of 1 to 2 students.
Now I have to share a bathroom, can I change my gender preference for accommodation?
Yes, make sure to include this on your new application where there is the option to select 'single gender only' for students who will temporarily be using shared bathrooms. All shared bathrooms will be cleaned by our Housekeeping Team twice a week.
I was expecting to live in a single studio flat, what are my options?
Please ensure that your contact details are kept up-to-date on the accommodation portal, as our team will get in touch with you directly to discuss all available accommodation options.
What support is available to me?
We have a jam-packed social and events programme with events taking place daily across both of our accommodation sites. Each temporary accommodation area will be assigned a Residential Adviser who will provide dedicated support, weekly check-ins and help to resolve any queries. Students will also receive additional support from the wider Residence Life team.
Our reception is open 24/7 and you can talk to any of the team once you arrive who will help you to get settled in and familiar with your new surroundings.
How much will I have to pay?
We understand the temporary accommodation is of a different standard to your term time room, therefore your rent payments will be reduced whilst you are staying with us in your temporary room. The Nixon Court Block L rent rate will therefore only start when you move into your term time room.
The City accommodation is closer to main campus than The Village, will I need to buy a bus pass?
Students moving into temporary accommodation at The Village will receive a free annual university shuttle bus pass to help make the process of travelling to and from campus easier. This service runs from 7.00am-10.30pm, Monday-Friday/Saturday.
Download the University Shuttle timetable (PDF, 132KB)
What if I have already purchased bedding for my new room?
If you have already purchased bedding for your 3/4 bed and are placed in temporary accommodation with a single bed, we will provide you with bedding for a single bed. Please let us before you move in by email if you require this.
Can I see my temporary room before I move in?
If you would like to view your temporary room before you move in, please get in touch with the team and we will be able to arrange this for you accommodation@le.ac.uk or 0116 252 2428.
Can I stay in my new room and not move into L Block in Semester Two?
If you decide that you wish to remain in your term 1 room, we will be able to accommodate this and will discuss any necessary arrangements with you once we have received notification that your new room is ready.
Will I receive any form of compensation?
All affected students will receive compensation. The details of compensation will be communicated with each individual directly.
Can I cancel term 1 and just move into L Block in semester 2?
Yes you can, however you will need to confirm with your course whether you are required to be in Leicester during term 1.
Please notify us once you receive this information and we will be able to reserve you a room in Block L for the remainder of the academic year. You may be required to fill out a new application form, but we will provide further information about this closer to the time.
Accommodation contract cancellation fees
We recognise that our temporary rooms may not meet with all students' expectations and, due to the unexpected timing of this issue, we will be waiving the 28-day accommodation cancellation fee and will be able to release you from your contract until your expected arrival date.