Green city
Green city
Despite being an industrial city – or perhaps because of this – Leicester has a long history of taking environmental issues seriously.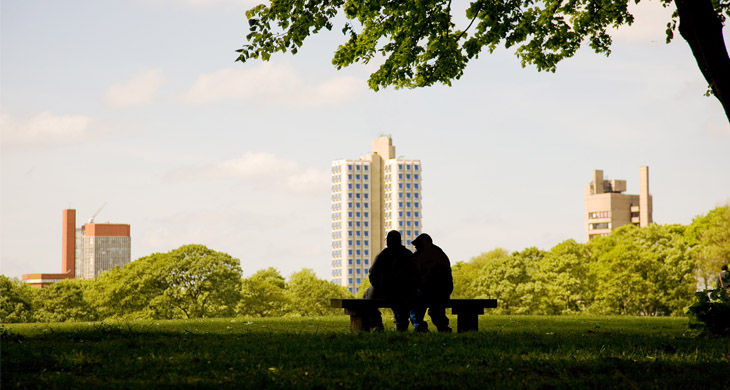 Green spaces
Victoria Park, the University's 'back garden', is just one of many large spaces in Leicester providing room for both people and nature. From the formal gardens of Abbey Park (with boating lake, pets corner and miniature railway) to the wilds of Aylestone Meadows, a large nature reserve driving a green wedge into the heart of the city; from Brocks Hill Country Park, close to the Oadby Student Village, to the artificial lakes of Watermead Country Park across town, Leicester is full of open spaces. Not forgetting the University's own beautiful Botanic Garden of course. And the rolling hills of the Leicestershire countryside are just a short bus ride away…
Cycling infrastructure
In recent years, Leicester has invested considerably in sustainable transport and making the city better for pedestrians and cyclists. New bicycle lanes have been installed on some major roads and much of the city centre has been pedestrianised. In 2014 new cycling facilities opened in the city centre, including more than 200 secure bicycle spaces plus changing and washing facilities and an on-site cycle shop at Leicester Railway Station. Cycling numbers in Leicester are expected to double by 2018. If you want to roam further afield, Leicester lies on the intersection of National Cycle Routes 6, 48 and 63 giving you plenty of opportunity to head out into the Leicestershire countryside.
Leicester District Energy Scheme
More than 7km of pipes have already been laid across Leicester in the first phase of one of the UK's largest district energy schemes. The University, the Town Hall, the Prison, the Central Library and many other buildings, public and private – share energy from 5MW of low carbon gas-fired combined heat and power (CHP) engines and biomass boilers. This includes a 3.2MW CHP engine at the University. Opened in 2012, this ambitious scheme saves the city 12,000 tonnes of CO2 each year.
LED lighting
Between May 2013 and July 2015, the city's 32,500 sodium street lights were replaced with energy efficient LEDs, reducing energy use by 50%. Because these lights last five times longer, they will need replacing less often, reducing the Council's carbon footprint. LEDs are also being installed in 129 traffic signals across Leicester, at the National Space Centre, in the Highcross Shopping Centre and at many other locations. The 10,000 coloured lamps that form Leicester's Diwali and Christmas lights are also being switched to LEDs, creating still further savings.