Festivals
Festivals
Leicester is a city of festivals and you can't spend three years here without attending at least some of them.
Just a couple of weeks after term starts, it's Diwali, the festival of light which is celebrated around the world by Hindus, Jains and Sikhs – and in Leicester by pretty much everybody! Leicester's Diwali celebrations are the biggest outside India with up to 35,000 people attending the switch-on of the Diwali lights. Expect lots of fireworks on Diwali Day itself, and then a whole load more on Bonfire Night – around 15,000 people attend the Council's main event at Abbey Park.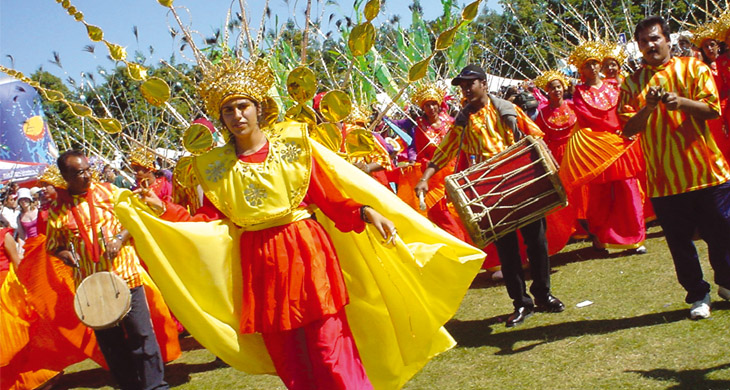 Back in Leicester after Christmas, you need to set aside a lot of evenings in February for the Leicester Comedy Festival. Launched in 1994, this is the longest-running comedy festival in the UK. Big names from across Britain (and a few from further afield) perform at venues across the city, including the University's own arts centre. There are also workshops, exhibitions, films and of course a chance to discover rising talent (in 1997 the Leicester Mercury Comedian of the Year was an unknown named Johnny Vegas).
April brings the annual St. George's Day Festival to Leicester city centre, a full day of music, dancing, performance, knights, damsels and dragons to celebrate England's Patron Saint. Then June is the Riverside Festival, with something for everyone alongside (or on) the River Soar.
If you're still here over the summer, be sure to catch one of the UK's biggest Caribbean Carnivals at the start of August; the explosion of art that is the City Festival in the middle of the month; and Leicester Pride a couple of weeks after that. September is a chance to relax with some magnificent chamber music at the Leicester International Music Festival (held every year since 1989) or curl up with a good book as part of Everybody's Reading.
Then in October, the Diwali lights go back up and it all kicks off again…