Art and culture
Art and culture
The University of Leicester has a vibrant and lively arts scene with lots of opportunities for you to participate: whether you want to build on an interest you already have or try something new, you can participate, learn or just sit back and enjoy.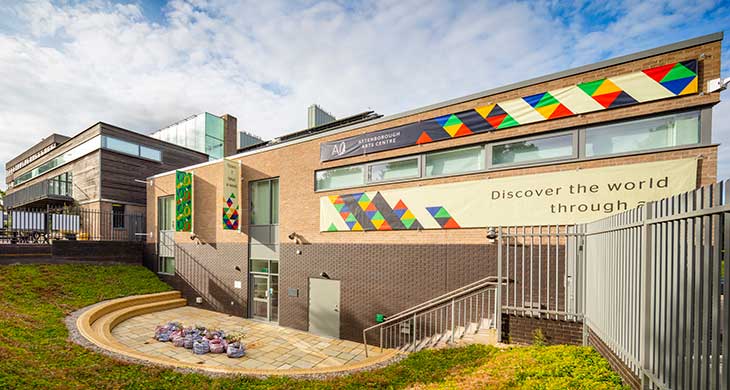 Attenborough Arts Centre
The Attenborough Arts Centre, situated on campus, is a pioneering and award winning place for both performing and visual arts. On any evening you could see some of the hottest new talent, catch shows fresh from Edinburgh Fringe, enjoy an evening of burlesque, jazz or Indian music - or bring out your inner child through family-friendly events and performances. A brand new gallery offers a chance to see some of the most thought-provoking and interesting contemporary art, often creating links to wider University topics in science or research. The AAC café bar and a range of courses and activities offer a chance to unwind after a hard day of studying.
O2 Academy
For more than 50 years the University of Leicester has been a venue for some of the biggest and best bands to tour the UK. The Rolling Stones and Led Zeppelin played here in the 1960s; in the 1970s it was Queen, Lou Reed and Elvis Costello; the 1980s students saw The Smiths and REM play the Students' Union; the Manic Street Preachers and Blur were here in the 1990s; the 2000s saw gigs by the Pet Shop Boys and the Arctic Monkeys. In 2010 we opened the O2 Academy Leicester, one of the best music venues in the Midlands – right at the heart of our campus. For big name bands, up and coming artists or just incredible nights out, the O2 Academy is very much the focal point of student nightlife in Leicester
Student societies
Whether you want to play an instrument, sing, dance, act or… do whatever it is that burlesque actually involves – there is a society for you within our Students' Union. We have a chamber choir, a concert band, a chorus, a big band, an orchestra and officially the best university gospel choir in the country (UGCY winners 2015). We also have societies for streetdance, modern dance, Asian dance and ballroom dancing, plus an acclaimed drama society which has performed Shakespeare at Stratford and premiered a Joe Orton play. Not forgetting Band and Gig Soc for those who want to be the next big thing.
Arts in the Village
Arts at the University are not restricted to the campus. Over in the Oadby Student Village, where most of our freshers live, you will find a whole load more opportunities. Rehearsal rooms, music lessons, film nights, open mic nights and free stand-up comedy gigs are all on offer. The Arts in the Village common room is somewhere to hang out with like-minded people, share creative ideas and information, get involved – or just swap a novel on the book amnesty shelf.