Luke Jerram's Museum of the Moon
Location: Leicester Cathedral
Dates: Friday 9 March – Sunday 18 March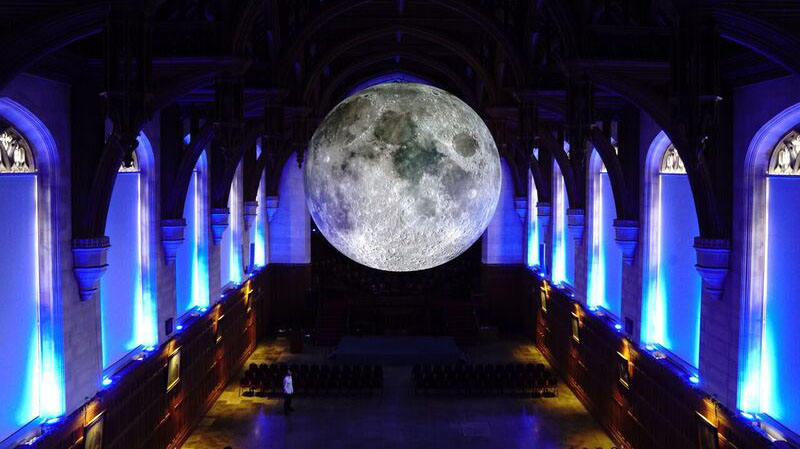 Museum of the Moon is a touring artwork by UK artist Luke Jerram.

Measuring seven metres in diameter, the moon features 120dpi detailed NASA imagery of the lunar surface. At an approximate scale of 1:500,000, each centimetre of the internally lit spherical sculpture represents 5km of the moon's surface.
Since its debut in August 2016, the Museum of the Moon has been presented in a number of different ways both indoors and outdoors, in venues from churches to swimming pools, so altering the experience and interpretation of the artwork. As it travels from place to place, it gathers new musical compositions and an ongoing collection of personal responses, stories and mythologies, as well as highlighting the latest Moon science.
About the artist
Luke Jerram's multidisciplinary practice involves the creation of sculptures, installations and live arts projects. Living in the UK but working internationally for 20 years, Jerram has created a number of extraordinary art projects which have excited and inspired people around the globe.
The Museum of the Moon was inspired by living in Bristol and noticing the huge tidal variation as he cycled over the Avon Cut each day. His moon research also led to his artwork Tide.
The technical bit
*The massive 21m-wide, high resolution image used to create the Moon artwork, was created by the Astrogeology Science Centre in the USA. The imagery was taken by a NASA satellite carrying the Lunar Reconnaissance Orbiter Camera launched in 2010.