Consultancy services and research collaboration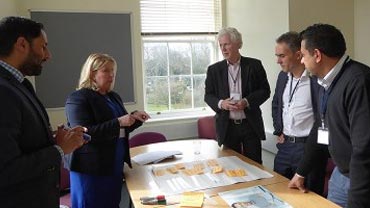 Looking to find a solution to business and management issues? In working with you the School of Business will look to draw from our range of services to ensure that you receive the support you require.
Our expertise is supported by a business-focused team who will match your needs to our academics' expertise and manage contracts, IP and advise on funding opportunities. This ensures that working with University of Leicester School of Business is simple, flexible and low risk.
Examples of the services we provide are outlined below:
Consultancy and student projects
A consultancy arrangement provides you with direct access to specialist academic knowledge and expertise to provide a solution to a problem your organisation is experiencing.
Dependent on the nature of the project, we can offer expert consultancy with an academic or team of academics. We can also offer professional supported consultancy through a supervised student project. Whichever option you select, we offer high quality, commercially-focused consultancy advice that will bring direct economic benefits to your business.
Start-ups and SMEs based in Leicester and Leicestershire may also be able to access a range of services through the University of Leicester Innovation Accelerator.
Contract and collaborative research
We collaborate with businesses and organisations from all sectors and this can take the form of a client funded research project (contract research) or working with a client to bid for external funding (collaborative research).
We will work with you to match your needs to our academics' expertise and manage the contracts and IP, as well as advising on funding opportunities. We have been involved in a number of Knowledge Transfer Partnerships (KTPs), a government scheme that provides grants to work with universities.
For further information and to discuss how we can work with you and your organisation contact: