Exploring attitudes to disability through collections
Collections and commissions
Medical museums and collections are unusual places. Most museums take as their theme a place or a person or a broad, sweeping subject such as 'technology' or 'nature' or 'art'. Medical museums are about what it means to be human. Through their collections of medical equipment, illustrations and preserved or replica body parts, these museums delineate what constitutes a 'normal' human body – and hence implicitly what is 'not normal'. (Sometimes less than implicitly…)
'Exceptional and Extraordinary' was a major collaborative research project initiated by the Research Centre for Museums and Galleries (RCMG), part of our internationally renowned School of Museum Studies. Four contemporary artists were invited to explore behind the scenes of eight of the UK's most renowned medical museums and – in collaboration with experts in medical history, disability and museums – to produce a series of thought-provoking new commissions that examined our attitudes towards difference, stimulating debate around the implications of a society that values some lives more than others.
This project followed on from 'Cabinet of Curiosities: how Disability was kept in a box', an RCMG-led research project that worked with actor and performance artist Mat Fraser (American Horror Story). Fusing drama, comedy, dance and cabaret, this was staged in museums in January and February 2014 and won the Observer Ethical Awards for Arts and Culture.
Researcher profile: Professor Richard Sandell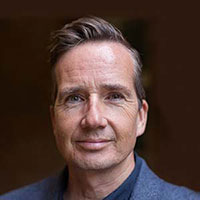 Professor Sandell joined the School of Museum Studies in 1997, having previously worked in a range of museums and arts/heritage organisations. His research focuses on the potential for museums to support social justice and equality and, in particular, their potential to tackle prejudice and engage audiences in debates pertaining to contemporary human rights. He was elected a Fellow of the RSA in 2006, served as Head of Museum Studies at Leicester from 2007 to January 2013, and sits on the editorial boards of four peer-reviewed journals. His books include Museums, Prejudice and the Reframing of Difference (2007) and Museums, Moralities and Human Rights (2016).
Night out at the museum
The four works created for 'Exceptional and Extraordinary' were:
Let Us Tell You a Story - A new, highly original, multi-sensory dance production by Deaf Men Dancing. Known for their unique fusion of different styles of dance with sign language, DMD invited audiences on a journey to explore deaf history and experiences of deafness in an entirely new way.
Francesca Martinez's Wobbly Manifesto – What if we celebrated difference instead of rejecting it? Comedian Francesca Martinez explores how humanity has chosen to handle (or not) disability over the decades and looks at how these attitudes have huge ramifications for all of us. By proposing her own Wobbly Manifesto, she invites us all to consider how embracing diversity as normal could, in fact, revolutionise the world we live in.
Hold the Hearse! – An interactive, extraordinary, theatrical journey through a myriad of museum collections that have impacted on the lives of the Mad, the Bad and the Unruly in our midst. Playwright Julie McNamara's tale of two remarkable characters who evaded the collectors features "grime, gruesome grave robberies and grisly murder ballads".
The Fight for Life – Powerful, unsettling and provocative film by David Hevey. Disproportionately targeted by cuts in public funding and subject to social, political and medical attitudes towards difference that have far reaching, often pernicious consequences, disabled people increasingly face questions around just who is – and who isn't – worthy of biomedical resources.
Artists on tour
The artists researched their works from eight medical museums in London, Edinburgh, Middlesex, Kent and Leeds, all of whom wanted to use their collections in new ways that would enhance their relevance, broaden their appeal for new audiences, and equip them to engage audiences in debating contemporary and challenging social and scientific issues. The works were presented at these same museums in June 2016.
The artworks are now being used to develop a suite of resources which can be used with medical practitioners to prompt reflection and discussion around patient-centred approaches and related ethical issues.
The 'Exceptional and Extraordinary' project was led by Richard Sandell and Jocelyn Dodd from RCMG, part of our School of Museum Studies. The project advisors were Dr Sam Alberti, former Director of the Hunterian Museum; Tony Heaton OBE, CEO of Shape Arts, and Dr Katherine Ott, Curator in the Division of Medicine and Science, National Museum of American History, Smithsonian Institution. The project was funded by the Wellcome Trust and Arts Council England.
Researcher profile: Jocelyn Dodd
As Director of the Research Centre for Museums and Galleries, Jocelyn is responsible for the strategic direction and development of the research centre and the delivery of externally funded team based research. Before joining RCMG she worked for Stevenage Museums (1985-1989) and Nottingham City Museums and Galleries (1989–2000), having originally trained as a teacher. Jocelyn has advised the Department of Culture, Media and Sport (DCMS) on Museum Education (1999), Social inclusion (2001) and the working party on museums and identity (2007). In 2000 she was elected a Fellow of the Royal Society of Arts.