LIAS team
Professor Clare Anderson - Director
ca26@le.ac.uk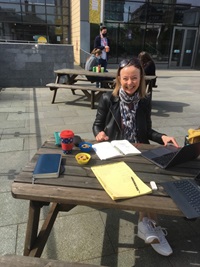 Professor Clare Anderson is interested in the histories and legacies of imperial punishment and forced mobility. She has led large multi-disciplinary and interdisciplinary projects funded by the ERC, ESRC and BA, focused on prisons and penal colonies in South America, the Caribbean, Africa, the Indian Ocean, Asia, Australasia and the Pacific. Her current projects are exploring the impacts of colonialism on mental health and substance abuse in Guyana's jails (ESRC GCRF), and patterns of descent among African and Asian convicts in the former colonies of the British and French Empires (Leverhulme Trust). Clare has previous and ongoing collaborations with partners and stakeholders from government, government agencies, NGOs and the heritage sector. She is editor of the Journal of Colonialism and Colonial History, and an enthusiastic supporter of a large cohort of postgraduate and postdoctoral researchers.
Dr Diane Levine - Deputy Director and Manager
Dr Diane Levine completed an ESRC-funded PhD at the University of Warwick, following a career as a teacher, programme manager and as a senior manager in the civil service. Di has a particular interest in interdisciplinary approaches to understanding the role technology can (and cannot) play in helping children and adolescents engage in the worlds around them, and in developing their resilience. She is co-author of Oxford University Press' best-selling textbooks on computing for 4-14 year olds.
Charlotte King - Fellowship and Communications Coordinator
Charlotte King is the Fellowships and Communications coordinator at the Leicester Institute for Advanced Studies. As such, she supports our various visiting fellowship schemes, and oversees the delivery of our communications strategy including social media, our quarterly newsletter, events, and web content.
Priyanka Ferreira - Administrative Assistant (Tuesdays)
Priya provides operational support to LIAS one day per week, assisting with the effective delivery of our full range of activities