Professor Simon Barry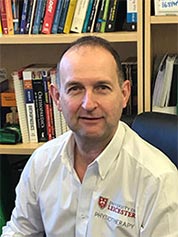 Simon Barry graduated from the Wolverhampton School of Physiotherapy in 1986 and specialised in the physiotherapeutic management of patients presenting with orthopaedic conditions gaining over 25 years of clinical experience in this field.
Simon was responsible for the in-patient physiotherapy services at a specialist orthopaedic hospital in Coventry for 8 years before becoming a Lecturer/Practitioner in orthopaedic physiotherapy at Coventry University. In September 2001 he became a full time Senior Lecturer with responsibility for academic input to both undergraduate and postgraduate courses. Simon completed his PhD investigating cryotherapy following total knee replacement in 2004.
Following this Simon became a Principal Lecturer for Coventry University and became Course Leader for the Coventry University Physiotherapy BSc (Hons) Degree Programme undertaken at the University of Leicester campus which he led for 13 years. Simon is now Professor of Physiotherapy at the University of Leicester and Head of the School of Allied Health Professions (SAHP). In addition to his role as head of the SAHP, Simon is actively engaged in supporting research at BSc, MSc and PhD level, he is a PhD research student supervisor and a PhD internal examiner for the University of Leicester.
Research topics
Simon has presented aspects of his physiotherapy research at national and international conferences and has been invited to present at the last 5 World Confederation for Physical Therapy conferences. In recognition of his research activity Simon has been presented with a Robert Williams Research Award by the Chartered Society of Physiotherapy.
Publications
Barry S, Wallace L M, Lamb S E. (2003). Cryotherapy Following Total Knee Replacement: A Survey of Current Practice. Physiotherapy Research International, Vol 8, No 3, p 111-120.
Quinn K, Barry S, Barry L (2011). Do patients with chronic low back pain benefit from attending Pilates classes after completing conventional physiotherapy treatment? Physiotherapy Ireland. 2011;32(1).
Andrews S, Barry S (2012). Cooling and Rewarming Profiles of Cryo-cuff and Standard Wet Ice Application. Association of Chartered Physiotherapists in Orthopaedics iCSP Nov 2012
O'Neill S, Watson P, Barry S. 2014a. Eccentric exercises for Achilles tendinopathy do not fully resolve the plantarflexor muscle power deficits. British journal of sports medicine, 48(A49).
O'Neill S, Watson P, Barry S. (2014) Plantarflexor muscle power deficits in runners with Achilles tendinopathy, British Journal of Sports Medicine,: 48(Suppl_2),A49 doi:10.1136/bjsports-2014-094114.74
O'Neill S, Watson P, Barry S, (2015a). Eccentric rehabilitation for runners with Achilles tendinopathy improves endurance capacity of the plantarflexors. Physiotherapy, 101(Supplement 1), pp. e1143-e1144.
O'Neill S, Watson P, Barry S, (2015b). Endurance deficits in patients with Achilles tendinopathy versus healthy controls. Physiotherapy, 101(Supplement 1), pp. e1142-e1143.
O'Neill S, Watson P, Barry S. (2015). Why are eccentric exercises effective for Achilles tendinopathy? International journal of sports physical therapy, 10(4), pp. 552-562.
Conference presentations
Barry S. (2000) Research in the clinical environment: Problems and solutions. Clinical and Education Research Group. Coventry University, Coventry, UK.
Barry S. (2001) An investigation into the effectiveness of Cryotherapy following total knee replacement. Walsgrave Trust Clinical Research Meeting. Coventry, UK.
Barry S, Wallace L M, Lamb S E. (2003). Cryotherapy Following Total Knee Replacement: A Survey of Current Practice. Platform presentation at the World Confederation for Physical Therapy, Barcelona, Spain.
Barry S. (2003) Cryotherapy and Total Knee Replacement: A Review of Current Practice. Research meeting George Eliot Hospital Nuneaton, UK.
Barry S. (2003) School of Health and Social Sciences Post-graduate Conference. A Review of the Efficacy of Cryotherapy Following Total Knee Replacement. Coventry University, Coventry, UK.
Barry S. (2003) Association of Orthopaedic Chartered Physiotherapists National Course: Current Practice and Developments in Orthopaedics. Is Current Practice of Cryotherapy in Orthopaedics aligned with Current Evidence in the Literature? The Beeches Conference Centre, Birmingham, UK.
Barry S, Wallace L M, Lamb S E. (2004). A randomised controlled trial investigating the control of swelling following total knee replacement using cryotherapy combined with compression. Hong Kong, China
Barry S, Wallace L M, Lamb S E. (2007). An Investigation into the Effectiveness of Cryotherapy Following Total Knee Replacement. World Confederation for Physical Therapy, Vancouver, Canada
Lynch E, Barry S (2011). Effectiveness of ice water immersion in the treatment of delayed onset muscle soreness in the lower leg., World Confederation for Physical Therapy, Amsterdam, Holland
Toft B, Barry S (2015). An investigation mapping cryotherapy induced analgesia. World Confederation for Physical Therapy, Singapore
O'Neill S, Watson P, Barry S. (2015). Eccentric rehabilitation for runners with Achilles tendinopathy improves endurance capacity of the Plantarflexors. World Confederation for Physical Therapy, Singapore
Wood M, Barry S. (2015).An investigation into the resistance offered by different grades of TheraBand™. World Confederation for Physical Therapy, Singapore
O'Neill S, Watson P, Barry S. (2015). Endurance deficits in patients with Achilles tendinopathy versus healthy controls. World Confederation for Physical Therapy, Singapore
S O'Neill, S Docking, S Barry. (2016). Do symptomatic Achilles tendons contain sufficient aligned fibrillar structure? International Scientific tendon symposium (ISTS) – Cape Town October 2016
O'Neill S, Watson P, Barry S. (2016). The Epidemiology of Achilles tendinopathy in UK runners. International Scientific tendon symposium (ISTS) – Cape Town October 2016
Barry S, O'Neill S. An Investigation into the Effect Different Window Size Analysis has on Achilles Tendon Ultrasonographic Tissue Characterisation Echo-type Quantification. International Scientific tendon symposium (ISTS) – Cape Town October 2016
Atkinson L, Barry S. (2017) An Investigation into Intra-rater reliability of Ultrasonographic Tissue Characterisation for Mid- Portion Achilles Tendon in Two Different Scanning Positions. World Confederation for Physical Therapy, Cape Town
Barry S. (2017). An evaluation of an Online International learning Project involving Physiotherapy Students from the UK and Ethiopia. World Confederation for Physical Therapy, Cape Town