Seth O'Neill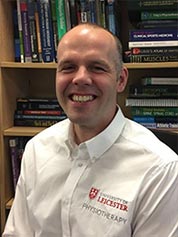 Seth graduated from Leeds Metropolitan University in 2000 with a BSc in Physiotherapy, He started his physiotherapy career with Junior rotations at Glenfield hospital in Leicester and then a Musculoskeletal senior II post at Leicester General Hospital. At this point he started a part time MSc in Musculoskeletal physiotherapy at Sheffield Hallam University achieving membership of the Musculoskeletal association of chartered Physiotherapists (MACP). Seth went on to become a specialist in A+E at Leicester Royal infirmary before leaving the NHS for a private physiotherapy post and his part-time lecturing role in 2006.
Seth's clinical and research interests focus around tendon disorders and persistent pain states such as chronic low back pain, this led to Seth undertaking and completing a PhD : 'A Biomechanical Approach to Achilles Tendinopathy management' within this Seth has identified prevalence rates of tendinopathy in UK runners and developed a greater understanding of risk factors surrounding Achilles tendinopathy. His later work has completed a more in-depth analysis of how tendinopathy affects the Plantarflexors. This has focussed on how the strength and endurance is affected and which of the Plantarflexors is most involved. This work has highlighted the involvement of the Soleus muscle. His current work is attempting to understand how important Soleus may be in the development and treatment of tendinopathy and calf injuries. He is also examining tendon structure and changes that occur during health and disease.
Research interests
Tendon disorders – including tendinopathy and ruptures of all tendons but predominately lower limb. His particular focus is understanding the cause of these disorders so that we may understand how to treat and prevent these debilitating conditions.
Chronic diseases (Diabetes and Chronic kidney disease) and their link to musculoskeletal disorders and quality of life as we age.
Chronic persistent Low back pain and other chronic pain states.
Education of undergraduate physiotherapists and how best to prepare them for work.
Injuries of the calf, in particular Soleus muscle injuries.
Sports injuries and prevention.
This work involves Ultrasound tissue characterisation, a specialist ultrasound scan for tendons, thermal imaging, pain provocation testing, strength testing and muscle capacity testing.
Seth acts a supervisor and mentor for PhD students, NIHR award holders and Intercalated BSc/MSc medical students. He is a strong advocate of research driving improvements in clinical care.
Publications
Al-Uzri M, O'Neill S, Kelly C, Watson P. Reliability of isokinetic dynamometry of the plantarflexors - in knee flexion and extention. Physiotherapy practice and research 2017. 38(1):49-57.
Malliaras P, O'Neill S. Potential risk factors leading to tendinopathy. Apunts. Medicina de l'Esport 2017;52(194):71-77.
Barry, S. and O'Neill, S. An Investigation into the Effect Different Window Size Analysis has on Achilles Tendon Ultrasonographic Tissue Characterisation Echo-type Quantification. International scientific tendon symposium; The South African sports medicine journal 2016;28(5):Supplement-International scientific tendinopathy symposium abstracts-O15,
O'Neill, S. Docking, S. Barry, S. Do symptomatic Achilles tendons contain sufficient aligned fibrillar structure?; 2016. The South African sports medicine journal 2016;28(5):Supplement-International scientific tendinopathy symposium abstracts-O15.
O'Neill, S. Jayna, R. Bird, K. Bandholm, T. Rathleff, M. Thorberg, K. Acute sensory and motor response to 45-seconds heavy isometric holds for the plantar flexors in patients with Achilles tendinopathy. International scientific tendon symposium; The South African sports medicine journal 2016;28(5):Supplement-International scientific tendinopathy symposium abstracts-O15,
O'Neill S, Watson P, Barry S. A delphi study of risk factors for Achilles tendinopathy- opinions of world tendon experts. International journal of sports physical therapy 2016;11(5):684-697.
Raju J, Norris R, Gaida J, Cook J, O'Neill S. Development and validation of the VISA-A(Sedentary) questionnaire: A modified version of the VISA-A for nonathletic patients with Achilles tendinopathy. The South African sports medicine journal 2016;28(5):Supplement-International scientific tendinopathy symposium abstracts-O15,.
O'Neill S, Watson P, Barry S. Eccentric rehabilitation for runners with Achilles tendinopathy improves endurance capacity of the plantarflexors. Physiotherapy 2015;101(Supplement 1):e1143-e1144.
O'Neill S, Watson P, Barry S. Endurance deficits in patients with Achilles tendinopathy versus healthy controls. Physiotherapy 2015;101(Supplement 1):e1142-e1143.
O'Neill S, Watson P, Barry S. Why are eccentric exercises effective for Achilles tendinopathy? International journal of sports physical therapy 2015;10(4):552-562.
Kelly C, Al-Uzri M, O'Neill S. Effect of eccentric training on isokinetic endurance of calf with reliability testing. British Journal of Sports Medicine 2014;48(A32).
O'Neill S, Watson P, Barry S. Plantarflexor muscle power deficits in runners with Achilles tendinopathy. British Journal of Sports Medicine 2014;48(A49).
O'Neill S, Watson P, Barry S. Eccentric exercises for Achilles tendinopathy do not fully resolve the plantarflexor muscle power deficits. British Journal of Sports Medicine 2014;48(A49).
Kerry R, O'Neill S, Taylor A Mechanical calf pain in a 23- year old male due to dynamic functional entrapment of the popliteal artery. Physiotherapy, 2005, 91 (3): 148-151