Work placement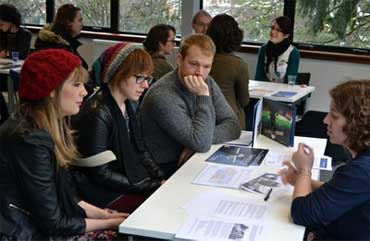 All students on our campus-based masters programmes in Museum Studies and Art Museum and Gallery Studies undertake an 8 week, full-time, work placement between July and September known as the Museum/Gallery Experience (MGE).
The MGE is the highlight of the year for many of our students that enables them to put into practise the skills and knowledge that have been developed in the previous nine months during the taught part of the course and the dissertation period. Coming at the very end of the programme, the MGE facilitates a very smooth transition from student life into the world of work.
Integral and critical to the Masters curriculum, the MGE is made possible through the extensive network of museums and galleries developed in more than 40 years of partnership with the museum sector. The Leicester University Museums Network (LUMEN) consists of over 200 museums and galleries in the UK and beyond who offer our Masters students work placements. Each year students are able to select their placements from an expansive list of prestigious national museums, local authority museums, art museums, galleries, specialist museums and other cultural and heritage organisations. A more recent development is the Work Placement Marketplace during which a number of museums send representatives to us to promote their institutions to students.
Further details about the LUMEN network are available in the LUMEN Newsletter (PDF, 1.75mb) and by contacting the MGE Manager Sarah Allard.