Lindsey Percival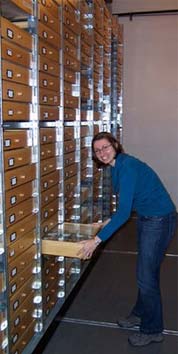 Lindsay graduated in 2007 with an MSc in Museum Studies.
'After graduating I found employment straight away, working for Hull Museums and Art Gallery as a documentation assistant. I worked with a range collections including social history, transport, photographs and natural history. After a year in Hull I moved to London to work as curator/documentation assistant of fossil cephalopods at the Natural History Museum. It was an invaluable experience where I was in charge of object entry and exit, acquisitions, loans and movement control, as well as answering enquiries and providing access to the collections. I also supervised and worked alongside several of the museum's volunteers. Having worked at the Natural History Museum for almost two years I decided to go travelling in Canada and when I returned to the UK volunteered at my local museum, Doncaster Museum and Art Gallery, assisting to digitally catalogue the geology collection in preparation for the museum's disposal project. This helped me to continue to develop and update my professional skills.
My next post was at the Oxford University Museum of Natural History, assisting in the development and preparation of an online collection database for the Corsi collection of 1000 decorative stones. My main role involved data input, XML editing, sourcing references, scanning documents and photographing specimens. I also aided curatorial work through producing drawer labels, documenting archival records, and assisting in recoding radioactive material. I then moved to a JISC funded project, '3D/GB Fossil Types Online', taking publication quality digital images of type fossils using a DSLR set-up. I am now currently working on the same project at the Sedgwick Museum of Earth Sciences, Cambridge.
At Leicester I enjoyed the opportunity of meeting some wonderful and interesting people from around the world, as the course has many international students. It was fascinating to discuss the international differences in museum practices, as well as find out about their countries. In fact many of them became my closest friends. I would also say that the network of people I created during my time at Leicester has been useful in my professional life; knowing who to contact for advice, aware of funding developments in museums around the UK and potential job opportunities.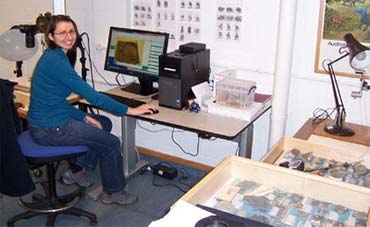 This course gave me a good knowledge of the function of museums and their role in society and I gained specific knowledge in areas of curation and documentation as well as practical experience in object marking, packing and storage; all of which have helped me to get where I am today and hopefully where I want to be in the future. Furthermore, my work placement gave me valuable practical experience which was beneficial in gaining my first post and others which have increased my experiences to enable me to pursue a curatorial role.'