Connecting with alumni in Shanghai
Connecting with alumni in Shanghai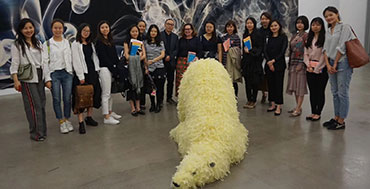 During the first half of 2018, I had the pleasure of taking my study leave in China so that I could challenge my thinking on museum ethics through engaging with wider international contexts. Funded in part through a Senior Research Fellowship at Fudan University (kindly facilitated by School of Museum Studies MA/PhD graduate Dr. Linda Kong, now a Lecturer at Fudan), I conducted research interviews with 20 museum educators across the country to explore how social inclusion programmes there are currently being defined and developed.

This field work gave me the opportunity to reconnect with dozens of former students. These accomplished alumni generously opened doors for me at the amazing museums where they work, providing introductions to senior staff and helping to translate conversations. They also helped me to arrange informal reunion meals with larger groups of alums so that I could learn about their current employment and future goals.

These fascinating discussions with alumni prompted me to organise last April, with support from the School, an SMS alumni weekend in Shanghai, co-hosted by Fudan University. My purpose was to explore how the School could support the development of a structured China/Hong Kong alumni group to meet graduates needs and interests. Some 30 graduates gathered for the event which included peer-to-peer mentoring training, a study visit to Rockbund Museum (led by dynamic Deputy Director and one of our first alums from China Liu Yingjiu) and lots of informal exchanges around delicious meals. Some great ideas emerged and new initiatives are being planning as a result. Stay tuned!

We imagine this work with alumni in China and Hong Kong as a model which we can adapt to other contexts in future. I am now leading our alumni strategy so if you have suggestions, wherever you are in the world, do get in touch. Jm423@le.ac.uk
Reconnect 2019
We hope to see lots of graduates of the School of Museum Studies at this summer's Reconnect event. Please save (date) in your diaries - we will be sending out details of how to register soon.

This year's event will take place here at the school and we will be visiting New Walk Museum to see their recent re-display of the Egyptian gallery and to find out about the design and education elements of this project.

There will also be the opportunity to take part in a workshop, peer to peer mentoring and to catch up with staff and fellow graduates from the school.