News archive
Browse our latest stories and keep up to date to with our research.
2021
Wellcome Boost to LISCB Molecular Machinery Research
Professors John Schwabe and Daniel Panne have both been granted prestigious Wellcome Trust Investigator Awards for their projects investigating different aspects of how our genetic material is regulated.
Professor Schwabe has been awarded £2.34 million to investigate the structure, mechanism and regulation of histone deacetylase complexes (HDACs), which control whether genes are in an active 'open' state or an inactive 'closed' state. These complexes are important drug targets for the treatment of diseases including cancer, Alzheimer's disease and HIV.
Professor Panne has been awarded £1.55 million to investigate how chromosomes in our cells are folded in a precise manner so as to fit into the cell nucleus, with the contact between folded segments of DNA critical to how genes are regulated and therefore key to human biology.
Public Engagement: What Makes Strawberries Sweet?
Dr Joanna Fox was awarded a Royal Society Partnership Grant as Scientific Partner with the St Mary and St John CEVA primary school. The project involves all year groups of the school and gets the children involved in handling real data and thinking scientifically.

The Project is Titled: What Makes Strawberries Sweet?

Our project investigates whether nature (i.e the DNA of strawberry varieties) or nurture determines how sweet the strawberries are by asking these questions:
How do the growing conditions affect yield and flavour?
We will compare plants grown outside vs inside the poly-tunnel for yield/plant growth and flavour. We will build rain water collectors to monitor the amount of water the strawberries are getting, and use digital thermometers to monitor the temperatures.
Can we use computer modelling and simulation to determine optimum growing conditions to increase growth and fruit yield?
Using the greenhouse mimic in Flowol 4 software to model growing climates based on different variables – sun, light, moisture, temperature and water, pupils will learn to program and model climate control, seeking optimum growing conditions. They will respond to the virtual inputs triggered by the mimic itself bringing extra realism.
Do all strawberries have the same flavour genes?
We will extract DNA from different varieties of strawberries and analyse the sequence of the genes associated with sweetness/flavour.
Which variety are the sweetest?
The children will taste the different varieties of strawberries and decide which are the sweetest.
So far we have planted 120 Strawberry plants (30 each of 4 x varieties) and the children are looking after them and recording growth, how much water they are getting and the temperature.
2020
Therapeutic antibody discovery could lead to new cancer drug development
A group of Cancer Research UK-supported researchers at the University of Leicester have played a major role in the development and validation of an innovative approach to the discovery of potent therapeutic antibodies, which could help to lay the foundations for a new cancer drug.
Professor Mark Carr's structural biology group at the University of Leicester, working with teams at Cancer Research UK, the AstraZeneca Antibody Alliance Laboratory in Cambridge, and Oxford University, have developed a potent candidate therapeutic antibody against a novel enzyme target Arginase 2, called C0021158.
Arginase 2 (ARG2) is implicated in major human diseases, including cancer. It targets and destroys L-arginine, an amino acid crucial for immune cells to fight infections and diseases. While ARG2 is necessary to control arginine levels in the body, it is over produced in individuals with various types of cancer.
Professor Mark Carr, Structural Biologist at the University of Leicester, said: "The outstanding success of the ARG2 therapeutic antibody project is an example of the substantial benefits to be gained in drug discovery from harnessing the complementary scientific expertise and knowledge available in the pharmaceutical industry, biomedical charity and University sectors of the UK life sciences community. The outcomes from this project point to a successful future for the joint Cancer Research-AstraZeneca Antibody Alliance Laboratory and my structural biology group look forward to further successful collaborations."
The surplus ARG2 significantly reduces L-arginine levels around tumours, hindering the immune cells and creating a local environment that allows tumours to grow unchecked. ARG2 is therefore an attractive target for inhibitory therapeutic antibodies that could help restore immune function against certain types of cancer, such as pancreatic ductal adenocarcinoma, bowel cancer and acute myeloid leukaemia.
The researchers expect that C0021158 will pave the way for the discovery of a new generation of antibodies, with treatment applications in cancer and beyond. Protein crystallography at Leicester provided key insights into the mechanism of the antibody.
Study author Dr Maria Groves, from Cancer Research UK – AstraZeneca Antibody Alliance Laboratory, said: "It takes a lot of time and resources to bring a new therapeutic antibody to the clinic, so we need them to be the best they can be. This first success gives me confidence that our unbiased libraries will produce stronger, more efficient antibodies, which previously could not be found.There's still a long way to go with our ARG2 antibody, and we are now hoping to partner with a company to help develop the antibody and progress it into the clinic for oncology and non-oncology indications. For oncology, we hope that in combination with chemotherapy or immunotherapy, it may help target tumours that have been hiding from the immune system."
New research reveals clues into genome folding in cells
New research into the way our DNA is packaged and the mechanism that enables genome 'folding' in cells could give vital clues about how aberrant genome folding contributes to disease.
A team of international researchers from LISCB at the University of Leicester (UK), the National Cancer Institute (NKI) in Amsterdam (NL) and the European Molecular Biology Laboratory (EMBL) in France studied in detail how cohesin, a ring-shaped protein complex, interacts with CTCF, another protein known as a transcription factor, and how they collaborate to accurately 'fold' the genome.
Folding refers to the way tightly packed genetic material is organised within a chromosome, made up of DNA and histone proteins - which can measure over two metres in total if stretched out. The research revealed that a precise interaction between cohesin and CTCF is required for successful genome folding to occur. In cancer cells, the part of cohesin that should bind CTCF is often no longer functional thus suggesting that these cancer cells frequently misfold their DNA.
Such genome misfolding could thus impact how genes are expressed and therefore contribute to disease.
Using x-ray crystallography, Dr Panne and his team were not only able to reveal the structures of the proteins, but also how they interact and gave vital clues to where the whole mechanism may have originated in evolution. The teams of Dr. Rowland and Dr. DeWit at NKI examined genome folding under conditions in which the interaction between these proteins was abolished.
The paper 'The structural basis for cohesin-CTCF anchored loops' was published in the journal Nature in January 2020.
Daniel Panne explains the significance of his research on DNA folding on BBC Radio.
2019
Publicity for the CryoEM facility
LISCB director Professor John Schwabe and CryoEM facility manager Dr Christos Savva appeared on BBC Leicester in August 2019 to explain the wonders of the Midlands CryoEM facility.
John Schwabe sings the praises of the exquisite details obtained by CryoEM and what this knowledge is used for on BBC Radio.
Respiratory Days
The two successful days exploring collaborations between LISCB, IPH and Respiratory Sciences have resulted in collaborations being pursued in 4 discrete themes relating to respiratory research:
Genomics
Cell Signalling
Maladaptive mechanisms
Infection and Immunity
Ministerial visit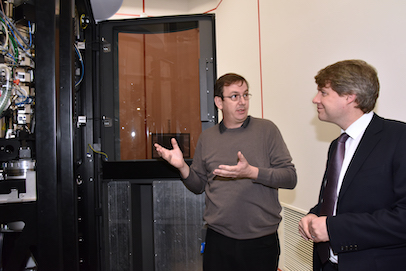 Chris Skidmore, Minister of State for Universities, Science, Research and Innovation, visited LISCB in March 2019, enjoying a tour of the Cryo-EM facility.
2018
2017
2016