Supporting your journey to Leicester
Our staff come from across Leicestershire, the Midlands and the globe bringing with them an incredible diversity of viewpoints, beliefs, attitudes and approaches which enrich both the University and the city.
Regardless of where you are in the world, we aim to make your joining the University as easy as possible. We have a dedicated Recruitment Team that provides advice and guidance about the wide range of facilities available to you on campus, the possibility of short-term accommodation if moving to the area, and guidance and financial support with your visa application if joining the University from overseas.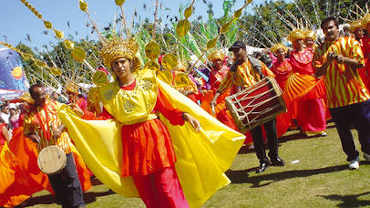 Leicester is a friendly, multicultural city in the very heart of the UK. Bursting with heritage and culture, rich in sport and leisure activities, it offers events, facilities and attractions to suit every lifestyle. As one of the UK's 10 largest cities, and famous for its diversity, Leicester offers an amazing chance to experience many different cultural events ranging from Diwali (the Festival of Light), attended by 35,000 people, an annual Pride Parade (Leicester Pride), a Caribbean Carnival, and the largest comedy festival in the UK.
Working in close partnership with the City, the University has been the inspiration behind the award-winning National Space Centre and the King Richard III Visitor Centre, which retells the dramatic story of the University's discovery of England's most infamous King. It's also well-known as a sporting capital due to the success of its rugby team, the Leicester Tigers, as well as Leicester City Football Club.
As a vibrant city and with the rolling countryside of Leicestershire and Rutland close by, Leicester and the surrounding region offer a wide choice of property to buy or rent. In the city itself, there is a diverse mix of housing and apartments in leafy parts of Leicester within easy reach of the University as well as property available in the attractive villages and market towns in Leicestershire. House prices are markedly lower than those in London – but the capital is only 70 minutes away by train.