Our people
Our people have had a profound impact in all areas of public life. Our first century has seen game-changing advances across medicine, science and engineering, and throughout the arts, humanities and social sciences.
From DNA fingerprinting and space exploration to the discovery of King Richard III, key to every one of our accomplishments is the quality of our staff and the value of their contribution at all levels.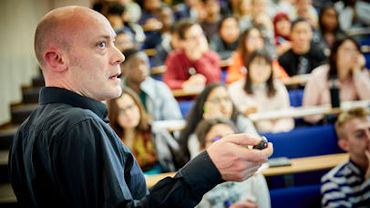 Our workforce of 4,000 encompasses the major academic disciplines as well as the professional and support services that keep our campus running smoothly. If you are committed to our values, and seek the chance to work in a collaborative team setting that recognises the contribution that every individual makes, there will be an opportunity for you here in Leicester.
So join us as we enter our second century, taking forward our world class research and inspirational teaching. We are proud to be part of a city as diverse and creative as Leicester, and equally proud of our local, national and international staff team that reflects and celebrates the diversity of the world around us.