Our offer to you
Life at Leicester is highly rewarding. Of course we offer competitive salaries, generous annual leave allowances, pension schemes, great career opportunities as well as high quality campus facilities but let's be honest, everyone says this.
The reality is that we place a real emphasis on team work, collaboration and valuing each and every contribution that every member of staff makes. We believe in everyone being able to flourish in an inclusive environment. Equality, Diversity and Inclusion is at the heart of all we do and we offer opportunity for mutual support and to inform best practice through our staff equality networks. Read more about the University's commitment to EDI.
We invest heavily in the continued learning and growth of our staff, through a wide range of opportunities: from short courses and in-house programmes to qualification-based and external learning. Whether it is role related development through apprenticeships, coaching and mentoring or a course of post-graduate study, our staff benefit greatly from the many learning opportunities available.
Your health and wellbeing is our priority. The holistic approach we take demonstrates our commitment to you as an individual in supporting your 'whole self'. You will have access to a comprehensive health and wellbeing on line support toolkit and year round events and activities, that enable you to receive advice, support and guidance tailored to your individual health and wellbeing needs.
You will also have access to a nurse led in house Occupational Health Department that provides specialist occupational health services for the benefit of both employer and employee, to ensure a healthy and safe working environment for all.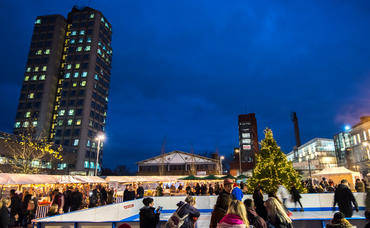 Life on campus is vibrant, and our staff share in this. Situated adjacent to the fantastic green space of Victoria Park, we offer cafes, restaurants, art exhibitions, and a calendar of free lectures and public events, on-campus international food fairs and even an ice rink at Christmas time.
Our staff have lives beyond the University and we support this through our range of family-friendly benefits, job share options and other flexible work arrangements.
If you seek to advance your career, opportunities are plentiful, and regardless of background or personal identity we offer an inclusive environment in which to flourish during your time with us.