Recent dissertations
We support a fantastic and diverse range of Masters dissertation projects, both on campus and by distance learning. Browse this selection of some of the dissertations completed successfully by our students in 2015 and 2016.
Kristina Lindgren - An archaeological exploration of graffiti at Cadiz Summit on historic route 66 in the Mojave desert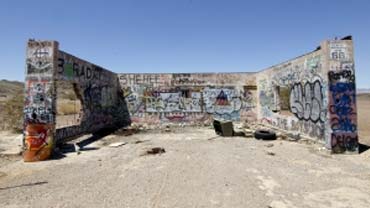 Kristina says: "Route 66 is one of the most heavily travelled heritage roads in the United States, stretching nearly 2,500 miles from Chicago, Illinois to Santa Monica, California. Along Route 66 in the Eastern Mojave Desert of California, many travellers graffiti the remnants of an old garage at Cadiz Summit. Using archaeological methods, I analysed photographs gathered from photo sharing websites and social media from 1999 to the present to determine the patterns of graffiti. The patterns detected provide a unique view into how some travellers interact with a heritage environment.
"Further to this research, I will continue to photograph Cadiz Summit at regular intervals over the next few years, to gather a larger data set and to determine if more patterns can be detected. I plan on disseminating this work through the creation of dedicated social media sites and outreach to Route 66 interest groups. This might allow heritage managers on Route 66 to get a feel for how much public art is created on this stretch of the "Mother Road". My current research at my day job involves the study and evaluation of historic-aged buildings, focusing on mid-century modern southern California."
---
Jenni McNulty - The People Behind the Pots: An exploration of post-medieval pottery production and kiln furniture at Heath End, Ticknall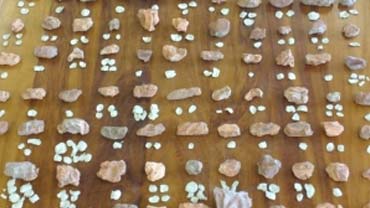 Jenni says: "This dissertation investigated a collection of the often forgotten 'sausage separators' used to separate unfired ceramics in kilns. A range of approaches were applied to an assemblage of over 3,000 separators, and the fingerprints preserved on them, to ultimately demonstrate that these ceramics can shed new light on post-medieval potting techniques and potters. My current research interests include post-medieval ceramic production and consumption, globalisation, gender archaeology and early colonial relations in North America.
"Since finishing my Masters, I have started working with the University of Leicester Archaeological Services post-excavation team as a trainee lab assistant. I hope, in time, to move abroad and experience archaeology elsewhere, with the possibility of embarking upon a PhD further down the line."
---
Emily Rolston - Women of Industry: Female homeworkers in Victorian Leicester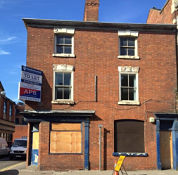 Emily says: "My dissertation questions the understanding of female industrial production. This research explores Victorian women who worked independently outside the factory and how you can identify these women archaeologically. I would like to continue my research on female homeworkers and possibly extend this research to earlier periods."
---
David Givens - Creating a Third Space: Material Culture, Colonialism, and Hybridity at James Fort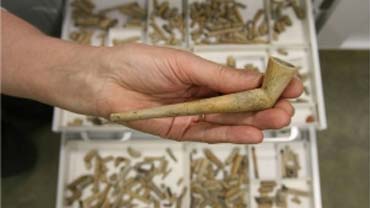 David says: "Jamestown, the first permanent English settlement in the New World, was the confluence of burgeoning empires - English and indigenous - at the turn of the 17th century. The material and documentary records suggest Virginia Indians were living and working amongst the nascent colony, predicated on profit. James Fort became the focal point of English and indigenous interaction, and the resulting material culture was deposited in the early features of the colony.
"One artefact that typified that close interaction was the production of local clay pipes by colonist Robert Cotton in the fort prior to 1609. Cotton's pipes incorporated indigenous production methods and design techniques, a hybrid feature antithetical to current perspectives of cultural interaction. I chose to focus my dissertation on this unique example of plurality in the material record, exploring concepts of how the indigenous past had tangible agency of the two cultures in this one place.
"My experience at Leicester allowed me to incorporate these ideas into exhibits that explore these ideas of hybridity in the early colony and elevate the role of the Virginia Indian as a central player in the 'founding' narrative of Jamestown. Currently, I am working on the site of one of the first Africans at Jamestown, Angela, an Angolan slave who arrived in the colony in 1619. The express aim of the project is to explore the incorporation of the first Africans into the town and the material record resulting from this hybrid state."
---
Amy Beckford - The Evolution of Pennsylvania Industry, Labor, and Heritage Along the Lehigh and Delaware Canals: 1800-2015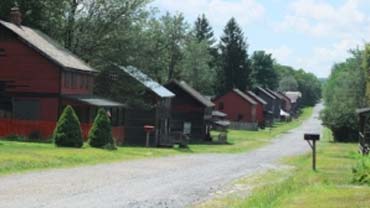 Amy says: "Pennsylvania is often considered the cradle of the American Industrial Revolution, as the discovery of its anthracite coal deposits supported industrial development along an important canal corridor. Although the immigrant groups who came to work in the energy and manufacturing industries were subjected to the ethic of Improvement, they were able to exert agency over their labour experiences and have sought to preserve their heritage in the built environment of the region.
"Currently, I am continuing in my position as the chair of the Humanities department at Princeton Day School, which is an independent school in Princeton, New Jersey. While I am not presently researching anything related to historical archaeology, I am deeply committed to enhancing the ways in which we promote and instruct students concerning inquiry and associated research methods."
---
Sara Farey - Ghost Signs, a portal to the past: The material culture of historic advertisement in Leamington Spa
Sara says: "This thesis treats historic advertising as material culture. Painted adverts from the past have gained considerable amounts of popularity as 'ghost signs' under the premise of art history, but their archaeological potential has been little-explored. In Leamington Spa, exploring ghost signs as archaeology has assessed their place in the development of the town, as well as their transcendence through time as heritage."
---
Other projects
Dawn Fulkerson - The South Will Not Go Quietly: The Revealing Subtext of Confederate Monuments on the Battlefield of Gettysburg
Christina Reid - Building on Tradition: A Study of Matsqui Village
Simon Hayter - Philanthropic Estate Management at Bamburgh Castle, Northumbria during the trusteeship of Lord Crewe's Charity (1721-1895)
Brian O'Donnchadha - Section 106, The Tribes and Landscape: A Case Study Analysis of the Evolving Relationship between the US Federal Government, Native American Tribes, and Cultural Resources within the framework of Section 106 for the National Historic Preservation Act, 1966