Our research projects
Harnessing the power of the criminal corpse
The criminal corpse, even when life had left the body, was still a powerful object. It had social, symbolic, medicinal, judicial, political and scientific power. Harnessing the power of the criminal corpse, our flagship project, was directed by Professor Sarah Tarlow and started in 2011.
Generously funded by the Wellcome Trust, this five-year project explores the criminal corpse from the disciplines of archaeology, medical and criminal history, folklore, literature and philosophy. It examines the ways in which the power of the criminal corpse was harnessed, by whom, and to what ends in Britain between the late 17th and 20th centuries. Follow the criminal corpse blog.
---
Landlord villages of the Tehran Plain, Iran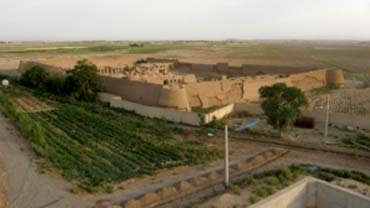 Historical archaeology (or the archaeology of the very recent past) is a new area of study within Iran. This project about landlord villages in the Tehran Plain, directed by Dr Ruth Young and Dr Hassan Fazelli of Tehran University, has conducted three seasons of fieldwork (2007, 2008, 2009), which have shown the combination of building recording and analysis, ethnographic interview and excavation to be very effective as a means of exploring the landlord villages of the Tehran Plain.
These abandoned, self-contained villages represented the social and economic order for a large segment of the Iranian population for centuries prior to land reform in the 1960s and 70s, and they provide an excellent opportunity to explore such issues as the use of space and creation of place within confined and defined areas; how relationships between landlord and farmer were expressed in material culture; and how relationships between farmers were expressed in material culture.
The analysis of space and relationships in these village may also help us to develop a model of similar settlements in the Chalcolithic period in the Tehran Plain.
This is a collaborative project, with staff and students from Iranian and UK institutions sharing expertise and training.
---
Historical Human-Animal Relationships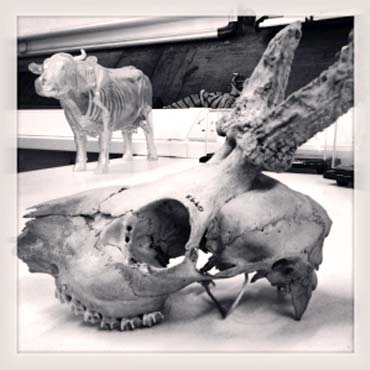 The Centre for Historical Archaeology at the University of Leicester supports a wide range of research into relationships between human and non-human animals, including the work of PhD researchers, staff, students and colleagues at other institutions. Recent projects involve:
Charting the global development of chicken breeds through skeletal analysis (Alison Foster)
Examining Victorian canine inhumation in Toronto, Canada (Eric Tourigny)
Investigation of livestock 'improvement' in London from the 14th century onward (Dr Richard Thomas, Dr Matty Holmes, Dr James Morris)
Studying urban provisioning practices in England (Dr Rebecca Gordon)
Exploring the ways in which relationships between people and poultry in 18th to 20th-century Belfast reflect wider changes in perceptions of gender, education, sport, public spaces, welfare and disease (Dr B Tyr Fothergill)
We also collaborate with artists to explore new ways of representing the complexity of past human-animal relations. Since November 2016, we have been part of a new GCRF project funded by the AHRC: 'Going Places: Empowering Women, Enhancing Heritage and Increasing Chicken Production in Ethiopia'. This project aims to help address this widespread issue of female socio-economic immobility by conducting female-centred cultural/scientific research into chicken husbandry, past and present, to support Ethiopia's future economic/heritage development.
---
Kinchega Archaeological Research Project: Tea-drinking in the Australian outback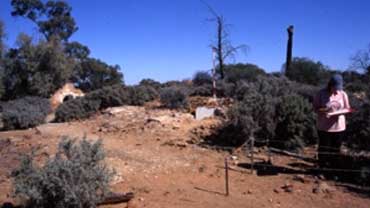 Post-excavation artefact studies for the Kinchega Archaeological Research Project have turned up some interesting discoveries. This project, directed by Dr Penelope Allison, has been surveying and excavating the Old Kinchega Homestead in western New South Wales, Australia, and researching the station records of the Kinchega Pastoral Estate, to investigate the household practices of the families of managers and overseers who occupied this outback homestead between 1870 and 1950.
Student volunteers from the Australian National University sorted some 2,000 ceramic fragments into their different types to reveal at least ten different toy tea sets, which provide insights into children's play activities and into the socialising processes for young children living in this remote region, surrounded by the Australian bush and sheep. We also discovered that some 75% of these sherds were from white porcelain teacups and saucers, many with gilded lines and many made of fine bone china.
While such tea sets are ubiquitous in contemporary urban sites, it is hard to envisage the mainly male workers at the homestead or on this pastoral estate drinking tea from these porcelain cups. Rather, they would appear to highlight the concern of the women of this homestead for tea-drinking in a refined manner of the 'genteel performance' that was an important concern for Australian women in the late Victorian period.
The quantities, and our subsequent discovery of their purchases in the station records, from at least 1910, imply that these tea sets were also used for visitors - again, possibly women. They can therefore help in piecing together the social networks in this region across considerable distances, at a time when travel was not easy, and in a space were European women were sparse and their activities are seldom recorded in pastoral histories.
---
Early colonial dynamics in the Spanish Caribbean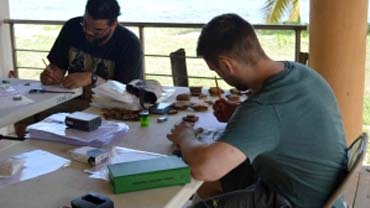 Contrary to popular belief, the arrival of Columbus in the New World did not spell the end of the indigenous inhabitants of the Caribbean islands. Instead it sparked off a complex chain of intercultural entanglements with lasting legacies on all sides of the Atlantic. Dr Alice Samson directs field projects in the Dominican Republic and Puerto Rico to investigate early colonial dynamics in indigenous communities.
This photo shows archaeology students from Leicester and Puerto Rico documenting C16th trade goods from Europe, found on an indigenous site on Mona Island, Puerto Rico, and recorded as part of the El Corazón del Caribe research project, co-directed with Jago Cooper from the British Museum.