Midwifery
August 2023
---
August 2022
---
MIDIRS Digest June 2022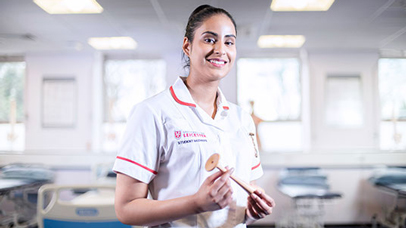 Congratulations to Prabhleen Mann one of our 4th year MSci Midwifery with Leadership students who has had an article published in the June edition of MIDIRS Digest. It is based on her leadership elective experience at the Royal College of Midwives during which time she took part in work with the Bangladesh Midwives Society – The Bangladesh Midwifery Society – celebrating the first ever midwifery awards in Bangladesh!
---
Wellcome Trust Student Research Fellowship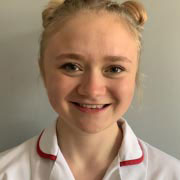 Sophie Rayner, currently a second year student on the MSci Midwifery with Leadership Programme, has been successful in her application to attend a seven-week placement over the summer break with Dr Shawn Walker at King's College London, funded by the Wellcome Trust. One of the projects she will be working on is the OptiBreech Project continuing the work that Keelie Christie (one of our third year student midwives) was involved in with Shawn during her leadership elective placements. Congratulations to Sophie!
---
May 2022
Excellent news about one of our second year student midwives, Sophie Rayner who successfully was awarded £1000 from the Iolanthe Midwifery Trust to initiate antenatal classes at the university on International Day of the Midwife. Read the full news story about Sophie's £1000 award.
---
November 2021
Jess Wood third year midwifery student has had an abstract accepted for a poster presentation at the British Medical Journal's Faculty of Medical Leadership and Management Leaders in Healthcare Conference next month.
---
September 2021
Great news! Recently published in the NMC Student Newsletter publicising our third year nursing and midwifery students at the University of Leicester!
---
5 May 2021
Marvellous Midwifery students raise money for Baby Basics
Every year since 1992 on 5 May, the International Confederation of Midwives (ICM) leads a day of global recognition and celebration, (International Day of the Midwife) of the work of midwives which is observed by more than 50 nations and co-ordinated by the ICM in partnership with its member organisations. In line with plans to develop the University of Leicester Midwifery with Leadership society and to celebrate this day, which aims this year to show appreciation for Midwives worldwide and to advocate for investment in quality of Midwife care globally, the University's student Midwives decided to fundraise money for a national volunteer-led project in Leicester, Baby Basics. We would like to congratulation their fantastic efforts in raising an amazing £383.50.
---
27 October 2020
Midwifery: Celebrating Black History Month
On Tuesday 27th October, the School of Healthcare was delighted to host the Chief Midwifery Officer for NHS England, Professor Jacqueline Dunkley-Bent, at an online lunchtime event for both staff and students, as part of the University's Black History Month celebrations. University of Leicester student midwife Maeva Kamtcheu, recent winner of the Midlands Maternity and Midwifery Festival Student Midwife Award and the Student Union Voice Award for Outstanding Contribution, took a break from her community clinic to interview Jacqueline. Both role models were warmly welcomed to the event by Jayne Marshall, Foundation Professor of Midwifery and Director of Midwifery and Nursing Programmes.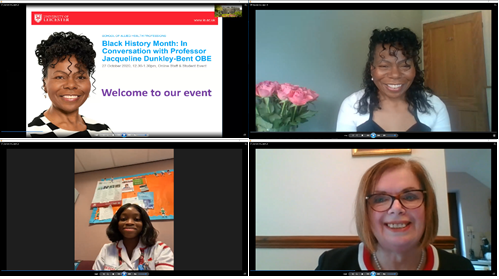 (Clockwise from top right) Jacqueline Dunkley-Bent, Jayne Marshall, Maeva Kamtcheu
The discussion was driven by questions submitted by the audience in advance, many from our students, and included topics such as the challenges faced at the intersection of race and gender, for both healthcare professionals and patients; leadership; and the effect of COVID-19 on our awareness of inequalities in healthcare. An inspirational speaker and leader, Jacqueline's advice to junior colleagues is to keep pushing forward with ease and confidence, to recognise and value the great privilege that it is to be a midwife, to be able to have a positive influence on the health of the next generation.
A recording of the event is available on Youtube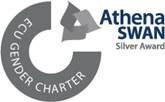 This event was supported by the College of Life Sciences EDI and Athena SWAN Team.
---
14 July 2020
Midlands Maternity and Midwifery Festival Student Midwife Education Award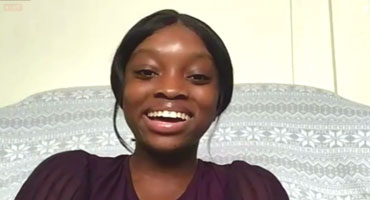 Exciting news! Maeva Kamtcheu was nominated and won the Student Midwife Education Award at the Midlands Maternity and Midwifery Festival held on 14 July 2020. The award was presented by the conference chair at the Midlands Festival in front of their online audience. Further details on Twitter.
More information on Midlands Maternity and Midwifery Festival
---
6 July 2020
Myles Textbook for Midwives - 17th edition, co-edited by Professor Jayne Marshall and Maureen Raynor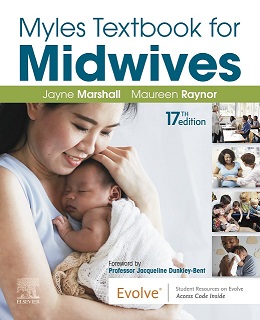 Written by midwives for midwives, Myles Textbook for Midwives has been the seminal textbook of midwifery for over 60 years. It offers comprehensive coverage of topics fundamental to 21st midwifery practice. Co-edited for the second time, by internationally renowned midwife educationalists, Professor Jayne E Marshall (University of Leicester ) and Maureen D Raynor (De Montfort University) from the United Kingdom with a team of contributors from across the midwifery community it retains its clear, accessible writing style. Most chapters provide useful case studies, websites of key organisations and charities for individuals to access further information. Reflective questions at the end of each chapter as well as annotated further reading aid reflective learning and stimulate discussions relating to continuing professional development.
More information on Myles Textbook for Midwives
---
26 May 2020
New midwifery course makes its mark
Great news for our School of Healthcare newly-formed 4-year undergraduate Midwifery with Leadership course. Two second year student midwives belonging to the first cohort of students, received Student Voice Awards.
Congratulations to Michelle Sutton who was awarded Course Representative of the Year and to Maeva Kamtcheu who received the Outstanding Contribution award. All categories are very competitive and the awards are a real testament to the determined efforts of the winning students and the dedicated of their lecturers and tutors.
The Student Voice Awards celebrate and recognise individuals who have enhanced student experience, education and equality at the University. Originally there was to be an event held with drinks reception, speakers, food and entertainment, as well as the awards themselves. In the light of recent global events this year's ceremony was held online via the Students' Union Facebook channel.
Find a full list of the winners.
---
19 February 2020
Centenary Award Midwives
Six of our students received a Centenary Scholarship on the 19 February 2020.
---
16 October 2019
University support for new mothers recognised by Unicef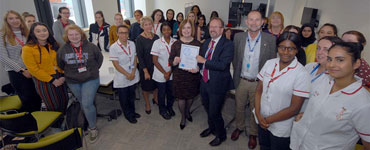 University of Leicester today launched a new Infant Feeding Café. This drop-in clinic is open to the public and provides free support to new mothers.
The Infant Feeding Café will be running on the third Wednesday of each month in the George Davies Centre from 1-3pm. An infant feeding lecturer, a local NHS Trust Midwife, a peer supporter and a student midwife will all be on hand to offer infant feeding advice and support to local postnatal women.
The café comes as the University's Midwifery courses take another step towards full accreditation with a Certificate of Commitment from UNICEF-UK Baby Friendly Initiative.
Professor Jayne Marshall, University of Leicester Foundation Professor of Midwifery said:
"We decided to join forces with the Baby Friendly Initiative to increase breastfeeding rates and to improve care for all mothers as we develop our new provision of a four year undergraduate Master in Science Midwifery with Leadership programme at the University of Leicester.
"Breastfeeding protects babies against a wide range of serious illnesses including gastroenteritis and respiratory infections in infancy as well as cardiovascular disease, asthma and diabetes later in life. We also know that breastfeeding reduces the mother's risk of some cancers – although mothers might be more interested in hearing that it's easier, cheaper and simply less hassle than bottle feeding," added Professor Marshall.
"We also set out to ensure that all mothers and babies are supported to form a strong loving relationship – whatever their choice of feeding method – as this is the best start for every baby."
The Certificate of Commitment from UNICEF-UK Baby Friendly Initiative will be presented by Professor Philip Baker and Professor Jayne Marshall today (16 October 2019). The Certificate is the first step towards gaining international recognition from the Unicef UK Baby Friendly Initiative and begins the University's quest to achieve full accreditation for the MSci Midwifery programme.
The Baby Friendly Initiative, set up by Unicef and the World Health Organisation, aims to provide practical ways for health services to improve care for mothers and babies. It works with UK health professionals, including those in universities, to ensure that mothers and babies have the best support to enable them to breastfeed successfully. The Certificate of Commitment recognises that we are dedicated to implementing recognised best practice standards within our curricula.
Baby Friendly Initiative Programme Director, Sue Ashmore said:
"We are delighted that the University of Leicester has received this award. Surveys show us that most mothers want to breastfeed but don't always get the support they need. Mothers within Leicester, Leicestershire and Rutland have the satisfaction of knowing that their student midwives are educated and trained to provide the highest standard of care."
The first Infant Feeding Café was launched today with the next taking place on Wednesday 20 November and on the third Wednesday of each month going forward at the George Davies Centre on University Road. All details can be found on Facebook.