Consultancy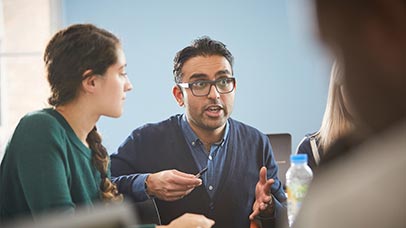 We offer high quality, commercially-focused consultancy advice that will bring direct economic benefits to your business.
Consultancy can help you gain a fresh perspective on a new product, offer innovative approaches to cracking a problem, and find practical solutions to the issues your business faces.
Our expertise is supported by a business-focused team who will match your needs to our academics' expertise and manage contracts, IP and advise on funding opportunities. This ensures that working with Leicester is simple, flexible and low risk.
Our academics are leading experts across many different fields including science, medicine, arts and humanities.
Services
Product assessment
Technical and specialist advice
Scientific and technical reviews
Data analysis
Business strategy development
Specialist teaching
Find out more about our analytical services and facilities.
Specialisms
Laser 3D vibrometry and structural resonance analysis
Emission testing and in situ oil analysis
Ground, air and space based Earth observation data and analyses for environmental management and security
Previous clients
Computing at Leicester has a strong partnership with Morphis. We advise on the company's business and operational strategy, including management and supervision of the company's technical team
Our consultant used an extensive background in evaluating interventions with offenders to work with national charity, Platform 51 to improve their data collection systems so that they were able to demonstrate impact to current and potential funders.
Professor Hedderman's advice throughout the assignment proved to be just what we needed; this included challenging (always very constructively) some of our current thinking and has enabled us to make a real step change in the way in which we approach this work.