Conferences and events
Leicester Conferences is the University of Leicester's specialist conferences and events provider. We have been delivering an outstanding, award-winning conference and events service for over fifty years. We even have some clients who have been with us all of that time!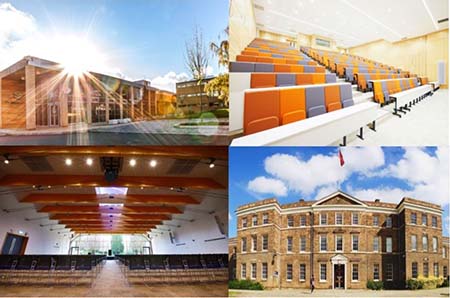 Across our venues we offer:
52 Conference rooms
State-of-the-art facilities
AV specialists
123 bedroom hotel
2,000 bedrooms available July to September
Capacity from two to 500
Outstanding catering
With each of our four venues boasting their own personality, facilities and amazing staff, read on to discover the perfect venue for your next meeting or event.
College Court
Blending original 1960s design with state-of-the-art facilities and located just minutes from Leicester city centre, our conference facilities and stylish 123 bedroomed hotel, mean we are a popular choice with visitors from both near and far.
A choice of 16 conference rooms with a capacity from two to 160 delegates make College Court the perfect choice for your meeting, conference or function.
Stamford Court and Oadby Village
From the restored traditional features to our dedicated staff, at Stamford Court you'll find everything you need to create your next meeting or conference.
Of course, period features are all well and good, but when it comes to technology we all want it bang up to date, which is why we boast state-of-the-art tech solutions so there is no compromise between ambience and practicalities.
With four-star campus accredited en suite accommodation located in Oadby Village and available during the summer months, whether you are with us for the day, or a little longer, you are sure to enjoy your Stamford Court experience.
Leicester Campus
If you want a venue that delivers flexible meeting spaces complete with state-of-the-art AV equipment, backed up by in-house tech support, all located just a stone's throw from one of the UK's most diverse cities, then look no further than Leicester Campus.
Nestled within the grounds of Leicester University, our purpose-built meeting rooms, which are designed to adapt to different layout requirements, excellent catering options and 2000 bedrooms available July to September, mean our guests come back time and again.
Any profit made by Leicester Conferences is returned to the University for investment in academic projects. This means that clients of Leicester Conferences are able to contribute to the University's success, perhaps even helping us to make another world-famous discovery, or to further the education of some of the UK's brightest young students.
Want to find out more?
To discuss your next conference or event or to find out more about our special offers call us now on 0116 223 1680 or email conferences@le.ac.uk.