Navitas Partnership
About the partnership – The Leicester Global Study Centre
In 2019 The University of Leicester and Navitas signed a new partnership agreement with Navitas to provide international students with pathway programmes to study at the University.
The Leicester Global Study Centre (LGSC) provides a university level foundation education across a broad range of subjects, enabling international students drawn from a geographically diverse population to progress to degree programme study at the University of Leicester. The LGSC commenced teaching in September 2019.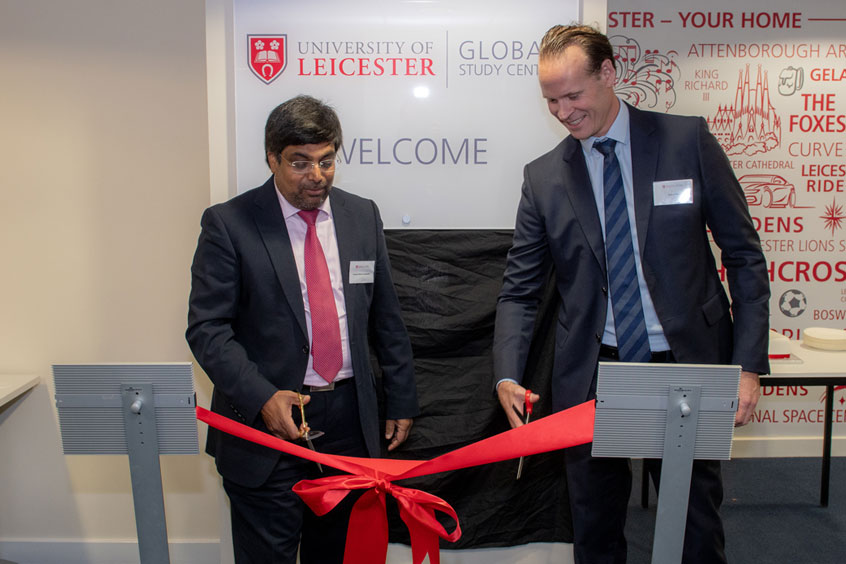 About Navitas
Since 1994, Navitas has been a respected leader in global higher education. They provide pre-university, managed campus and university pathway programmes. The pathway programmes are purposefully designed for international and domestic learners, who may not otherwise be able to access tertiary education.
The LGSC pathway programmes explained
Many students who study internationally are faced with the challenges of English as a second language, of adapting to a new culture, and a different education system. The pathway programmes provided by Navitas at the LGSC provide the unique services that international students particularly need to succeed – small class sizes, support with English language, extra tuition time, personalised learning, assistance in settling in to a new country and culture, extensive student welfare, and sophisticated processes to identify and support at-risk learners.
The LGSC pathway programmes equip students for degree level study, and having completed a programme at the LGSC, students typically enter mainstream studies at the University of Leicester and complete their undergraduate degree.
The LGSC students have full access to the University of Leicester campus and facilities including the library, computer rooms, recreation facilities, common areas and other general student services as well as having access to student clubs and societies. This enhances the student experience and aids retention as students integrate into campus life, making the move to mainstream studies much easier.
Education does not have geographic boundaries and our partnership with Navitas will allow us to reach out to prospective students across the world and bring them a Leicester education.
We're committed to creating the best experience for students and help them settle into life at Leicester.