SME Support and Funding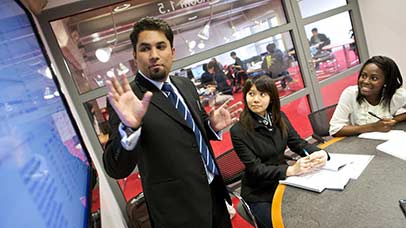 If you are an SME and based in Leicester or Leicestershire, you may be eligible to access funding.
We understand how difficult it is right now for businesses and we appreciate that workforce planning may not be at the top of your priority list. However, we may be able to help in the form of internship grants – to help you recruit a student or graduate on a short-term basis at zero cost to your business.
Funding Options
Funding is currently available for full and part-time internships ranging from 3-6 weeks, this summer. Internships can be a physical or virtual opportunity, or a blend of both.
Internships are fully funded so there is zero salary cost to the business for the period of the internship.
Benefits of recruiting an intern from the University of Leicester
Students are highly employable, motivated and ambitious and can deliver tangible results to your business quickly
Add value to your organisation by taking on challenging responsibilities and fixed-term projects.
Support your team in a peak period.
Bring fresh perspectives and new ideas.
Add to your talent pipeline -an internship can serve as an extended interview and reduces the overall risk of recruitment.
Support for your business
The University will provide you with a dedicated member of staff to support you through the entire internship process.
Support and advice on creating the internship opportunity.
Advertisement and promotion of the opportunity.
Tracking and monitoring of applications.
Organising the payment of the funding.
Eligibility Criteria
Maximum of 250 employees;
Turnover of less than 50 million euros per year;
Based within Leicestershire – although applications from organisations based elsewhere in the UK will also be considered;
Registered company, sole trader or partnership.
Diversity and Inclusion Internship
For organisations keen to diverse their workforce, the Employ Autism Internship Scheme may be of interest. This scheme is in addition to the other funded internship opportunities.
How to get in touch
If you would like to learn more about the full range of internship funding options available, please contact Emma Bagley e.bagley@le.ac.uk for an informal conversation about how the University can most support your recruitment needs.