SME Support and Funding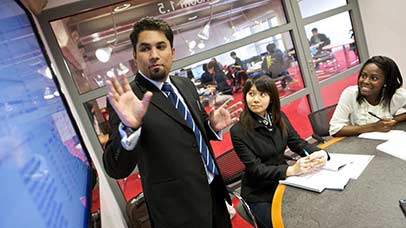 Our team of SME and internship specialists are able to support your recruitment needs in the following ways:
Access to funding – Various sources of funding are available to support SMEs recruit talent from the University of Leicester.
Access to talent – Support, advice and guidance is available to support you throughout the recruitment process – from helping you design an attractive job advert, through to organising interview rooms on campus. We are here to help.
Free vacancy advertising – it is always free to advertise your vacancies to our students and graduates. We can help set you up with your own business account to help make this process easy and straightforward.
Current funding – Summer 2020
The University of Leicester and Santander Universities have teamed up this summer to offer SMEs the opportunity to recruit a student or graduate from the University on a fully-funded four-week internship basis.
The option to retain the student for a longer period is available, however the funding is limited to the four-week period.
Why take on a University of Leicester intern?
Access talent and boost your business – our students are highly employable, motivated and ambitious and can deliver tangible results to your business quickly.
Add value to your organisation by taking on challenging responsibilities and fixed term projects.
Add to your talent pipeline. The internship can serve as an extended interview as you get the chance to see the intern in action for a 4-week period.
SME eligibility criteria
Maximum of 250 employees.
Turnover of less than £50 million per year.
Based in Leicestershire – although applications from organisations based elsewhere in the UK will also be considered.
Registered company, sole trader or partnership.
Other things to note
If you wish to have an internship for longer than four weeks, we can certainly discuss this with you.
The internship must start prior to the end of September 2020.
The internships are currently only for final year students.
We always have lots of new and exciting opportunities coming available at the University of Leicester, so even if our current offerings don't quite match your business needs right now, please get in touch, and we can discuss ways in which we can look at working together in the future.