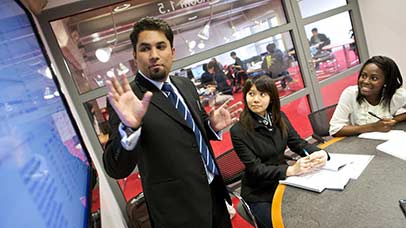 If you are an SME based in Leicester or Leicestershire, you may be eligible to access funding for a student or graduate intern. Our internships are designed to bring new perspectives and creative solutions to long and short term business challenges. We can help you to recruit a student or graduate on a short-term basis in the form of internship grants.
Benefits of recruiting an intern from the University of Leicester
Students are highly employable, motivated and ambitious and can deliver tangible results to your business quickly
Add value to your organisation by taking on challenging responsibilities and fixed-term projects.
Support your team in a peak period.
Bring fresh perspectives and new ideas.
Add to your talent pipeline -an internship can serve as an extended interview and reduces the overall risk of recruitment.
Support for your business
The University will provide you with a dedicated member of staff to support you through the entire internship process.
Support and advice on creating the internship opportunity.
Advertisement and promotion of the opportunity.
Tracking and monitoring of applications.
Organising the payment of the funding where applicable.
Micro-Internship Programme
Our micro-internship programme connects you with your own University of Leicester intern(s), who will volunteer 30 – 40 hours of their time to a designated project over a four week period. You receive a project deliverable that adds value to your business and benefit from the enthusiasm, creativity, fresh ideas and transferable skills of our students. The programme runs three times a year (autumn, spring and summer) and is open to all undergraduate and postgraduate taught students, introducing you to a wide and diverse talent pool.
For more information, please download our brochure (PDF, 862kb), or contact us at employer.services@leicester.ac.uk.
Leicester Graduate City Programme
Leicester Graduate City Project is run in collaboration with University of Leicester, De Montfort University and Leicester City Council and is funded through the European Social Fund (ESF). This is a 3 year project offering fully funded student internships to local SME businesses in Leicester and Leicestershire. The aim of the project is to encourage students to consider staying in Leicester after University and to seek employment based in Leicester and Leicestershire. The project aims also to encourage local employers to access the student and graduate talent from both Universities to support student retention in our city and county.
To be the first to hear when applications are re-opening, please email employer.services@leicester.ac.uk.
Citizens of Change Internships
The Citizens of Change internship is a new scheme that has launched in 2022. The scheme is designed to provide middle year undergraduates with an opportunity to take part in a paid work experience opportunity on community impact/engagement focused projects. There are a number of fantastic organisations taking part in the scheme including those from the voluntary sector, the arts and even the private sector. Projects are designed to create Citizens of Change, a key part of the University of Leicester's strategy and agenda.
For enquiries, please contact employer.services@leicester.ac.uk
How to get in touch
If you would like to learn more about the full range of internship funding options available, please contact employer.services@leicester.ac.uk to discuss how the University can support your recruitment needs.