Diversity and inclusion panel events
Diversity and inclusion panel events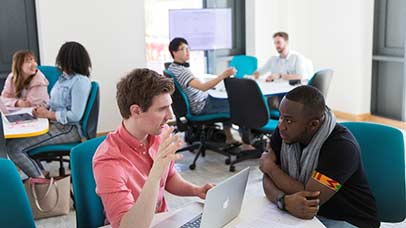 The University of Leicester is a truly diverse campus, with a vibrant mix of culture and backgrounds.
Inclusive events to connect diverse students and graduates with inspiring professionals – to raise aspirations, boost confidence and motivation and to help students reach their full potential.
27 October 2020: Inspirational Black Leaders (open to students from BME backgrounds) - book now
9 March 2021: Inspirational Female Leaders in STEM - book now
Seeking inspirational speakers to join the panel
If you are a professional working for an organisation committed to creating a truly diverse workplace then we want to hear from you.
Talk about the realities of climbing to senior positions in the workplace
Share personal experiences, struggles and successes experienced whilst progressing within your career.
Speak about the importance of having a diverse workforce within the organisation that you work for, as well as outline the positive action measures and good practice that are used to attract, nurture and develop talented employees whilst respecting their diverse backgrounds.
To register your interest in supporting these events, please email employer.services@le.ac.uk