Shorthand Mysteries
'Decoding Dickens' prize
The Dickens Project is hosting a prize of £300 for the full or partial decipherment of a shorthand letter presumed to have been written by Charles Dickens. The letter, held by the Morgan Library & Museum, is written entirely in shorthand characters on 'Tavistock House' headed notepaper. It has never previously been decoded.
Task
We are seeking solutions that identify what the Tavistock letter actually says. Because the process of decoding is as important as the solution, participants are also asked to write a short report about how they have arrived at their solution and the difficulties they have encountered along the way.
Deadline: 31 December 2021 at 5pm (GMT)
For full details of how to enter, download the 'Decoding Dickens Prize Instructions' form.
Further Shorthand and Cipher Mysteries
Tim Underhill has kindly agreed to share several postcards, written in shorthand or cipher, from his private collection. Can you work out which shorthand or cipher system is being used and, more importantly, what the coded message says?
There are no prizes for these further mysteries, apart from the satisfaction of deciphering. However, we'd welcome your solutions! Please email Claire (claire.wood@leicester.ac.uk) and Hugo (hugo.bowles@unifg.it) with your suggested solves.
All images are © Tim Underhill
Postcard from the Charles Dickens Birthplace Museum, Portsmouth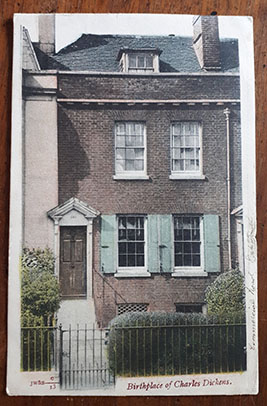 Above: Front of postcard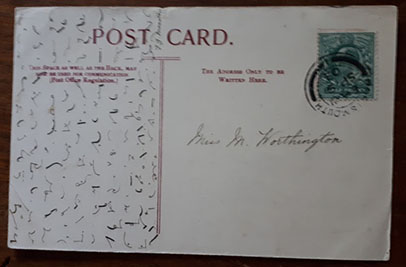 Above: Reverse of postcard, featuring shorthand characters
Solution
System: Pitman shorthand
Shorthand on reverse: Dear Miss Worthington. Thank you very much for the very nice postcards you sent me. I am afraid you will think I am a very ungrateful person for not replying before but over the last month I have been extremely busy and as the evening classes commence next week I shall be more so, but I hope in a fortnight's time to have finished the work that is taking up all my spare time in the day. The worst of it is I shall have the Ladies Own in a few days and I do like reading that and I intended giving something original this time at least so far. I spent my holidays this year in the Lake District and I thought of giving an account of my travels but I cannot do it this time it will take too long. This house is to be sold by auction very shortly the Portsmouth Corporation will
probably buy it for a museum. I will write you again later. Kind regards from E. G. Meade
Solver: Beryl Pratt
Postcard to Frank Pope

Above: Front of postcard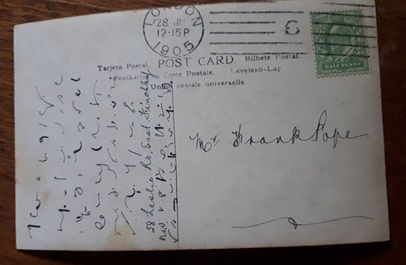 Above: Reverse of postcard, with a mix of shorthand and longhand characters
Solution
System: Pitman shorthand
Shorthand caption on the front: Mother will know who these are.
Shorthand on reverse: My dear Frank. Thank you very much for your letter on Monday. Tell Annie she should write for the photos herself but never mind I will send them as soon as I can finish them off. Tell mother Connie says she will write towards the end of the week. We are moving into our new house 58 Leslie Rd, East Finchley NW on the 8 July next Saturday week but I will write again in a few days or next Monday. Percy
Solvers: Kathryn (@Kathryn11Baird) and Beryl Pratt
Postcard from Chatham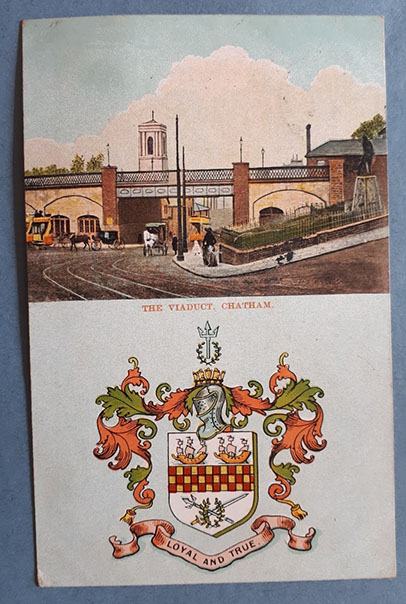 Above: Front of postcard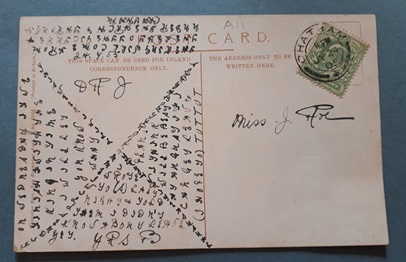 Above: Reverse of postcard