Shorthand Mysteries
'Decoding Dickens' prize
The Dickens Project is hosting a prize of £300 for the full or partial decipherment of a shorthand letter presumed to have been written by Charles Dickens. The letter, held by the Morgan Library & Museum, is written entirely in shorthand characters on 'Tavistock House' headed notepaper. It has never previously been decoded.
Task
We are seeking solutions that identify what the Tavistock letter actually says. Because the process of decoding is as important as the solution, participants are also asked to write a short report about how they have arrived at their solution and the difficulties they have encountered along the way.
Deadline: 31 December 2021 at 5pm (GMT)
For full details of how to enter, download the 'Decoding Dickens Prize Instructions' form.
Further Shorthand and Cipher Mysteries
Tim Underhill has kindly agreed to share several postcards, written in shorthand or cipher, from his private collection. Can you work out which shorthand or cipher system is being used and, more importantly, what the coded message says?
There are no prizes for these further mysteries, apart from the satisfaction of deciphering. However, we'd welcome your solutions! Please email Claire (claire.wood@leicester.ac.uk) and Hugo (hugo.bowles@unifg.it) with your suggested solves.
All images are © Tim Underhill
Postcard from the Charles Dickens Birthplace Museum, Portsmouth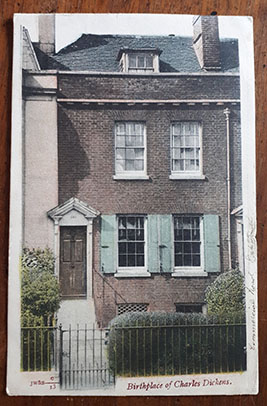 Above: Front of postcard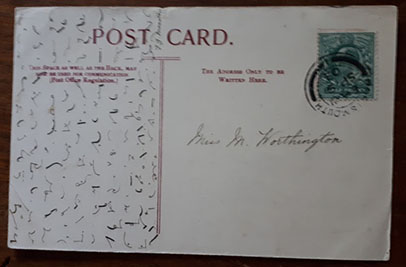 Above: Reverse of postcard, featuring shorthand characters
Postcard to Frank Pope

Above: Front of postcard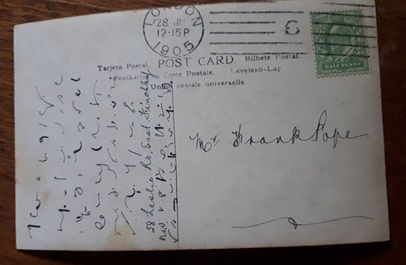 Above: Reverse of postcard, with a mix of shorthand and longhand characters
Postcard from Chatham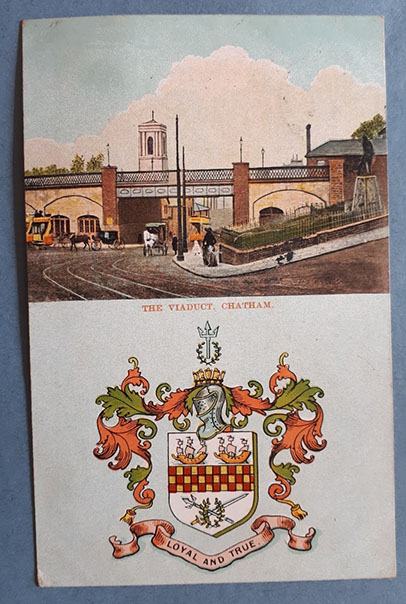 Above: Front of postcard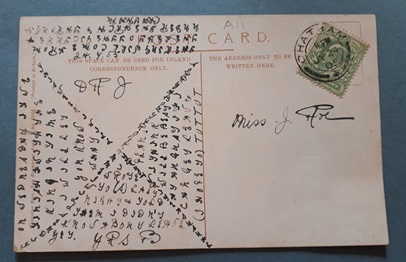 Above: Reverse of postcard