INTREPID Forensics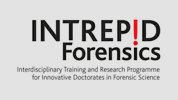 INTREPID Forensics (Interdisciplinary Training and Research Programme for Innovative Doctorates in Forensic Science) is a €2.9 million, multidisciplinary project funded by the People Programme (Marie Curie Actions) of the European Union's Seventh Framework Programme (Grant 607930).
The INTREPID Forensics programme provides ten funded PhD opportunities for early stage researchers to pursue innovative research degrees focusing on areas applicable to the forensic sciences. The research projects will all be based at the University of Leicester, and are rooted in a wide range of disciplines including genetics, criminology, chemistry, psychology, mathematics, physics, archaeology and ancient history, and infection, immunity and inflammation.
Each of the researchers will be supervised by experts in these fields during their research, and they will also complete a core forensic skills training programme designed and delivered by academics and industry partners. In addition, each researcher will complete a research secondment at various partner institutions throughout Europe.
Contact