The Classical Mediterranean
The Classical Mediterranean
MA, PGDip, 9 months-2 years, full- or part-time
This is for you if... you want to explore in depth the Classical Mediterranean world across the Greek and Roman periods drawing from the disciplines of history and archaeology.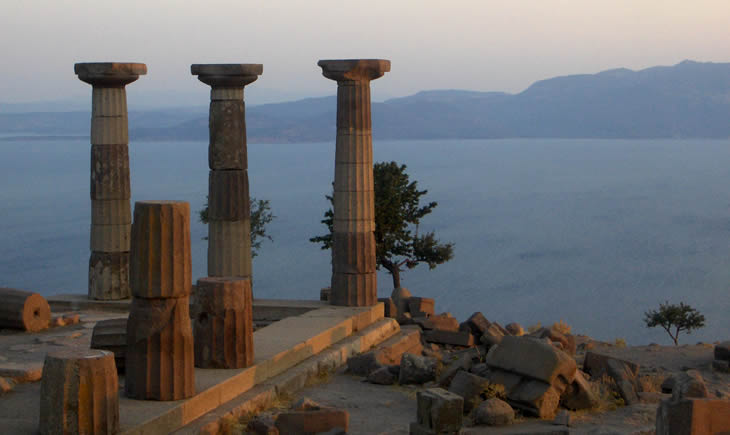 Course Description
This postgraduate degree offers an intensive and challenging approach to the study of the Classical Mediterranean worlds across the Greek and Roman periods. The course questions the traditional ways in which we reconstruct the classical past, and interrogates current understandings and perceptions of Greek and Roman societies across the Mediterranean.
A key part of the course is our interdisciplinary approach, drawing from both history and archaeology. We will equip you to work with different classical sources in combination, including literary texts, epigraphy, material culture, landscape studies, architecture, and visual art.
The course will enable you to reflect critically on the economic, social, political, cultural, artistic and religious developments and interactions between the various regions and powers of the Classical Mediterranean. You will develop a high level of competence in the cultures of the Greek, Hellenistic and Roman Mediterranean.
Archaeology and Ancient History at Leicester has a high concentration of relevant staff expertise and specialisms which is exceptional in Britain. Our expertise ranges across the classical world, including Italy, North Africa, the Aegean, Anatolia and Syria, offering you a coherent perspective of the whole Mediterranean.
This course will equip you with the skills needed to go on to conduct doctoral research or enhance your career prospects, whether in archaeology, related or other professions.
Why Leicester?
We maintain close relationships with commercial/contract archaeology through ULAS (University of Leicester Archaeological Services), who were involved with the discovery of Richard III.
Archaeology and Ancient History at Leicester achieved 95% student satisfaction in the NSS in 2015, with 100% for staff enthusiasm.
Our specialist facilities include an Osteology Lab and an outstanding range of equipment for archaeological science in general.
Many of our courses cross the traditional academic boundaries of archaeology, history and ancient history, offering new perspectives to enrich your studies in your chosen field.
Course Structure
Core modules
Core modules
Plus your Dissertation (MA only)
Modules shown represent choices available to current students. The range of modules available and the content of any individual module may change in future years.
Option modules
Option modules
Choose three option modules from the following:
Advanced GIS and Geomatics
Approaches to Pompeii and Herculaneum
Archaeology and Landscape
The Archaeology of Colonial North America
The Archaeology of the Modern World
Archaeology of Standing Buildings
Archaeozoology
Ceramic Technology
Classical Art in Context
Early Christian Europe
Greek Historiography
The Greek World after Alexander
The Historical Archaeology of England
Human Skeletal Analysis
Humans, Animals and Disease
Neolithic Britain
Origins of Modern Humans
Rome Study Tour (limited places: subject to availability)
Scientific Approaches to Materials
Sparta and the Greek World
Textiles, Dress, and Identity in the Roman World
Troy and Its Reception
Modules shown represent choices available to current students. The range of modules available and the content of any individual module may change in future years.
Additional Information
Field trips
On the MA you will have the option of participating in a study tour in the Mediterranean, either as an assessed or non-assessed module. The study tour will take place over a period of ten days and involves visiting a range of classical sites, monuments and museums. If you take the tour as an assessed module you will be expected to prepare coursework based on activities you do on the tour. Previous tour locations have included Athens and Attica; and Istanbul and western Turkey.
What's the difference?
You will do four modules on both the MA and PGDip courses. If you go on to complete a dissertation you will get an MA qualification.
Teaching and Assessment
Teaching is by a combination of lecture and seminar courses, museum visits, a study tour to the Mediterranean region, and individual research.
Assessment is through essays and project work. You are encouraged throughout to develop your transferable skills, including IT and oral presentation. MA students write a 15,000 word dissertation undertaken between May and September. Students may elect to do an extended, 90-credit dissertation where doctoral study is the main target.
Entry Requirements
2:1 degree in Archaeology, or equivalent
English Language Requirements
IELTS 6.5 or equivalent. If your first language is not English, you may need to provide evidence of your English language ability. If you do not yet meet our requirements, our English Language Teaching Unit (ELTU) offers a range of courses to help you to improve your English to the necessary standard.
International Qualifications
Find your country in this list to check equivalent qualifications, scholarships and additional requirements.
Countries list
Career Opportunities
An MA in The Classical Mediterranean offers great opportunities to prepare for doctoral study, museum or field-related careers.
As well as providing an excellent foundation for doctoral research, our MA courses are highly valued by employers for the detailed thematic knowledge and key transferable skills that they provide. They enable you to develop a detailed, critical understanding of your particular area of interest, allowing effective career progression in archaeology, ancient history, museums and elsewhere.
Careers
Our Career Development Service is here to support you, with advice on interviews, CVs, work experience, volunteering and more. From Freshers' Week to Graduation and beyond, they are here to help you reach your professional goals.
| Course | Qualification | Duration | Start Dates | Availability |
| --- | --- | --- | --- | --- |
| The Classical Mediterranean | MA | 1 year full-time | September each year | Apply Now |
| The Classical Mediterranean | MA | 2 years part-time | September each year | Apply Now |
| The Classical Mediterranean | PGDip | 9 months full-time | September each year | Apply Now |
Course
The Classical Mediterranean
Qualification
MA
Duration
1 year full-time
Start Dates
September each year
Availability
Course
The Classical Mediterranean
Qualification
MA
Duration
2 years part-time
Start Dates
September each year
Availability
Course
The Classical Mediterranean
Qualification
PGDip
Duration
9 months full-time
Start Dates
September each year
Availability