Media, Gender and Social Justice
MA, 1 year, full-time
This is for you if... you are passionate about the power of media and communication for challenging inequalities in social institutions, and want to learn how to use them to effect change in the world.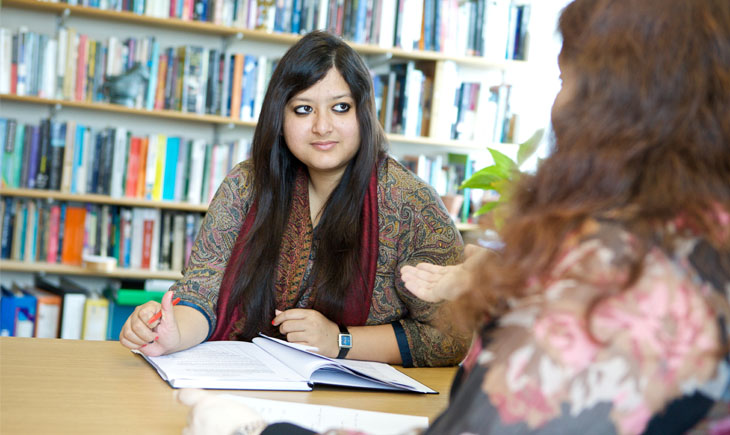 Course Description
As hashtag campaigns like #HeForShe indicate, the relationship between social inclusion, access to and participation in public life, and the tools and skills required to address inequalities in our major institutions are tightly tied to media and communication. Increasingly there is a need to not only examine how media represent and contribute to social inequalities, but also actively develop practical media tools for engaging in direct action leading to social change.
On the MA in Media, Gender, and Social Justice you will gain a comprehensive view of the theories, concepts, and approaches related to the use of media and communication for addressing inequalities and engaging in social justice work. This course is unique in the UK in that it provides an interdisciplinary, critical, and practical focus in the area of media, gender and social justice.
You will study the role of media and communication technology in shaping inequalities on a global level and in a range of specific sites and organisations. You will examine the ways in which media and communication play a key role in framing, representing, and extending inequalities related to gender as well as other identity markers. You will also investigate the conceptual and practical tools media and communication research can provide for making interventions into these inequalities, through grounded case studies as well as engagement with real-world problems, groups, and questions.
This course will provide rigorous and critical study of media, gender, and questions and of social justice issues within contemporary society. In the various modules, you will engage with a variety of international institutions, contexts, locales, and issues with an intersectional approach to gender that encompasses race, ethnicity, disability, class, citizenship and migration, language, and sexuality. On completing this course, you will have developed a solid theoretical and methodological grounding in understanding the relationship between media and social inequalities as well as the opportunities for challenging these relations. This postgraduate degree provides an excellent basis for you to progress to a wide range of media and communication roles in an array of organisations and groups in the fields of social action, justice and change. You will also have a firm grounding in social sciences writing and research skills, allowing you to progress to further higher education.
Key Facts
Start date

September each year

Department

Media and Communication

Contact

+44 (0)116 252 3863
mcs-enquiries@le.ac.uk
Why Leicester?
One of the UK's longest established academic centres for communication and media studies, we are internationally recognised for our innovative research.
In 1978 the University of Leicester launched the UK's first Masters Degree in the field of media and communication.
You will be taught by experienced tutors and leading researchers in the field.
You will study in the East Midlands, a major hub of non-profit, artistic, charitable, grassroots, and community organisations focused on social inequalities, and within Leicester, one of the UK's most diverse and welcoming cities.
Course Structure
Core modules
Core modules
Challenges in Media, Gender, and Social Justice
Social Justice in Practice
Plus your Dissertation or Extended Report (Action Research)
Modules shown represent choices available to current students. The range of modules available and the content of any individual module may change in future years.
Option modules
Option modules
The Politics of Human Rights
Human Rights, Ethics and Intervention in Action
Power, Crime and Criminal Justice
Domestic and Sexual Violence
Hate, Extremism and 'Everyday' Prejudice
Regulation of Sex Work
Corporate Governance
The Politics of Digital Media
Gender Politics in Contemporary Media
Making the Web
Race and Ethnicity
International Migration
New Communication Technologies, Social Media and Digital Politics
Directed Study
Modules shown represent choices available to current students. The range of modules available and the content of any individual module may change in future years.
Teaching and Assessment
On this degree, you will be taught through lectures, seminars, and workshops as well as individual sessions with your supervisor.
Assessment will focus on practical applications of the concepts learned in the core modules, through seminar papers, research essays, group work, presentations, workshop leadership, case studies, briefing papers, reports, portfolios, letters to MPs, and exams and tests, depending on the optional module. You will also have the opportunity to choose between completing a research-based dissertation or an Extended Report (Action Research) in partnership with a community group.
Entry Requirements
2:1 degree or equivalent professional qualification.
We may consider relevant voluntary/work experience in grassroots, public, private or NGO sectors related to social justice internationally.
English Language Requirements
IELTS 6.5 or equivalent. If your first language is not English, you may need to provide evidence of your English language ability. If you do not yet meet our requirements, our English Language Teaching Unit (ELTU) offers a range of courses to help you to improve your English to the necessary standard.
Career Opportunities
This course will equip you with the theoretical, methodological, and practical skills required to work in charitable, community, NGO, grassroots or non-profit organisations seeking expertise in media and communication strategies for enacting social justice-oriented action. You could go on to work in media management, public relations or communication strategy within groups, organisations or teams focused on enacting change in social institutions, drawing on practical knowledge of legal, policy and corporate bodies.
This degree is a good fit for professionals currently working on social justice issues in grassroots, public, private or NGO sectors internationally, or recent graduates aiming to enter social justice fields or corporate social responsibility, or anyone seeking to pursue further higher education in the areas of media studies, gender studies or social justice.
Careers
Our Career Development Service is here to support you, with advice on interviews, CVs, work experience, volunteering and more. From Freshers' Week to Graduation and beyond, they are here to help you reach your professional goals.
| Course | Qualification | Duration | Start Dates | Availability |
| --- | --- | --- | --- | --- |
| Media, Gender and Social Justice | MA | 1 year | September each year | Apply Now |
Course
Media, Gender and Social Justice
Qualification
MA
Duration
1 year
Start Dates
September each year
Availability