Mathematics with Economics
Mathematics with Economics
BSc, 3-4 years
This is for you if... you want to gain a thorough knowledge of mathematical methods and an awareness of their diverse applications in economics and the financial world.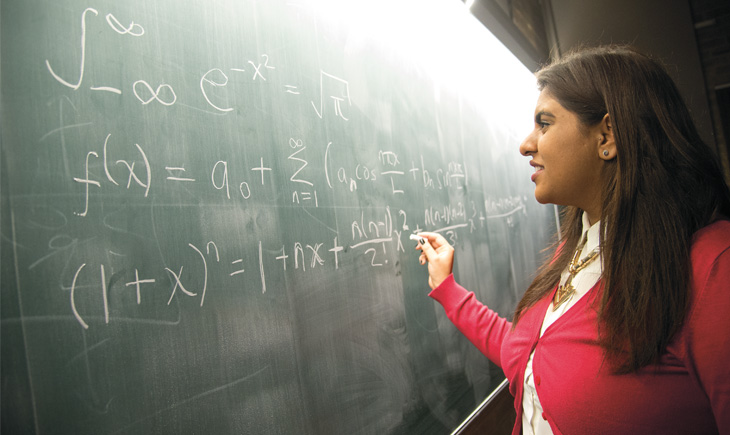 Course Description
Please note that the last intake for this course will be in September 2016.
Mathematics is one of the most fascinating and intellectually challenging subjects you can study. The Department of Mathematics at the University of Leicester is home to an enthusiastic group of mathematicians, both staff and students.
As the name suggests, this degree is aimed at students who are primarily interested in maths, but who would like to apply their mathematical skills in the field of economics. As a graduate of the BSc in Mathematics with Economics you will be capable of working in the business sector - where a good appreciation of mathematics adds real value - but your broad training in mathematics will also be useful across a wide range of graduate opportunities.
You will learn essential techniques are taught in analysis, algebra, applied mathematics, and statistics, as well as the core economics subjects of microeconomics and macroeconomics are taught in the first and second years.
Leicester has a strong international reputation for innovative research in financial mathematics, actuarial sciences, numerical analysis, scientific computing, mathematical biology, dynamical systems, algebra, topology and geometry. This diversity of research expertise is reflected in the wide range of specialist modules we offer – providing you with the opportunity to specialise in areas of mathematics according to your interests and aspirations.
Why Leicester?
We have a thriving, student-led Maths Society (SUMS) which organises a range of social activities and guest lectures throughout the year.
The Department of Mathematics regularly hosts national and international mathematics conferences, which attract leading speakers from across the globe.
As well as tutorials and seminars, our regular drop-in learning sessions, run by both staff and postgraduates, will enhance your learning and help you get to know others in the Department.
Our degrees are designed to deliver a combination of a thorough mathematical education and a wide range of transferable skills and knowledge essential in the modern workplace.
Course Structure
Year 1
Year 1
Modules
Calculus and Analysis 1
Calculus and Analysis 2
Introductory Statistics
Linear Algebra 1
Linear Algebra 2
Probability
At the end of Year 1 it may be possible to transfer to either the BSc in Mathematics and Actuarial Science or the BSc in Financial Mathematics.
Modules shown represent choices available to current students. The range of modules available and the content of any individual module may change in future years.
Year 2
Year 2
Modules
Applied Econometrics
Business Applications in Mathematics
Calculus and Analysis 3
Differential Equations and Dynamics
Econometrics
Introduction to Computing
Linear Algebra 3
Modules shown represent choices available to current students. The range of modules available and the content of any individual module may change in future years.
Year in Industry (optional)
Year in Industry (optional)
If you want to, you can take a year out between Years 2 and 3 to work in an industrial placement (provided you meet set criteria). Or you can opt to continue studying at the University and complete your degree in three years.
NB. A year spent on an industrial placement still incurs a tuition fee, but this is much lower than for a normal year at Leicester. See our Fees and Funding section for details.
You will undertake a programme of training and practical experience that is agreed between the sponsoring company and the University. A member of staff will be individually assigned to you as your industrial placement tutor, who will be in regular contact with you throughout your placement and will visit the sponsoring company.
A year in industry is a great opportunity which can give you first-hand experience of working in a mathematics-related career while also enhancing your employability skills and allowing you to network with people in industry.
Modules shown represent choices available to current students. The range of modules available and the content of any individual module may change in future years.
Final Year
Final Year
Core modules
Option modules
Choose four option modules from:
Communicating Mathematics
Complex Analysis
Equations of Mathematical Physics
Generalised Linear Models
Groups and Symmetry
History of Mathematics
Introduction to Actuarial Mathematics
Introduction to Financial Mathematics
Number Theory
Operations Research
Scientific Computing
Squaring the Circle and Irreducible Polynomials
Modules shown represent choices available to current students. The range of modules available and the content of any individual module may change in future years.
Major/Minor Degrees
Major/Minor options allow you to create your own degree. You can concentrate on one subject as your Major (75% of your course) while broadening your knowledge with a Minor subject (25% of your course).
Why not complement your Major with a subject that you enjoyed before, or which has vocational elements that can boost your career prospects? Alternatively, you may want to try something completely new that you've always been interested in, like a language.
Find out more
Teaching and Assessment
As well as lectures, your course will involve regular group meetings, run by both staff and other students, where students' work is discussed. You will gain experience in presenting mathematical arguments to fellow students, which will enhance and develop your presentation and communication skills.
Development of ICT and programming skills is an integral part of all our mathematics degrees. Through a combination of computer labs and dedicated modules, you will learn to use the computational functions in Excel, program in Matlab and VBA and use LaTeX for scientific writing. However, no previous knowledge of computing is needed for any of our degrees.
A typical week for a first or second year student might consist of nine or ten hours of lectures, about four hours of small group working and about three hours of problem classes or computer classes. You will also spend several hours a week on private study: review of lecture material, problem solving, additional reading and preparing for tutorials.
Your economics lectures will be supported by small-group tutorials, seminars or practical classes, designed to encourage discussion, exploration and application of issues arising from lecture material.
You will be assessed by a mixture of exams, course work and, in your Final Year, an independent research project. This will give you the opportunity to work on a topic of your choice that you are particularly interested in.
Entry Requirements
A/AS-levels: AAB including Grade A at Maths. Two AS-levels considered in place of one A-level. General Studies accepted.
EPQ with A-levels: ABB + EPQ at grade B. A-level subjects to include Maths at grade A. Two AS-levels considered in place of one A-level. General Studies accepted.
Access to HE Diploma: Pass relevant diploma with some credits at distinction including Maths.
International Baccalaureate: Pass Diploma with 32 points including 6 in HL Maths.
BTEC Nationals: Pass Diploma with DDM, plus Grade A at A-level maths. Please contact department regarding eligibility.
Other national and international qualifications considered. If you do not meet the entry requirements for this course, you can apply for the International Foundation Year run by our dedicated International Study Centre. The ISC provides academic and English language support to help you progress to your chosen undergraduate degree at the University of Leicester.
Second year entry may be possible with suitable qualifications.
Selection Process
Applicants are not normally interviewed. If you receive an offer you will be invited to visit the Department.
English Language Requirements
IELTS 6.0 or equivalent. If your first language is not English, you may need to provide evidence of your English language ability. If you do not yet meet our requirements, our English Language Teaching Unit (ELTU) offers a range of courses to help you to improve your English to the necessary standard.
International Qualifications
Find your country in this list to check equivalent qualifications, scholarships and additional requirements.
Countries list
Career Opportunities
The 'Business Applications of Mathematics' module gives you the opportunity to experience the application of mathematical theory and mathematical modelling in a business context.
Our drop-in sessions are tailored to develop employability skills.
Training in computing and programming is available for all students, helping you develop work-place skills.
You can participate in an employability development programme. Working with well-known employers you will undertake a business game scenario, giving you a taste of the graduate recruitment process.
You have the chance to undertake project work with student societies and employer-led organisations.
Our Student Support Manager provides information, advice and guidance on the graduate job application process.
Read about some of our recent graduates.
Careers
Our Career Development Service is here to support you, with advice on interviews, CVs, work experience, volunteering and more. From Freshers' Week to Graduation and beyond, they are here to help you reach your professional goals.
| Course | Qualification | Duration | UCAS Code | Availability |
| --- | --- | --- | --- | --- |
| Mathematics with Economics | BSc | 3 years full-time | G1L1 | Apply Now |
| Mathematics with Economics with Year in Industry | BSc | 4 years, full-time | G1L1 | Apply Now |
Course
Mathematics with Economics
Qualification
BSc
Duration
3 years full-time
UCAS Code
G1L1
Availability
Course
Mathematics with Economics with Year in Industry
Qualification
BSc
Duration
4 years, full-time
UCAS Code
G1L1
Availability