Mathematics
Mathematics
Pre-Masters Diploma, 1 year, full-time
This is for you if... you want to study on one of our postgraduate Mathematics degrees but need a boost in your maths skills first.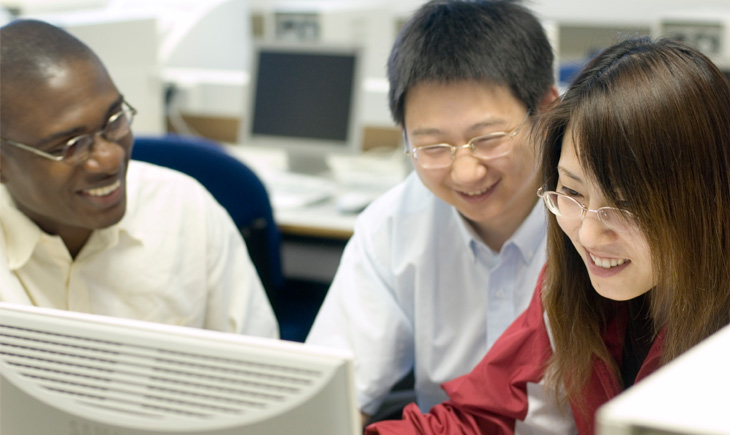 Course Description
This Pre-Masters Diploma offers a one year route into studying maths at Masters level if your own background isn't quite as mathematical as it could be.
You will study areas such as probability, calculus, statistics, differential equations and linear algebra, as well as gaining programming skills and experience of specialist mathematical software.
The precise structure of your Diploma course will depend on which of our Masters degrees you are aiming at. The Diploma can act as a lead-in to an MSc in:
(The Diploma route is not available for Mathematical Modelling in Biology, the distance learning degree in Actuarial Science or the Mathematics MRes.)
Why Leicester?
The Department of Mathematics at Leicester carries out research, training and postgraduate teaching in finance, risk management, dynamical systems, computational modelling, actuarial science, data analysis, algebra, topology and associated fields.
The Department provides a stimulating academic environment where you can develop your knowledge and skills, and contribute to a wider understanding of the subject area.
We have more than 50 postgraduate research students, over 80 postgraduate taught students and in excess of 100 students studying by distance learning.
Course Structure
Financial Mathematics and Computation
Actuarial Sciences
Data Analysis for Business Intelligence
Applied Computation and Numerical Modelling
Teaching and Assessment
Teaching methods include lectures, seminars and computer classes. Assessment is a mixture of coursework assignments, oral presentations and written exams.
Entry Requirements
Good second class honours degree (or equivalent) in a mathematical or finance related subject such as Economics, Engineering, Physics, Finance or Computer Science. If your degree did not include plenty of maths, you will need Maths A-level too.
English Language Requirements
IELTS 6.0 or equivalent. If your first language is not English, you may need to provide evidence of your English language ability. If you do not yet meet our requirements, our English Language Teaching Unit (ELTU) offers a range of courses to help you to improve your English to the necessary standard.
International Qualifications
Find your country in this list to check equivalent qualifications, scholarships and additional requirements.
Countries list
Fees and Funding
This is the total course fee.

Starting in September 2016

Starting in September 2017

Find out more about scholarships and funding.

This is the total course fee.

Starting in September 2016

Starting in September 2017

Find out more about scholarships and funding.

Careers
Our Career Development Service is here to support you, with advice on interviews, CVs, work experience, volunteering and more. From Freshers' Week to Graduation and beyond, they are here to help you reach your professional goals.
| Course | Qualification | Duration | Start Dates | Availability |
| --- | --- | --- | --- | --- |
| Mathematics | Pre-Masters Diploma | 1 year full-time | September each year | Not currently available; contact admissions. |
Course
Mathematics
Qualification
Pre-Masters Diploma
Duration
1 year full-time
Start Dates
September each year
Availability
Not currently available; contact admissions.