Mass Communication
Mass Communication
MA, PGDip, PGCert, 1-2 years, by distance learning
This is for you if... you want the flexibility of studying by distance learning while exploring the social, political, cultural, economic factors that help shape media and developing the skills needed to analyse them.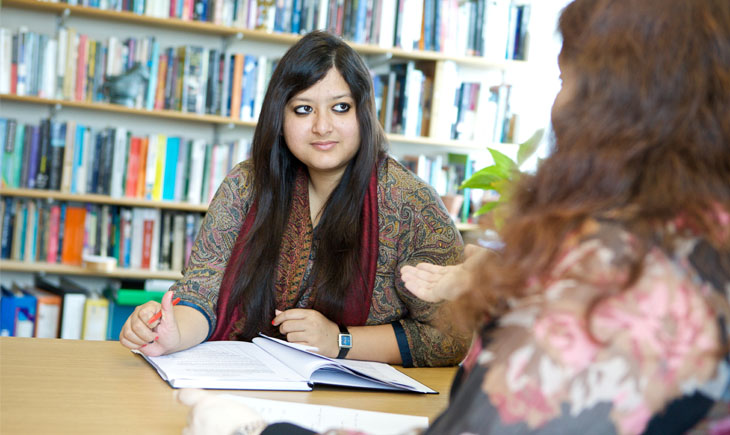 Course Description
Please note that the last intake for this course will be October 2016.
The MA in Mass Communication integrates critical theory in media and communication studies with issues of policy and professional practices across a range of media industries. This degree will provide you with an in-depth understanding of the historical development and key approaches to the study of media, culture and communication. You will gain a comprehensive grounding in the theories and research necessary for studying, analysing, and understanding media and communication processes in both national and global contexts.
This course will examine a wide range of questions in media and communications such as the changing social uses of media; media production, organisation and control; issues of management, training and ethics in media practice and media regulation.
The course will equip you with the advanced critical and analytical skills in media and social theory and develop your independent learning and research expertise.
By choosing to study by distance learning, you will have the flexibility to fit your study around existing commitments and enhance your career prospects without having to leave employment. The course will suit you if you are working in any of the various sectors of the media and communications industries and professions, or if you strive to do so.
Studied over two years, the MA in Mass Communication consists of eight core modules plus two option modules and a dissertation.
If you have any questions about this course, join us for a live online chat with academic tutors and admissions staff.
Key Facts
Start date

April and October each year

Department

Media and Communication

Contact

Social Science Distance Learning Hub
+44 (0)116 252 3755
css-dl@le.ac.uk

Join us for a live online chat.
Why Leicester?
In 1978 the University of Leicester launched the UK's first Masters Degree in the field of media and communication.
You will be taught by experienced tutors and leading researchers in the field.
As the UK's leading provider of postgraduate distance learning courses, the University of Leicester is a centre for e-learning and is committed to the further development of flexible learning systems.
Leading scholars from many different institutions around the world have created learning materials which are exclusive to our courses and which build into an invaluable resource for the study of the media.
Course Structure
Core modules
Core modules
Plus your Dissertation
Modules shown represent choices available to current students. The range of modules available and the content of any individual module may change in future years.
Option modules
Option modules
Choose two option modules from:
Media Texts
Image and Representation
Critical Public Relations: Contexts and Issues
The Political Economy of the New Media
Modules shown represent choices available to current students. The range of modules available and the content of any individual module may change in future years.
Additional Information
Key Dates
Start date: 23 October 2016
Application deadline for October 2016: 7 October 2016
Please note this will be the last intake for this course.

What's the difference?
If you choose to study for a PGDip, you will do the same core and optional modules as the MA but not the dissertation. If you choose the PGCert you will do fewer modules.
If you apply for an MA you can choose to stop after completing the required modules, and receive a PGDip instead.
Teaching and Assessment
Teaching
This distance learning course is taught primarily through the study of texts and other media including email, website and audio-visual resources. There will be provision for some face-to-face tuition.
The teaching materials produced for our distance learning courses are the product of very considerable preparation, drawing on a range of expertise from universities around the world and assessed by experts of high standing.
The flexibility of materials-based learning offers you more scope to develop study patterns that fit in with your preferred pace of study and are adapted to your particular needs and circumstances.
You will be allocated a personal tutor who will support you with all academic aspects of the course. Our Distance Learning Office is another point of contact and support. Study support is also provided by the online conference which all registered students, personal tutors, alumni and others can subscribe to. All you require is an email connection.

Course conferences are held annually in the UK and arrangements may be made elsewhere where there are sufficient numbers of students. Conferences are open to all students. They provide an invaluable opportunity to meet fellow students and academic staff.
Assessment
In Year 1 you will complete five written assignments and one examination. In Year 2 you will complete four written assignments and a dissertation of 12,000 to 15,000 words.
Distance Learning
Online learning is an important feature of this course, therefore it is essential that you have reliable, regular access to the internet (preferably with a broadband connection) in order to participate.

As a distance learning student, you will have access to the University Library's electronic service, the Leicester Digital Library, which includes a large number of e-journals and e-books. You are also welcome to join campus-based activities (by prior arrangement) at any time.

If you live close to Leicester you can, of course, visit the Library in person. For UK-based students who wish to use other libraries, we can issue you with a card which allows you to do so. This is a national scheme which allows distance learning students to borrow material from up to three other participating libraries.
Research Stories
Entry Requirements
2:1 degree or equivalent professional qualification
We can give special consideration to applicants who have significant work experience in a relevant field.
You may be invited to submit an entry assignment in support of your application.
English Language Requirements
IELTS 6.5 or equivalent. If your first language is not English, you may need to provide evidence of your English language ability.
International Qualifications
Find your country in this list to check equivalent qualifications, scholarships and additional requirements.
Countries list
Fees and Funding
This is the total course fee. Please note that the fees for our distance learning courses are based on where you will be residing in the world during your studies.

Starting in October 2016

MA/PGDip: £9,310
PGCert: £4,655

Find out more about how to pay and scholarships and funding.

University of Leicester Graduate Scholarship: If you graduate from an undergraduate degree at the University of Leicester in 2016 you may be eligible for a 50% discount on your tuition fee.

Did you know you can apply for a Postgraduate Loan of up to £10,000, subject to eligibility? (MA only; not available for PGDip or PGCert)

This is the total course fee. Please note that the fees for our distance learning courses are based on where you will be residing in the world during your studies.

Starting in October 2016

MA/PGDip: £10,070
MA/PGDip: Discounted fee for students studying in eligible countries: £7,805

Find out more about how to pay and scholarships and funding.
Career Opportunities
This Masters degree will demonstrate to potential employers that you have a high level of knowledge in your particular area, which can set you apart from others in the job market. The course has a strong emphasis on research methods and training, which will have a practical application in the professional world.
Some of the key career destinations include new media organisations, as well as press and broadcast organisations with a new media component, international news agencies, government departments (e.g. publicity, education, health), advertising firms, public relations organisations, and many others.
Careers
Our Career Development Service is here to support you – by email, phone or skype – with advice on interviews, CVs, work experience and more. From registration to Graduation and beyond, they are here to help you reach your professional goals.
| Course | Qualification | Duration | Start Dates | Availability |
| --- | --- | --- | --- | --- |
| Mass Communication | MA | 2 years by distance learning | October each year | Apply Now |
| Mass Communication | PGDip | 20 months by distance learning | October each year | Apply Now |
| Mass Communication | PGCert | 1 year by distance learning | October each year | Apply Now |
Course
Mass Communication
Qualification
MA
Duration
2 years by distance learning
Start Dates
October each year
Availability
Course
Mass Communication
Qualification
PGDip
Duration
20 months by distance learning
Start Dates
October each year
Availability
Course
Mass Communication
Qualification
PGCert
Duration
1 year by distance learning
Start Dates
October each year
Availability