Management Studies and Economics
Management Studies and Economics
BA, 3-4 years
This is for you if... you are fascinated by markets and the economic structures behind them, as well as the way society is organised and the ways human beings relate to one another.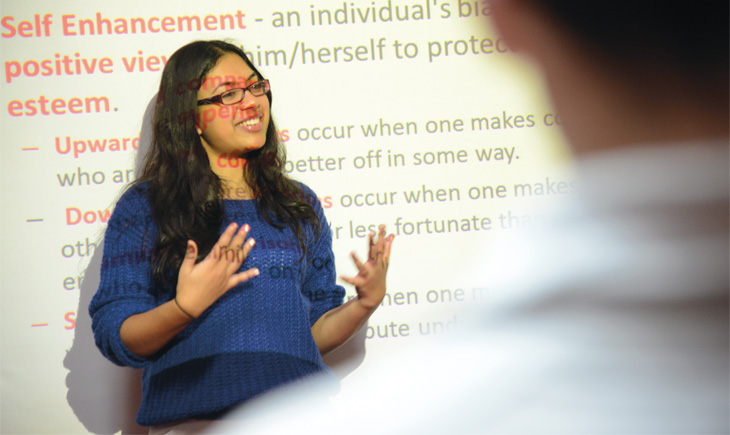 Course Description
This combined degree enables you to study management with a particular focus on economic issues. This combination is a particularly interesting one because there are many practical and academic links between management and economics.
Any organisation is part of a market and the study of economics helps us to understand how markets are structured and shaped. If you go on to be a manager, you will need to be able to understand the global economic climate and the impact of micro and macroeconomic factors on your marketplace. This course will give you an excellent grounding for roles of this kind.
During your degree you will acquire a wide range of critical and analytical skills, along with a range of communication and team working skills, which will be directly transferable to the workplace whatever career you choose to follow.
We are known for the 'Leicester Model' of management studies – an approach that challenges the status quo and seeks to give voice to those individuals, groups and societies who are traditionally overlooked in global management and organisational processes. With our distinctive approach to the study of management, you can be certain that we will provide you with a wealth of exciting learning experiences. Our unique, multi-disciplinary approach draws on anthropology, cultural studies, economics, sociology, politics and psychology, as well as traditional management and economic theories.
Our courses will provide you with an in-depth understanding of contemporary management techniques, and will allow you to develop the skills to become an effective and socially responsible manager in local and global arenas, whether in public, private or third sector organisations and enterprises.
Why Leicester?
We are ranked in the top 10 for Business and Management Studies by the Guardian University Guide 2014.
Our 'Reel Management' film club, lets you study issues of management, finance and marketing as portrayed on the silver screen in movies as such as Glengarry Glen Ross, The Wolf of Wall Street and American Psycho!
Our small group teaching means you will have a greater opportunity to participate in debates and receive more personal feedback on your progress.
We run a popular seminar programme delivered by our staff and guest speakers from prestigious institutions around the world. Gain valuable insights and debate current economics topics with these leading scholars.
Major/Minor Degrees
Major/Minor options allow you to create your own degree. You can concentrate on one subject as your Major (75% of your course) while broadening your knowledge with a Minor subject (25% of your course).
Why not complement your Major with a subject that you enjoyed before, or which has vocational elements that can boost your career prospects? Alternatively, you may want to try something completely new that you've always been interested in, like a language.
Find out more
Teaching and Assessment
During your first year you will have 9-10 hours each week of timetables sessions. These typically consist of 6 hours of lectures and 3-4 hours of seminars/small group work.
A variety of teaching methods are used with the aim of creating a stimulating environment in which you are encouraged to develop your learning skills and to actively participate in the learning process.
Assessment varies from one module to another and ranges between a mixture of coursework and examination in some modules, to others that are 100% coursework or project-based.
We are a vibrant and reflective School and the enthusiasm you will find in the lecture theatre and seminar room comes from our commitment to our subject and our attempts to develop and energise it.
Entry Requirements
A/AS-levels: ABB. Two AS-levels may be considered in place of one A-level. General Studies accepted.
EPQ with A-levels: BBB + EPQ at grade B. Two AS-levels considered in place of one A-level. General Studies accepted.
GCSE: Maths at Grade B and English Language at grade C.
Access to HE Diploma: Pass relevant diploma with some credits at distinction.
International Baccalaureate: Pass Diploma with 30 points, with grade 5 in SL Maths.
BTEC Nationals: Full Diploma with DDM, plus GCSE requirements as above.
Other national and international qualifications considered. If you do not meet the entry requirements for this course, you can apply for the International Foundation Year run by our dedicated International Study Centre. The ISC provides academic and English language support to help you progress to your chosen undergraduate degree at the University of Leicester.
Second Year Entry may be possible with suitable qualifications.
Selection Process
Applicants are not normally interviewed. If you receive an offer you will be invited to visit the School of Business.
English Language Requirements
IELTS 6.5 or equivalent. If your first language is not English, you may need to provide evidence of your English language ability. If you do not yet meet our requirements, our English Language Teaching Unit (ELTU) offers a range of courses to help you to improve your English to the necessary standard.
International Qualifications
Find your country in this list to check equivalent qualifications, scholarships and additional requirements.
Countries list
Fees and Funding
Starting in 2016

£9,000 per year
The fee for a year abroad is £1,250, rather than £9,000.
The fee for a placement year is £1,000 rather than £9,000.

Starting in 2017

An inflationary increase (2.8% based on RPIX*) in tuition fees and student support loans have been announced by the Government for 2017. This is still subject to formal parliamentary approval however, if approved, fees for 2017/18 entry could rise to £9,250 in 2017/18.

After 2017/18, the tuition fee you pay may increase annually in line with inflation (RPIX) and is subject to government regulations.

(*RPIX is a measure of inflation in the UK, equivalent to all items in the Retail Price Index (RPI) excluding mortgage interest payments.)

Starting in 2016

Starting in 2017

To be confirmed

If you take a Year Abroad or Year in Industry, your fee will be 15% of the full-time tuition fee.
Career Opportunities
Alongside your academic work we recognise that it is also important that you gain experience and develop your skills.
The final year option module Critical Management in Practice offers you the chance to take a six-week summer placement. The module is designed to encourage students to critique management practice by grounding arguments in their own observations of professional management practice. Placements take place between the second and third year of study. Students have been placed in a variety of sectors ranging from marketing, finance, accounting, operations, procurement, sales or even shadowing directors and learning to become a valued team member. Alongside your academic work we recognise that it is also important that you gain experience and develop your skills. The School's dedicated in-house Career Development Manager works closely with the University's Career Development Service to make sure you get support to achieve your aspirations.
Whether you want to make a difference in the voluntary sector, start your own business or reach the top in an organisation, there are specially designed programmes and activities here at Leicester that can support you in the getting the right skills, experiences and exposure you need.
Careers that our graduates have pursued include roles within management, consultancy, HR, research, finance and accounting and higher education.
Read about some of our recent graduates.
Careers
Our Career Development Service is here to support you, with advice on interviews, CVs, work experience, volunteering and more. From Freshers' Week to Graduation and beyond, they are here to help you reach your professional goals.
| Course | Qualification | Duration | UCAS Code | Availability |
| --- | --- | --- | --- | --- |
| Management Studies and Economics | BA | 3 years full-time | NL21 | Apply Now |
Course
Management Studies and Economics
Qualification
BA
Duration
3 years full-time
UCAS Code
NL21
Availability
Not what you're looking for?