Major in Spanish and Latin American Studies (Advanced)
Major in Spanish and Latin American Studies (Advanced)
BA, 4 years
This is for you if... you would like to study Spanish language from an advanced level, as well as Hispanic cultures from across the globe, and combine these studies with another subject.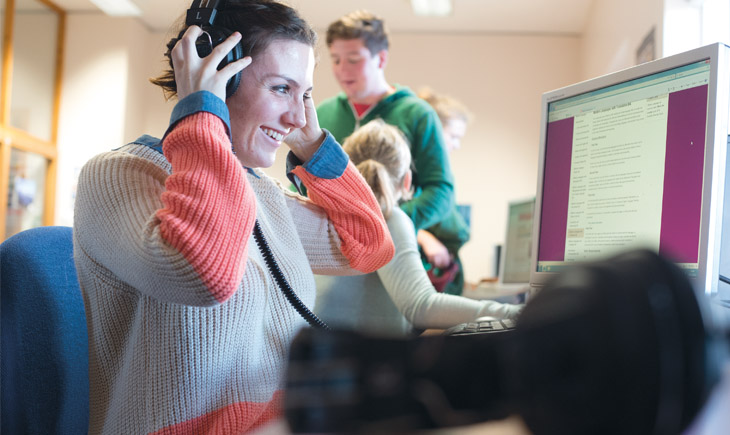 Course Description
As part of the University of Leicester's commitment to being a leading academic institution, we regularly review and update our degrees and modules to ensure that they reflect the most up-to-date research, knowledge, ideas and teaching practices, as well as taking into account student feedback. We also have to take into account the availability of key teaching staff where this will impact on the delivery of the course. As a result, if there are major changes to the course that you have applied for, we will contact you as soon as possible and will ensure that any disruption to your studies is minimised.
If you choose Spanish and Latin American Studies (Advanced) as your Major, you will study a rich and varied programme developing both your language skills and your knowledge of Spanish and Latin American cultures. By the end of your degree you will have acquired the level of proficiency needed to use the language professionally, as well as a thorough knowledge of Spanish and Latin American politics, history, film and literature.
If you do not have an A-level in Spanish you might be interested in the Major in Spanish and Latin American Studies (Beginners).

Why Leicester?
A fully-funded Summer School abroad at the end of your first year lets you immerse yourself in a different culture and language, building your confidence in your language skills.
Our small group teaching means you will have a greater opportunity to participate in debates and receive more personal feedback on your progress.
Our Modern Languages Society organises academic and social events including film screenings, nights out, guest speakers, language-themed nights, sports events and a weekend in Paris.
Languages at Leicester is an in-house, extracurricular scheme teaching a wide range of languages at different levels including Japanese, Mandarin Chinese, Latin, Russian and Arabic.
Additional Information
Summer School
When you take one of our Modern Languages courses, you'll get a unique opportunity to spend three weeks on one of our fully-funded summer schools during the summer vacation at the end of your first year, which is an integral part of your degree.
You will live with selected local host families and enjoy language tuition in small groups each morning. In the afternoons, and some evenings and weekends, you'll take part in cultural and social activities for a complete immersion in the heart of the society, country and region you are visiting.
The benefits you'll gain are invaluable - you'll build your confidence in your chosen spoken and written language, gain crucial transferable skills (on completion of the summer school you will receive a HEAR certificate), discover new cultures, and build life-long friendships.
Major/Minor Degrees
On a Major/Minor degree, you study a core area in depth (in this case Spanish and Latin American Studies - Advanced), while also exploring an additional area (your minor subject).
Restrictions
Please note that you cannot study a Major in Spanish and Latin American Studies (Advanced) with a Minor in:
Spanish Language (Beginners)
Spanish Language (Advanced)
Now choose your Minor
Teaching and Assessment
Language skills are taught in small groups, predominantly by native speakers. Our courses stress the importance of communicative ability as well as linguistic accuracy, and oral skills are highly valued.
Cultural studies modules are taught through a mixture of lectures and seminars, which encourage discussion and debate around prepared topics and texts.
The use of online tutorials and exercises on Blackboard, the University's virtual learning environment, allows us to include interactive training in our courses and to facilitate learning in specific areas such as essay writing and grammatical terminology.
You will be assessed throughout each year by a combination of continuous assessment, seminar presentations, essays, and formal exams at the end of each semester. While final year work is most heavily weighted in determining your final degree class, your achievements during your second year and your year abroad are also taken into account.
You will have regular meetings with your personal tutor to discuss progress in your studies. Your personal tutor will also provide a sympathetic ear for all matters of personal concern, whether they be academic, financial, housing, career or social issues.
Entry Requirements
A/AS-Levels: ABB at A-Level including Spanish. Two AS-Levels considered in place of one A-Level. General Studies is accepted.
EPQ with A-Levels: BBB at A-Level including Spanish + EPQ at grade B. Two AS-Levels considered in place of one A-Level. General Studies is accepted.
Access to HE Diploma: Pass diploma with at least 45 credits at level 3, including some at distinction. Plus A-Level (or equivalent) in Spanish.
International Baccalaureate: Pass Diploma with 30 points, including 6 in Higher Level Spanish.
BTEC Nationals: Pass Diploma at DDM. Plus A-Level (or equivalent) in Spanish.
Other national and international qualifications considered. If you do not meet the entry requirements for this course, you can apply for the International Foundation Year run by our dedicated International Study Centre. The ISC provides academic and English language support to help you progress to your chosen undergraduate degree at the University of Leicester.
Second Year Entry is not available.
Selection Process
When considering your application, we will look for evidence that you will be able to fulfil the objectives of the course and achieve the standards required. We will take into account a range of factors including previous exam results.
Applicants are not normally interviewed. If you receive an offer you will be invited to visit the department.
Native Speakers
If your native language is French, Italian or Spanish, and you wish to study this language at Leicester, you will normally be required, in the first year of study, to take English language modules in lieu of the foreign language modules in your native tongue. If you have native speaker fluency in both English and your chosen foreign language(s), you will normally be required to substitute cultural studies modules for the relevant language modules.
English Language Requirements
IELTS 6.5 or equivalent. If your first language is not English, you may need to provide evidence of your English language ability. If you do not yet meet our requirements, our English Language Teaching Unit (ELTU) offers a range of courses to help you to improve your English to the necessary standard.
International Qualifications
Find your country in this list to check equivalent qualifications, scholarships and additional requirements.
Countries list
Fees and Funding
Starting in 2017

£9,250 in your first year. After 2017/18, the tuition fee you pay may increase annually in line with inflation (RPIX) and is subject to government regulations. (RPIX is a measure of inflation in the UK, equivalent to all items in the Retail Price Index (RPI) excluding mortgage interest payments.)

Year Abroad:

your fee will be £1,250 for that year.

Starting in 2018

Find out more about scholarships and funding.

Starting in 2017

£15,290 per year
Year Abroad: your fee will be £3,822.50 which is 25% of the full-time tuition fee.

Starting in 2018

Find out more about scholarships and funding.

Career Opportunities
In most cases your Year Abroad can include a year-long teaching assistantship or you could spend one or two semesters on a work placement approved by the University.
Our annual Careers Week includes seminars exploring diverse career paths. Speakers have come from European embassies and the EU.
Careers
Our Career Development Service is here to support you, with advice on interviews, CVs, work experience, volunteering and more. From Freshers' Week to Graduation and beyond, they are here to help you reach your professional goals.
| Course | Qualification | Duration | UCAS Code | Availability |
| --- | --- | --- | --- | --- |
| Major in Spanish and Latin American Studies (Advanced) | BA | 4 years full-time | R401 | Apply Now |
Course
Major in Spanish and Latin American Studies (Advanced)
Qualification
BA
Duration
4 years full-time
UCAS Code
R401
Availability