Major in Sociology
Major in Sociology
BA, 3 years
This is for you if... you would like to combine the study of sociology with another subject.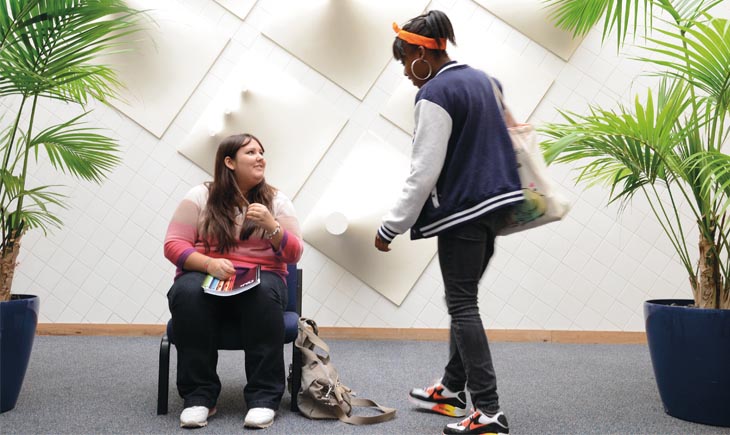 Course Description
If you choose Sociology as your Major, you will study a mixture of theoretical and real-world modules that will provide a broad foundation in the subject, whilst providing the opportunity to focus on the key issues impacting on contemporary British society and beyond. You will receive a solid grounding in social research methods, and this will lead to a substantial research project in the final year. You will choose from a range of option modules in your second and third years of study.
Why Leicester?
Staff members regularly contribute to major national and international journals and have authored or edited nearly 50 books. Sociology Review, the key periodical for school and college sociology students, is also edited in the department.
We have an active Sociology Society providing for students' needs - both social and academic. Some of the society's events are organised jointly with the Criminology and Psychology Societies.
We are proud to have happy students. We receive excellent student satisfaction scores in the National Student Survey. We are particularly noted for the quality of our teaching and the support students receive from staff.
Course Structure
Year 1
Year 1
In your first year you will study a broad range of sociological topics, including education, the family, religion, health, crime and the media to name a few. You will receive an introduction to the theoretical underpinnings of the subject more broadly. You will also examine the contemporary issues of living in a digital age, and how this is important to the twenty-first century sociologist. This will be followed by an investigation into how consumption is such a key factor in determining how we identify ourselves, and others, in both actual and virtual society.
Modules
Cybersociology
Sociology: A Beginners Guide
We Are What We Buy: Consumption, Self and Identity
Modules shown represent choices available to current students. The range of modules available and the content of any individual module may change in future years.
Year 2
Year 2
In your second year you will study how to conduct social research, and this will include the preparation of a research proposal. This journey into research includes a look at how and why we choose different types of methods to gather our data, alongside how we analyse it once gathered. You also get to choose from a range of option modules in your second year, choosing one in each semester.
Core modules
Using Numbers in Social Research
Option modules
Choose one option module from:
Consuming Crime
Ethnicity and Society
Gender and Society
Live Sociology
The Production and Consumption of Sport
Plus one option module from:
Social Movements and Collective Action
Victims and Offenders
Work, Employment and Society
Modules shown represent choices available to current students. The range of modules available and the content of any individual module may change in future years.
Year 3
Year 3
In your final year you will study two further option modules - one in each semester. You will also, with supervision, have the opportunity to put all of your newly found research expertise into practice by conducting your own research project on a topic of your choosing, subject to departmental and ethical approval.
Modules
Choose one option module from:
Plus one option module from:
Global Sex Trade
Growing Up and Growing Older
The Auto/Biographical Society
Plus your Research Project.
Modules shown represent choices available to current students. The range of modules available and the content of any individual module may change in future years.
Major/Minor Degrees
On a Major/Minor degree, you study a core area in depth (in this case Sociology), while also exploring an additional area (your minor subject).
Restrictions
Please note that you cannot study a Major in Sociology with a Minor in:
Deviance and Society
Gender Studies
Leisure, Sport and Consumption
Migration and Development
Social Research in Practice
Sociology
Now choose your Minor
Teaching and Assessment
Your teaching will consist of lectures and seminars. Additional time with teaching staff is also available and our lecturers and tutors have regular office hours for individual consultations. You are encouraged to meet regularly with staff to discuss your work and receive guidance and feedback.
During the remainder of your study time you are able to access our excellent learning resources provided by the Library and Sociology at Leicester. The majority of the resources for the course are now available online. As well as traditional written material, we provide a growing selection of multimedia resources to enrich your learning experience.
Assessment of each module normally takes place at the end of each semester. For each of your modules, you can expect to submit at least one piece of coursework and to sit one exam.
Entry Requirements
A-levels: BBB. Two AS-levels considered in place of one A-level. General Studies accepted.
EPQ with A-levels: BBC + EPQ at grade B. Two AS-Levels considered in place of one A-level. General Studies accepted.
GCSE: English and Maths Grade C.
Access to HE Diploma: Pass relevant diploma with 45 credits at level 3 including some at distinction.
International Baccalaureate: Pass Diploma with 30 points.
BTEC Nationals: Pass Diploma with DDM.
Other national and international qualifications considered. If you do not meet the entry requirements for this course, you can apply for the International Foundation Year run by our dedicated International Study Centre. The ISC provides academic and English language support to help you progress to your chosen undergraduate degree at the University of Leicester.
Second Year Entry may be possible with suitable qualifications.
Selection Process
Applicants are not normally interviewed. If you receive an offer you will be invited to visit the department.
English Language Requirements
IELTS 6.5 or equivalent. If your first language is not English, you may need to provide evidence of your English language ability. If you do not yet meet our requirements, our English Language Teaching Unit (ELTU) offers a range of courses to help you to improve your English to the necessary standard.
International Qualifications
Find your country in this list to check equivalent qualifications, scholarships and additional requirements.
Countries list
Fees and Funding
Starting in 2017

An inflationary increase (2.8% based on RPIX*) in tuition fees and student support loans have been announced by the Government for 2017. This is still subject to formal parliamentary approval however, if approved, fees for 2017/18 entry could rise to £9,250 in 2017/18.

After 2017/18, the tuition fee you pay may increase annually in line with inflation (RPIX) and is subject to government regulations.

(*RPIX is a measure of inflation in the UK, equivalent to all items in the Retail Price Index (RPI) excluding mortgage interest payments.)

Starting in 2017

Find out more about scholarships and funding.

Career Opportunities
You will regularly discuss career preferences with your personal tutors at each level of study, building up a profile of your optimum career pathways.
You can use your own work experience as a focus for your Third Year research project, providing a more reflexive approach to thinking about future careers.
Careers
Our Career Development Service is here to support you, with advice on interviews, CVs, work experience, volunteering and more. From Freshers' Week to Graduation and beyond, they are here to help you reach your professional goals.
| Course | Qualification | Duration | UCAS Code | Availability |
| --- | --- | --- | --- | --- |
| Major in Sociology | BA | 3 years full-time | L301 | Apply Now |
Course
Major in Sociology
Qualification
BA
Duration
3 years full-time
UCAS Code
L301
Availability