Major in Criminology
BSc, 3 years
This is for you if... you would like to combine the study of criminology with another subject.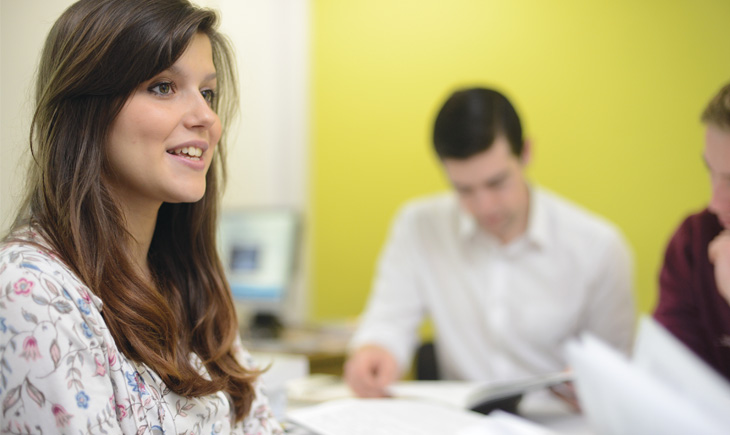 Course Description
As part of the University of Leicester's commitment to being a leading academic institution, we regularly review and update our degrees and modules to ensure that they reflect the most up-to-date research, knowledge, ideas and teaching practices, as well as taking into account student feedback. We also have to take into account the availability of key teaching staff where this will impact on the delivery of the course. As a result, if there are major changes to the course that you have applied for, we will contact you as soon as possible and will ensure that any disruption to your studies is minimised.
By choosing Criminology as a Major, you will gain an overview of the foundations of criminology, including theories of crime, criminality and criminal justice, and punishment and rehabilitation. You will also learn about many of the key occupational roles in criminology and criminal justice, and you will develop an understanding of how to analyse, interpret and undertake your own criminological research. In your final year you will have the chance to conduct your own guided independent dissertation, and you will be supported and supervised by an academic within Criminology.
Key Facts
Typical offer

ABB

UCAS code

M901

Start date

September 2018

Department

Criminology

Contact

Admissions enquiries
+44 (0)116 252 5281
cssadmissions@le.ac.uk

Course enquiries
+44 (0)116 252 5712
criminology@le.ac.uk
Why Leicester?
Leicester is one of very few universities in the country to have its own area exclusively dedicated to researching and teaching criminology.
Our Scarman Lecture Series invites senior policymakers and key figures in the Criminal Justice System to deliver papers on topical crime matters.
We are a first point of contact for journalists needing information and advice on crime issues, and are regularly called upon by national and local governments to assist with policy development.
Course Structure
Year 1
Year 1
In your first year you will learn about the core concepts and themes of criminology, examining historical developments in understandings of crime, criminality and criminal justice, as well as contemporary issues in criminology. You will learn about the nature and scope of criminal behaviour, responses to crime, and the impacts of crime. During this year we will encourage you to challenge common assumptions about crime, deviance and justice.
Criminal Justice in Action*
*Students who take the Major with the Minor in Criminal Justice or Criminal Behaviour will also take the module Victims of Crime
Modules shown represent choices available to current students. The range of modules available and the content of any individual module may change in future years.
Year 2
Year 2
In your second year you will focus on exploring the way that we punish those who break the law and the steps taken to rehabilitate people to prevent further offending. You will study the history of punishment, and you will examine critical issues in relation to contemporary forms of punishment, including overcrowding, drug use and violence in prisons. Your second year also equips you with a comprehensive understanding of criminological research, including the techniques and methods used in conducting research in criminology. Our innovative approach to teaching and learning about research combines a more traditional classroom environment with the opportunity to gain experience of 'doing' research in criminology.
Core modules
Understanding Criminological Research
Doing Criminological Research
Punishment and Rehabilitation
Modules shown represent choices available to current students. The range of modules available and the content of any individual module may change in future years.
Final Year
Final Year
Your final year gives you the opportunity to undertake an independently researched dissertation on a topic of your own choosing. You will be able to design and undertake research on an area of criminology that has captured your attention, and our innovative dissertation preparation module provides you with the knowledge and skills required to undertake your research project. In your final year you will also learn about the key agencies of the criminal justice system and the key challenges that they face. You will be able to tailor your final year by choosing two option modules.
Core modules
Preparing For Your Dissertation
Working in Criminal Justice
Option modules
Choose two option modules from:
Alternative Justice
Crime and Security and Criminal Justice
Gender and Crime
Prisons
Modules shown represent choices available to current students. The range of modules available and the content of any individual module may change in future years.
Major/Minor Degrees
On a Major/Minor degree, you study a core area in depth (in this case Criminology), while also exploring an additional area (your minor subject).
Teaching and Assessment
The modules you take are taught using a combination of 'traditional' lectures and seminars, as well as more contemporary virtual learning environments. Lectures provide you with the foundational knowledge needed to study the subject area, while the seminars give you the opportunity to discuss key ideas with your peers and your seminar leader. The virtual learning environments, which include podcasts, webinars, online discussion forums and audio/visual learning aids, give you the opportunity to explore the subject area at your own pace and offer an alternative approach to learning and teaching. Your learning experience is enhanced by the combination of these teaching methods and this ensures that you have the opportunity to study in a variety of ways. In addition to this you will also be given a personal tutor who can provide one-to-one support on a range of academic and personal issues, and all the teaching staff have regular drop in sessions where you are able to discuss any problems you may have.

Our assessment strategy allows you to develop a range of academic and transferable skills throughout your Major course. You will be assessed through exams, essays, reports and presentations. You will also have the opportunity to produce factsheets, blogs, briefing papers and a range of other creative forms of assessment. In your third year you will also produce a 10,000-word dissertation focusing on an area of criminology that particularly interests you. The dissertation is the culmination of your academic studies and it allows you to demonstrate all of the skills and knowledge you have acquired throughout your studies. It is also a fantastic opportunity to study a particular topic area in-depth and to conduct your own research. Our curriculum provides all of the support you need to undertake a dissertation: the research methods modules studied in Year 2 provide you with the core knowledge and experience required to undertake research, and our innovative Preparing For Your Dissertation module gives you the support to make sure your dissertation is a success. You will also receive dedicated one-to-one dissertation supervision from one of the academics within Criminology at Leicester.
Independent learning
When not attending lectures, seminars or other timetabled sessions you will be expected to continue learning independently through self-study. Typically, this will involve reading journal articles and books, working on individual and group projects, undertaking research in the library, preparing coursework assignments and presentations, and preparing for exams. To help with your independent learning, you can access the Library and our social study spaces in halls of residence.
Overall workload
Typical workload hours for Criminology courses in 2016/17:

Year 1: 15% of your time is spent in timetabled teaching and learning activity
Teaching, learning and assessment: 180 hours
Independent learning: 1020 hours
Year 2: 14% of your time is spent in timetabled teaching and learning activity
Teaching, learning and assessment: 168 hours
Independent learning: 1032 hours
Optional year abroad: If you're spending a year abroad, your contact hours will vary depending on the institution you're studying at.

Final year: 17% of your time is spent in timetabled teaching and learning activity
Teaching, learning and assessment: 204 hours
Independent learning: 996 hours
While your actual contact hours may depend on the option modules you select, the above information gives an indication of how much time you will need to allocate to different activities for each year of your course.
Academic support
Our Student Learning Development Team provides help in the following areas:
study and exam skills
academic writing
presentations
dissertations

numerical data skills

referencing sources
Our AccessAbility Centre offers support and practical help for students with dyslexia or other specific learning difficulties, including physical, mental health or mobility difficulties, deafness, or visual impairment.
Teaching staff
You will be taught by an experienced teaching team whose expertise and knowledge are closely matched to the content of the modules on the course. PhD research students who have undertaken teacher training may also contribute to the teaching of seminars under the supervision of the module leader. Our teaching is informed by the research we do. You can learn more about our staff by visiting our staff profiles.
Entry Requirements
A-Levels: ABB. Two AS-levels may be considered in place of one A-level. General studies accepted.
EPQ with A-levels: BBB + EPQ at grade B.
GCSE: English at grade C.
Access to HE Diploma: Pass diploma with 45 credits at Level 3, including 30 credits at Distinction.
International Baccalaureate: Pass Diploma with a minimum of 30 points overall.
BTEC Nationals: Pass Diploma at DDM.
Other national and international qualifications considered. If you do not meet the entry requirements for this course, you can apply for the International Foundation Year run by our dedicated International Study Centre. The ISC provides academic and English language support to help you progress to your chosen undergraduate degree at the University of Leicester.
Second Year Entry may be possible with suitable qualifications.
Selection Process
When considering your application, we will look for evidence that you will be able to fulfil the objectives of the course and achieve the standards required. We will take into account a range of factors including previous exam results.
Applicants are not normally interviewed. If you receive an offer you will be invited to visit the department.
English Language Requirements
IELTS 6.5 or equivalent. If your first language is not English, you may need to provide evidence of your English language ability. If you do not yet meet our requirements, our English Language Teaching Unit (ELTU) offers a range of courses to help you to improve your English to the necessary standard.
International Qualifications
Find your country in this list to check equivalent qualifications, scholarships and additional requirements
Countries list
Fees and Funding
Starting in 2018

£9,250 in your first year. After 2018/19, the tuition fee you pay may increase annually in line with inflation and is subject to government regulations.

Find out more about scholarships and funding.




Starting in 2018

Find out more about scholarships and funding.


Career Opportunities
We aim to provide you with a range of transferable skills that will give you a head-start in today's competitive job market. Working alongside the Careers development service, we have created a programme called 'Being a Criminologist' which has become an integral part of our Major in Criminology. When you take the Major in Criminology you will not only have an in-depth knowledge and understanding of crime and its consequences, both theoretical and applied, but you will also have acquired the skills necessary to secure a graduate job. Your capacity for imaginative, rigorous and critical thinking will be developed throughout the degree. Subject specific skills, such as knowledge of the social processes of crime and the criminal justice system, will be complemented by the type of transferable skills that are highly valued by employers in the graduate job market, including:
The ability to present and develop a cohesive argument
IT skills
Research and problem-solving skills
Written and oral communication skills
Working as part of a team
We work together with the Careers Development Service to ensure you not only improve your employability but that you recognise the skills you have acquired throughout your degree. All students will have the opportunity to participate in the Criminal Justice Insights, which will enable you to gain volunteering experience, enhance your curriculum vitae and develop transferable skills.
Careers
Our Career Development Service is here to support you, with advice on interviews, CVs, work experience, volunteering and more. From Freshers' Week to Graduation and beyond, they are here to help you reach your professional goals.
| Course | Qualification | Duration | UCAS Code | Start Dates | Availability |
| --- | --- | --- | --- | --- | --- |
| Major in Criminology | BSc | 3 years, full-time | M901 | September 2017 | Apply Now |
Course
Major in Criminology
Qualification
BSc
Duration
3 years, full-time
UCAS Code
M901
Start Dates
September 2017
Availability
Not what you're looking for?