Major in Computer Science
BSc, 3 years
This is for you if... you would like to combine the study of computer science with another subject.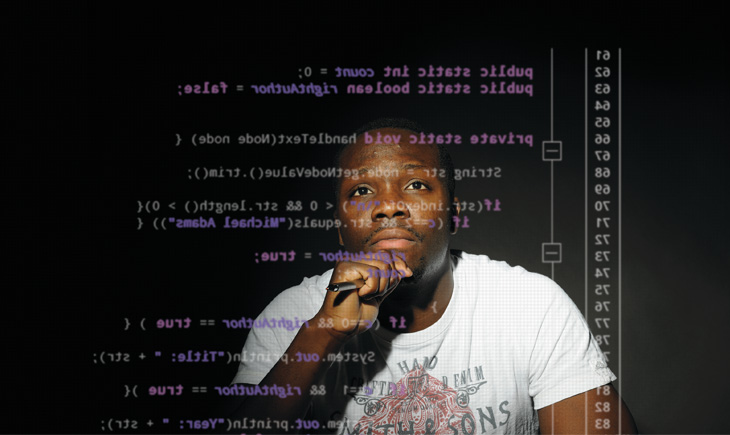 Course Description
Choose Computer Science as your Major if you are fascinated by how computer science underpins most aspects of modern life and want to learn how to understand and solve complex computing problems while also exploring an additional subject area (for example, with a Minor in Management Studies).
This course will equip you with a solid foundation in programming, software engineering, databases and web applications, and additionally provide you with the foundations of your Minor subject.
Why Leicester?
Our degrees are designed to meet the accreditation criteria of the British Computer Society so you can be confident that your degree will provide you with industry standard skills. The BCS has commended us for producing excellent project work and for the high quality of our student support.
The Students' Union Computing Society organises a range of events including educational talks and social outings.
You will have 24-hour access to general-purpose laboratories, containing fully-networked Windows/Liunx dual-boot PCs, and wireless access for laptops.
Your excellent work could win you one of our academic prizes, which are sponsored by different companies and the BCS.
Course Structure
Year 1
Year 1
The first year provides a solid grounding in the theories and technologies that underpin computer science. We cover Python and Java programming and program development environments (such as Eclipse) along with basic discrete mathematics for applications.
Modules
Modules shown represent choices available to current students. The range of modules available and the content of any individual module may change in future years.
Year 2
Year 2
During your second year you will become an expert in all aspects of the software engineering process and apply your skills in a software engineering group project. In addition, you will learn about user interfaces and human-computer interaction. In the second year project, you will be part of a team of students working together to develop software that is often commissioned by a real client. You will learn to work with, and manage, a team. Each team works within a teaching framework, broad enough to allow you to work flexibly and innovatively, but moderated to ensure that teams are performing and progressing. You will learn to prepare written reports, and give a group presentation - skills that employers rate very highly.
Modules
Modules shown represent choices available to current students. The range of modules available and the content of any individual module may change in future years.
Year 3
Year 3
Your final year is an opportunity to specialise in the areas of computer science that interest you. The third year project is a chance to follow your own interests in depth, with one-to-one supervision.
Core module
Option modules
Choose one option module from:
Then choose one option module from:
Modules shown represent choices available to current students. The range of modules available and the content of any individual module may change in future years.
Major/Minor Degrees
On a Major/Minor degree, you study a core area in depth (in this case Computer Science), while also exploring an additional area (your minor subject).
Teaching and Assessment
We deliver traditional lectures with a modern approach: you learn from slides, live examples (such as code demos, handwritten calculations), short videos, question and answer sessions, and more. The lectures are recorded and you can play them back at any time. There is tutorial support too, and we provide times when you may see staff individually.
Each module has a Teaching Resources page providing state-of-the-art web-based materials, including notes, slides, lecture recordings and videos, coursework, past papers and additional support. Automated feedback and marking systems, on-line tests and electronic coursework submission all provide an excellent modern digital learning environment. Apart from project work, which is assessed by coursework only, most modules are assessed partly by coursework and partly by exam.
You will be assigned your own personal tutor who can provide advice about not just academic matters but also your welfare and career development. You can see your personal tutor at any time by making an appointment or just dropping in.
Independent learning
When not attending lectures, seminars or other timetabled sessions you will be expected to continue learning independently through self-study. Typically, this will involve reading journal articles and books, working on individual and group projects, undertaking research in the library, preparing coursework assignments and presentations, and preparing for exams. To help with your independent learning, you can access the Library and our social study spaces in halls of residence.
Overall workload
Typical workload hours for Informatics courses in 2016/17:

Year 1: 29% of your time is spent in timetabled teaching and learning activity
Teaching, learning and assessment: 348 hours
Independent learning: 852 hours
Year 2: 25% of your time is spent in timetabled teaching and learning activity
Teaching, learning and assessment: 300 hours
Independent learning: 900 hours
Optional year abroad: If you're spending a year abroad, your contact will vary depending on the institution you're studying at.
Final year: 17% of your time is spent in timetabled teaching and learning activity
Teaching, learning and assessment: 204 hours
Independent learning: 996 hours
While your actual contact hours may depend on the option modules you select, the above information gives an indication of how much time you will need to allocate to different activities for each year of your course.
Academic support
Our Student Learning Development Team provides help in the following areas:
study and exam skills
academic writing
presentations
dissertations
numerical data skills
referencing sources
Our AccessAbility Centre offers support and practical help for students with dyslexia or other specific learning difficulties, including physical, mental health or mobility difficulties, deafness, or visual impairment.
Teaching staff
You will be taught by an experienced teaching team whose expertise and knowledge are closely matched to the content of the modules on the course. PhD research students who have undertaken teacher training may also contribute to the teaching of seminars under the supervision of the module leader. Our teaching is informed by the research we do. You can learn more about our staff by visiting our staff profiles.
Entry Requirements
A/AS-levels: BBB. Two AS-levels considered in place of one A-level. General Studies accepted.
EPQ with A-levels: BBC + EPQ at grade B.
GCSE: Maths Grade C
Access to HE Diploma: Pass relevant diploma with a minimum of 45 credits at level 3, 24 of which must be at Distinction.
International Baccalaureate: Pass Diploma with 28 points.
BTEC Nationals: Full Diploma with D*D*D*
Other national and international qualifications considered.
If you do not meet the entry requirements for this course, you can apply for the International Foundation Year run by our dedicated International Study Centre. The ISC provides academic and English language support to help you progress to your chosen undergraduate degree at the University of Leicester.
Second year entry may be possible with suitable qualifications.
Selection process
When considering your application, we will look for evidence that you will be able to fulfil the objectives of the course and achieve the standards required. We will take into account a range of factors including previous exam results.
Applicants are not normally interviewed, but an additional assessment test may be required. If you receive an offer you will be invited to visit the Department of Informatics.
English Language Requirements
IELTS 6.0 or equivalent. If your first language is not English, you may need to provide evidence of your English language ability. If you do not yet meet our requirements, our English Language Teaching Unit (ELTU) offers a range of courses to help you to improve your English to the necessary standard.
International Qualifications
Find your country in this list to check equivalent qualifications, scholarships and additional requirements.
Countries list
Fees and Funding
Starting in 2018

£9,250 in your first year. After 2018/19, the tuition fee you pay may increase annually in line with inflation and is subject to government regulations.
Year Abroad: your fee will be £1,250 for that year.
Year in Industry: your fee will be 15% of the full-time tuition fee that applies in that year.

Find out more about scholarships and funding.

Starting in 2018

£15,980 per year
Year Abroad: your fee will be £3,995 which is 25% of the full-time tuition fee.
Year in Industry: your fee will be £2,397 which is 15% of the full-time tuition fee.

Scholarship

Department of Informatics Scholarships are available to international students. The scholarship is a reduction in your tuition fee and is based solely on your academic achievements and any exam results you get before starting your degree. All international applicants will be automatically considered for these scholarships; there is no application form to fill in. However, you must have applied by 31 August in the year you plan to start at Leicester.

Find out more about scholarships and funding.
Career Opportunities
External speakers from industry give guest lectures on many of our modules, introducing you to the context of how the latest computing innovations are used in industry.
You can work on a project commissioned by a real client and gain an insight into the practices of design, implementation and professional project management.
Graduates from the Department of Informatics have gone on to many different careers, whether working for large companies, such as Accenture, BAE systems, Bloomberg and LogicaCMG, or for small, innovative start-ups. You may go on to apply your knowledge directly as a software engineer or systems analyst – or you may apply your IT skills and problem-solving abilities in a related field such as finance, marketing or general business.
Careers
Our Career Development Service is here to support you, with advice on interviews, CVs, work experience, volunteering and more. From Freshers' Week to Graduation and beyond, they are here to help you reach your professional goals.
| Course | Qualification | Duration | UCAS Code | Availability |
| --- | --- | --- | --- | --- |
| Major in Computer Science | BSc | 3 years, full-time | G403 | Apply Now |
Course
Major in Computer Science
Qualification
BSc
Duration
3 years, full-time
UCAS Code
G403
Availability
Not what you're looking for?