International Marketing
MSc, 1 year, full-time
This is for you if... you are interested in contemporary international marketing, and are enthusiastic about working in any inter-cultural context.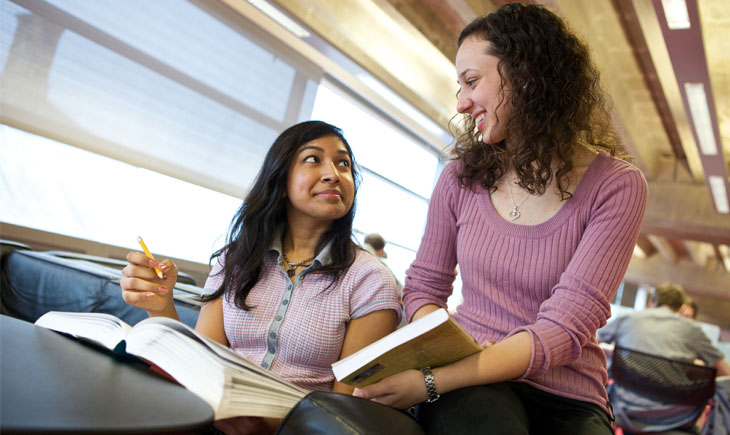 Course Description
The MSc in International Marketing provides a specialised education in the international and intercultural aspects of marketing. It offers an excellent primer on the subject for students interested in the challenges of conducting business in an increasingly globalised world. The course equips you with a thorough, general preparation in international marketing strategy, and a unique offering of a rigorous introduction to the history, ethics, and politics of international marketing practice. This in turn, will inform your understanding of how international business is conducted at present, and is likely to change in the future. Ultimately, the course questions the idea that contemporary marketers ever work in a 'closed cultural context', and thus makes a strong case for the importance of an intercultural approach for all types of business.
The modules offered will provide you with a comprehensive introduction to the subject and on advanced matters of strategy and communications in intercultural contexts. You will have the opportunity to develop international marketing plans for existing firms in developed and emerging market contexts.
The course will equip you with the knowledge and competencies to critically engage with theories and practices of international marketing firms, as well transferable skills including communication, problem-solving, team-working, and the ability to conduct independent research.
Key Facts
Start date

September each year

Department

School of Business

Contact

Postgraduate Admissions Team
+44 (0)116 252 5382
pgadmissions@le.ac.uk
Why Leicester?
We are a member of the Chartered Association of Business Schools, and hold a Small Chartered Business Award in recognition of our role in helping to kick-start British enterprise.
Our multi-disciplinary approach to management draws on anthropology, cultural studies, economics, sociology, politics and psychology – as well as traditional management theories.
We are a proud signatory to PRME – the Principles for Responsible Management Education, organised by the United Nations and business schools worldwide.
Course Structure
Semester 1
Semester 1
In semester one, you will cover the principles of marketing theory and practice, establishing a solid base for marketing application and addressing issues in contemporary marketing. You will also look at traditional and contemporary motivations for internationalising business, and the different commercial forms and strategies that result from this.
Principles of Marketing
Ethical Foundations of International Marketing
Modules shown represent choices available to current students. The range of modules available and the content of any individual module may change in future years.
Semester 2
Semester 2
In semester two, you will focus on marketing research practices and methods in preparation for your dissertation. Your second core module will involve active engagement with industry and the development of international marketing plans.
Research Methods for Marketing
Strategies for International Marketing
Plus a 15,000-word dissertation
Modules shown represent choices available to current students. The range of modules available and the content of any individual module may change in future years.
Teaching and Assessment
You will be taught through a mixture of methods, including seminars, lectures, group work, case study analysis and guided reading.
You will debate on a key issue in international marketing practice during the first term, and produce real international marketing strategy plans in the second term. Throughout this process, you will work with others in professional teams. The decision-making skills learned through these projects, and throughout the course, have excellent applicability to real-life in an intercultural marketing organisation.
You will be assigned a personal tutor who has a pastoral role and can offer support and advice.
Your work will be assessed through assignments and examinations, plus a 15,000-word dissertation.
Entry Requirements
A good UK honours degree or its equivalent; or a postgraduate diploma from a recognised institution; or a relevant graduate level professional qualification.
English Language Requirements
IELTS 6.5 or equivalent. If your first language is not English, you may need to provide evidence of your English language ability. If you do not yet meet our requirements, our English Language Teaching Unit (ELTU) offers a range of courses to help you to improve your English to the necessary standard.
International Qualifications
Find your country in this list to check equivalent qualifications, scholarships and additional requirements.
Countries List
Career Opportunities
Our Business, Management and Human Resource courses have been developed with the professional in mind and offer many opportunities for career enhancement. Our courses are both intellectually stimulating and relevant to career needs, a fact endorsed by over 20,000 School of Business graduates from about 100 countries.
Our MSc International Marketing's emphasis on general principles that can be flexibly applied provides an excellent preparation for students from any part of the world, interested in working in any international or cross-cultural context.
Careers
Our Career Development Service is here to support you, with advice on interviews, CVs, work experience, volunteering and more. From Freshers' Week to Graduation and beyond, they are here to help you reach your professional goals.
| Course | Qualification | Duration | Start Dates | Availability |
| --- | --- | --- | --- | --- |
| International Marketing | MSc | 1 year full-time | September each year | Apply Now |
Course
International Marketing
Qualification
MSc
Duration
1 year full-time
Start Dates
September each year
Availability
Not what you're looking for?