History of Art
BA, 3-4 years
This is for you if... you are enthused by painting, sculpture, and architecture, and would like to learn more about the context and theory behind them.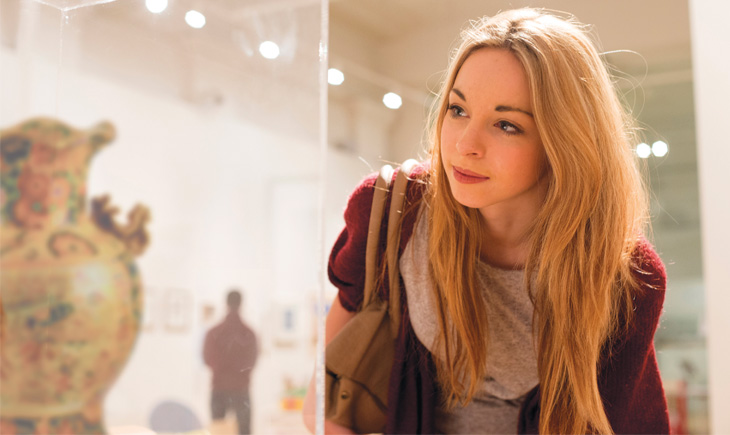 Course Description
The History of Art BA is designed to develop your appreciation for art by revealing the details of its history and placing it in its historical context. You will explore art as a reflection of its historical context – a window into the past. You will learn about the changing modes and fashions of art that have developed since classical antiquity and the various artists, sculptors and architects that have pioneered change in their fields. You will also develop your ability to discuss and critique art in a professional manner that takes into account the essential texts surrounding the history of art. You will gain an excellent 'object-based' understanding of how to interpret and decode visual imagery, iconography and styles. And, finally, you will be introduced to the many career applications of a history of art degree.
You will critically examine and debate key themes and study areas such as:
the role of art in society
the effect of art upon human emotion, psychology and behaviour
the relationship between the written word and the visual image
the desire for artists to innovate and be new, versus the pull of tradition and precedent
the nature of creativity and the notion of artistic 'genius'
preservation, heritage and exhibition curating
Experience is as much a part of this course as academic discussion. You will have the opportunity to take part in a subsidised, three-week study tour of Italy. The trip will include Rome, Siena and Florence - all of which are home to the finest examples of Renaissance art, sculpture, and architecture. This trip will be with a specialist lecturer who is on hand to guide you through your studies.
You will also undertake study in local galleries, learning about exhibition design, and do coursework with practical vocational applications, such as in the field of heritage listing.
Why Leicester?
History of Art at Leicester was ranked 4th in the UK by the Complete University Guide 2017, and number one for Graduate Prospects.
The University's award-winning Attenborough Arts Centre has a growing national reputation for courses, performances and exhibitions.
Our research includes: contemporary art, photography and sculpture; Modernist architecture; British and American cinema and television; media, videogames and comics.
You will gain important insights into the art world from academic staff who have extensive experience of curating exhibitions large and small.
Course Structure
Year 1
Year 1
You will be introduced to the history of art, including painting, sculpture and architecture, from classical antiquity through to the present day. You will also learn how to visually analyse and decode the style and iconography of paintings, and experience the many vocational applications of this degree, for example in exhibition curatorship.
Core modules
Introduction to the History of Art 1: Antiquity to Baroque (double module)
Introduction to the History of Art 2: Enlightenment to Contemporary (double module)
Film and Art: Academic Study and the Workplace (double module)
Words and Pictures: Connoisseurship and Attribution (double module)
Modules shown represent choices available to current students. The range of modules available and the content of any individual module may change in future years.
Year 2
Year 2
You will study Renaissance art, sculpture and architecture as preparation for your study tour to Italy over the Easter vacation, which will be one of the highlights of the course. You will also study two modules on the theme of 'negotiations with the past', exploring the complex interplay of traditional values with more 'progressive' social forces and artistic ideals. As well as looking at classic 19th and 20th century movements, such as Impressionism and Surrealism, these modules will also give you the opportunity to study the history of heritage preservationist movements in the arts and in museology.
Core modules
Documents of the History of Art (double module)
Italian Art and Architecture
Italy Study Trip (double module)
Independent Research Essay
Modernity and Tradition
Revivalism and Heritage
Modules shown represent choices available to current students. The range of modules available and the content of any individual module may change in future years.
Year Abroad (optional)
Year Abroad (optional)
If you want to, you can spend your third year studying abroad at one of our partner institutions (eligibility is dependent on your academic performance in Years 1 and 2). Alternatively, you can opt to continue studying at the University and complete your degree in three years.
Studying abroad is not just for people who are interested in travelling and meeting new people. It is about acquiring life skills that are becoming increasingly significant for a wide range of jobs in our modern globalised society. Whether you go on to work in the private sector, the state sector, a non-governmental organisation, or become self-employed you will find the experience invaluable. Find out more from our International Office.
Please note that a year spent abroad still incurs a tuition fee, but this is much lower than for a normal year at Leicester. See our Fees and Funding section for details.
History of Art and Film at Leicester has links with several European universities, administered through the European Erasmus scheme. If you are eligible for a loan from Student Finance you can apply for a travel grant from them. During your second year at Leicester you will receive appropriate language training.
For the latest information on the future of the Erasmus scheme at UK universities please see our Brexit microsite.
We have links with the following universities:
Modules shown represent choices available to current students. The range of modules available and the content of any individual module may change in future years.
Final Year
Final Year
In your final year you will write a 10,000-word dissertation on a subject of your choice, supported through lectures, presentations and one-to-one tutorials with your supervisor. You will also take a theory module on philosophical aesthetics and art psychology as well as a biographical module offering a sustained, in-depth look into the life, work and legacy of a single Renaissance artist where the myth frequently obscures the reality, such as Leonardo or Michelangelo. Finally, you will be able to choose an option module – which reflects the current research interests of members of academic staff – in which you will investigate a single research-intensive topic.
Core module
Option modules
Choose
8 option modules
from:
Drawing to Painting in the Italian Renaissance
Modules shown represent choices available to current students. The range of modules available and the content of any individual module may change in future years.
Major/Minor Degrees
Major/Minor degrees enable you to create your own degree. You can study a core area in depth (your major subject), while also exploring an additional area (your minor subject).
Why not complement your Major with a subject that you enjoyed before, or which has vocational elements that can boost your career prospects? Alternatively, you may want to try something completely new that you've always been interested in, like a language.
Find Out More
Teaching and Assessment
Your degree will be taught through a series of lectures, seminars, personal tutorials, interactive student presentations, IT training, field trips, and site visits to galleries, exhibitions, and museums, both in the UK and abroad.
Your course will start quite 'traditionally' with lots of lectures, and as you gain confidence and knowledge you will be expected to make substantive contributions to class discussion and debate, effectively taking charge of the trajectory of your own learning. Ultimately, you will be able to present your ideas formally and informally to large groups, and also to craft a dissertation around your own interests. Classes are small and informal, creating an excellent teaching and learning experience.
Contact hours average around nine to twelve hours per week, not counting unscheduled tutorials and personal tutor meetings, as well as a substantial amount of preparation. Your assessments will be evaluated by two separate markers and/or moderated, which – given the subjective nature of our discipline – is the only way to guarantee the most accurate assessment of its quality.
You will have regular meetings with your personal tutor to discuss your progress. Your personal tutor will also provide a sympathetic ear for all matters of personal concern, whether academic, financial, housing, career, or social.
Independent learning
When not attending lectures, seminars or other timetabled sessions you will be expected to continue learning independently through self-study. Typically, this will involve reading journal articles and books, working on individual and group projects, undertaking research in the library, preparing coursework assignments and presentations, and preparing for exams. To help with your independent learning, you can access the Library and our social study spaces in halls of residence.
Overall workload
Typical workload hours for History of Art and Film courses in 2016/17:

Year 1: 16% of your time is spent in timetabled teaching and learning activity
Teaching, learning and assessment: 192 hours
Independent learning: 1008 hours
Year 2: 18% of your time is spent in timetabled teaching and learning activity
Teaching, learning and assessment: 216 hours
Independent learning: 984 hours
Optional year abroad: If you're spending a year abroad, your contact hours will vary depending on the institution you're studying at.

Final year: 11% of your time is spent in timetabled teaching and learning activity
Teaching, learning and assessment: 132 hours
Independent learning: 1068 hours
While your actual contact hours may depend on the option modules you select, the above information gives an indication of how much time you will need to allocate to different activities for each year of your course.
Academic support
Our Student Learning Development Team provides help in the following areas:
study and exam skills
academic writing
presentations
dissertations

numerical data skills

referencing sources
Our AccessAbility Centre offers support and practical help for students with dyslexia or other specific learning difficulties, including physical, mental health or mobility difficulties, deafness, or visual impairment.
Teaching staff
You will be taught by an experienced teaching team whose expertise and knowledge are closely matched to the content of the modules on the course. PhD research students who have undertaken teacher training may also contribute to the teaching of seminars under the supervision of the module leader. Our teaching is informed by the research we do. You can learn more about our staff by visiting our staff profiles.
Research Stories
Entry Requirements
A/AS-levels: BBB. Two AS-levels considered in place of one A-level. General Studies is accepted.
EPQ with A-levels: BBC + EPQ at grade B.
Access to HE Diploma: Pass relevant diploma with a minimum of 45 credits at level 3, 24 of which must be at distinction.
International Baccalaureate: Pass Diploma with 28 points.
BTEC Nationals: Pass Diploma with DDM.
Other national and international qualifications considered. If you do not meet the entry requirements for this course, you can apply for the International Foundation Year run by our dedicated International Study Centre. The ISC provides academic and English language support to help you progress to your chosen undergraduate degree at the University of Leicester.
Second Year Entry may be possible with suitable qualifications.
Selection Process
When considering your application, we will look for evidence that you will be able to fulfil the objectives of the course and achieve the standards required. We will take into account a range of factors including previous exam results.
Applicants are not normally interviewed. If you receive an offer you will be invited to visit the department.
English Language Requirements
IELTS 6.5 or equivalent. If your first language is not English, you may need to provide evidence of your English language ability. If you do not yet meet our requirements, our English Language Teaching Unit (ELTU) offers a range of courses to help you to improve your English to the necessary standard.
International Qualifications
Find your country in this list to check equivalent qualifications, scholarships, and additional requirements.
Countries list
Fees and Funding
Starting in 2018

£9,250 in your first year. After 2018/19, the tuition fee you pay may increase annually in line with inflation and is subject to government regulations.
Year Abroad: your fee will be £1,250 for that year.

Find out more about scholarships and funding.

Starting in 2018

£15,980 per year
Year Abroad: your fee will be £3,995 which is 25% of the full-time tuition fee.

Find out more about scholarships and funding.


Career Opportunities
We have excellent links with the arts industries. Our Careers Director has worked in the curating of exhibitions, in art journal editing, and in the auction house sector, and is ideally placed to advise on careers in these areas.
We run a programme of careers talks by leading experts in the arts and film industries, who provide unique insight into both traditional and nontraditional employment pathways.
The modules 'Film Production' and 'Film Journalism' have an applied focus – helping you develop the skills and knowledge required for careers in these areas.
Internship opportunities are available in a number of fields, from museum and auction house work to journal editing and film studio work.
Careers
Our Career Development Service is here to support you, with advice on interviews, CVs, work experience, volunteering, and more. From Freshers' Week to Graduation and beyond, they are here to help you reach your professional goals.
| Course | Qualification | Duration | UCAS Code | Availability |
| --- | --- | --- | --- | --- |
| History of Art | BA | 3 years full-time | V308 | Apply Now |
| History of Art with Year Abroad | BA | 4 years full-time | V308 | Apply Now |
Course
History of Art
Qualification
BA
Duration
3 years full-time
UCAS Code
V308
Availability
Course
History of Art with Year Abroad
Qualification
BA
Duration
4 years full-time
UCAS Code
V308
Availability