History of Art and English
History of Art and English
BA, 3-4 years
This is for you if... you would like to trace the interplay of the visual image and the written word through history, in the work of artists and writers in an array of different genres.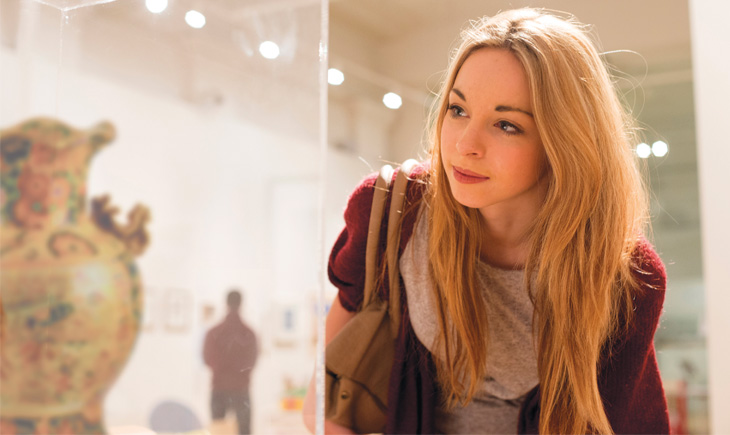 Course Description
The links between art and literature are fascinating and long-standing and it is arguably impossible to fully appreciate one without understanding the other. This course is designed to explore the links between literature and art because we believe you can gain the richest appreciation of art and literature by studying them side by side.
When the ancient Greeks reflected on the role of arts in society they did not separate painting and sculpture from poetry and drama. Each was treated and discussed equally, as 'images' that reflected certain values and had certain aesthetic and psychological effects. Similarly, during the Renaissance the concept of the 'Renaissance Man' emerged: an artist, author and even inventor, this near-mythical figure reflected the assumption that art and literature are intrinsically linked. The Romantic movement explored poetry and painting simultaneously as media to capture the sublime power of nature and the inner depths of the artist's psyche; while the Surrealists, which with artists like Salvador Dali are nowadays associated in the popular imagination with painting, began as an exclusively literary experiment.
Your modules will be taught by both History of Art and Film and English. You will not only learn the genre and stylistic histories of art and literature but will also consider the countless theories and aesthetic philosophies that seek to explain their cultural, social and psychological importance.
Why Leicester?
History of Art at Leicester was ranked 4th in the UK by the Complete University Guide 2017, and number one for Graduate Prospects.
Our History of Art Society arranges an active programme of lectures by invited artists, practical art classes, gallery visits and other social events.
Our student drama society LUTheatre presents a programme of new and classic works every year. New writers can see their work performed at the popular Proteus nights.
Literary Leicester, our annual festival of local and international talent, has attracted such notable authors as Sue Townsend, Carol Anne Duffy, Will Self, Amitav Ghosh, Jacqueline Wilson and Sarah Waters.
Course Structure
Year 1
Year 1
You will begin by studying a broad, sweeping history of art stretching from classical antiquity through to the present day. You will also learn the techniques of decoding and interpreting paintings according to their style and iconography, while also considering how literary descriptions of paintings affect the ways we 'see' them. The vocational module 'Film and Art: Artistic Practice and the Workplace' will introduce you to ways you might eventually apply your degree in an arts-related career, such as exhibition design and the organisation of arts events, and this will be delivered in collaboration with a local arts gallery. Your English studies will begin with an introduction to the core principles of English verse and prose.
Modules
Art in Northern Europe, 1550-1700
The Classical Inheritance in the Renaissance
Modules shown represent choices available to current students. The range of modules available and the content of any individual module may change in future years.
Year 2
Year 2
In your second year, you will have the opportunity to take part in a subsidised, three-week study tour of Italy. The trip will include Rome, Siena, Florence, and Venice - all of which are home to the finest examples of Renaissance art, sculpture, and architecture. This trip will be with a specialist lecturer who is on hand to guide you through your studies.
You will also study two modules on the Renaissance, one focusing on literature and the other focusing on art, sculpture and architecture. Two further modules will focus on the theme of 'negotiations with the past' to explore the complex interplay of traditional artistic values with more progressive social forces and artistic ideals. As well as looking at classic 19th and 20th century movements, such as Impressionism and Surrealism, these modules will also give you the opportunity to study the history of the emergence of heritage preservationist movements – such as English Heritage and UNESCO – in the arts, architecture and in museology, and will introduce even more vocational range to your studies.
In your second year you will progress through the history of English literature and study the various critical debates that have arisen in an attempt to explain our relationship with literature.
Modules
Italian Art and Architecture 1400-1600
Modernity and Tradition: Art from the French Revolution to World War II
Revivalism and Heritage
Modules shown represent choices available to current students. The range of modules available and the content of any individual module may change in future years.
Year Abroad (optional)
Year Abroad (optional)
If you want to, you can spend your third year studying abroad at one of our partner institutions (eligibility is dependent on your academic performance in Years 1 and 2). Alternatively, you can opt to continue studying at the University and complete your degree in three years.
Studying abroad is not just for people who are interested in travelling and meeting new people. It is about acquiring life skills that are becoming increasingly significant for a wide range of jobs in our modern globalised society. Whether you go on to work in the private sector, the state sector, a non-governmental organisation or become self-employed you will find the experience invaluable. Find out more from our International Office.
Please note that a year spent abroad still incurs a tuition fee, but this is much lower than for a normal year at Leicester. See our Fees and Funding section for details.
History of Art and Film at Leicester has links with European universities, administered through the European Erasmus scheme. If you attend one of these, you may be eligible for an Erasmus grant if you comply with European Commission rules and regulations. If you are eligible for a loan from Student Finance you can apply for a travel grant from them. During your second year at Leicester you will receive appropriate language training.
For the latest information on the future of the Erasmus scheme at UK universities please see our Brexit microsite.
We have links with the following universities:
Modules shown represent choices available to current students. The range of modules available and the content of any individual module may change in future years.
Final Year
Final Year
You final year is an opportunity to tailor your degree to your interests. The only compulsory module is a dissertation, the subject of which is your decision. The remainder of your learning will be made up of optional modules so that you can pursue the areas that fascinate you, although you must choose at least two modules in both English and History of Art.
You final year is an opportunity to tailor your degree to your interests. The only compulsory module is a dissertation, which you can choose to write on a subject of your choice in history of art, English or both. The remainder of your learning will be made up of option modules that reflect the ongoing research interests of members of academic staff, so you will be free to pursue the areas that fascinate you most.
Core module
Option modules
Choose five option modules from:
Contemporary Women's Writing: 1960-Present Day
Drawing to Painting in the Italian Renaissance
Philosophy of Art
Seriality: Film, Television and Other Media
The Cult of the Renaissance Artist
Tudor Tombs and Funerary Monuments
Modules shown represent choices available to current students. The range of modules available and the content of any individual module may change in future years.
Major/Minor Degrees
Major/Minor options allow you to create your own degree. You can concentrate on one subject as your Major (75% of your course) while broadening your knowledge with a Minor subject (25% of your course).
Why not complement your Major with a subject that you enjoyed before, or which has vocational elements that can boost your career prospects? Alternatively, you may want to try something completely new that you've always been interested in, like a language.
Find out more
Teaching and Assessment
Teaching
You will be taught through a series of lectures, seminars, personal tutorials, interactive student presentations, IT training, field trips and site visits to galleries, exhibitions and museums. Lectures are designed to introduce you to important debates and contexts for understanding an author or artist's work. Weekly seminars, in which a tutor leads a small group of students in discussion, will allow you to explore a topic in depth.
Typically, each week you will have between nine and twelve contact hours. There will be plenty of reading and individual study to fill the rest of your time, as well as tutorials and personal tutor meetings.
When you study the 'Renaissance Drama' module in your first year, you will learn sword-fighting techniques from local theatre companies and practice them by staging the climax of Shakespeare's 'Richard III' actually on Bosworth Battlefield itself.
Assessment
You will be assessed though a combination of essays, group work, oral presentations and exams.
You will have regular meetings with your personal tutor to discuss progress in your studies. Your personal tutor will also provide a sympathetic ear for all matters of personal concern, whether they be academic, financial, housing, career or social issues.
Entry Requirements
A/AS-levels: BBB including Grade B English Language or English Literature or English Language and Literature.
EPQ with A-levels: BBC + EPQ at grade B. A-level subjects to include English (Language or Literature or combined) at grade B. Two AS-levels considered in place of one A-level. General Studies accepted.
Access to HE Diploma: Pass relevant diploma with 45 credits at level 3 including some at distinction.
International Baccalaureate: Pass Diploma with 28 points including 6 in Higher Level English.
BTEC Nationals: Pass Diploma with DDM.
Other national and international qualifications considered. If you do not meet the entry requirements for this course, you can apply for the International Foundation Year run by our dedicated International Study Centre. The ISC provides academic and English language support to help you progress to your chosen undergraduate degree at the University of Leicester.
Second Year Entry may be possible with suitable qualifications.
Selection Process
Applicants are not normally interviewed. If you receive an offer you will be invited to visit the department.
English Language Requirements
IELTS 6.5 or equivalent. If your first language is not English, you may need to provide evidence of your English language ability. If you do not yet meet our requirements, our English Language Teaching Unit (ELTU) offers a range of courses to help you to improve your English to the necessary standard.
International Qualifications
Find your country in this list to check equivalent qualifications, scholarships and additional requirements.
Countries list
Fees and Funding
Starting in 2016

£9,000 per year
The fee for a year abroad is £1,250, rather than £9,000

Starting in 2017

An inflationary increase (2.8% based on RPIX*) in tuition fees and student support loans have been announced by the Government for 2017. This is still subject to formal parliamentary approval however, if approved, fees for 2017/18 entry could rise to £9,250 in 2017/18.

After 2017/18, the tuition fee you pay may increase annually in line with inflation (RPIX) and is subject to government regulations.

(*RPIX is a measure of inflation in the UK, equivalent to all items in the Retail Price Index (RPI) excluding mortgage interest payments.)

Starting in 2016

£14,630 per year
The fee for a year abroad is £3,657.50, rather than £14,630

Starting in 2017

Find out more about scholarships and funding.

Career Opportunities
We have excellent links with the arts industries. Our Careers Director has worked in the curating of exhibitions, editing art journals, as well as in the auction house sector, and is ideally placed to advise on careers in these areas.
We run a programme of visiting careers talks by leading experts in the arts and film industries who can provide insights into employment pathways.
Internship opportunities are available in various fields, from museum and auction house work to journal editing and film studio work.
We organise annual employability workshops to help you realise your career ambitions and consider what progress you should be making towards employment at each stage of your degree.
Careers
Our Career Development Service is here to support you, with advice on interviews, CVs, work experience, volunteering and more. From Freshers' Week to Graduation and beyond, they are here to help you reach your professional goals.
| Course | Qualification | Duration | UCAS Code | Availability |
| --- | --- | --- | --- | --- |
| History of Art and English | BA | 3 years full-time | VQ33 | Apply Now |
| History of Art and English with Year Abroad | BA | 4 years full-time | VQ33 | Apply Now |
Course
History of Art and English
Qualification
BA
Duration
3 years full-time
UCAS Code
VQ33
Availability
Course
History of Art and English with Year Abroad
Qualification
BA
Duration
4 years full-time
UCAS Code
VQ33
Availability
Not what you're looking for?