Geography
Geography
MRes, 1-2 years, full-or part-time
This is for you if... you want to develop a more coherent research interest in an area of geography before embarking on a full PhD.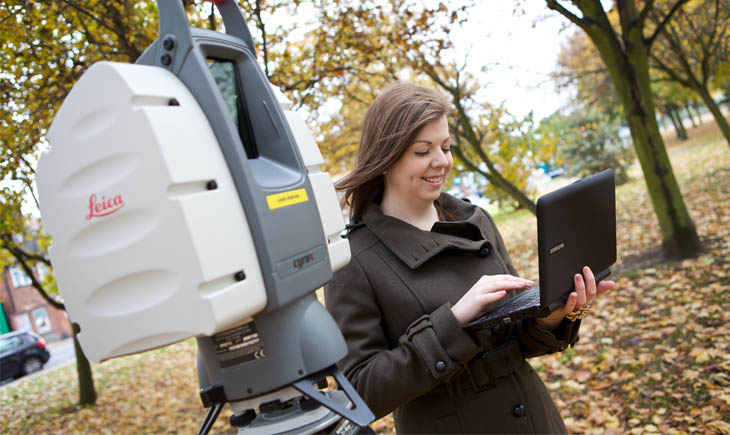 Course Description
An MRes is a 'Masters by Research' degree, consisting of a one-year, supervised research project supported by a small number of taught modules. Effectively, this is a 'mini PhD': your project will be directly related to ongoing departmental research and your dissertation is expected to be of a very high standard, possibly leading to publication in a peer reviewed journal.
The MRes in Geography works as a 'taster' if you plan to take a PhD, or might suit you if you want a Masters Degree that allows you to really concentrate in a particular aspect of geography that particularly fascinates you.
Resources available to you include an optically stimulated luminescence (OSL) lab, an atomic absorption spectrophotometer, a scanning electron microscope, a cold store, a Coulter laser diffraction particle size analyser, differential GPS, and a 3D laser scanner - along with a wide range of electronic and traditional field equipment.
You can select a research topic from lists provided under three themes:
Human Geography
Physical Geography
Geographical Information Science
Why Leicester?
Our fully equipped labs have facilities for environmental, molecular stable isotope and palaeoecological research, from thin section preparation to hardware modelling using rainfall simulation and flume channels.
Our cartographic unit provides a high quality mapping, design and drawing service, Our map library has over 100,000 accessions including aerial photographs and atlases.
Departmental resources include digitising tables, printers, plotters, scanners and LINUX computers, plus specialist software such as ESRI's ArcGIS, ERDAS Imagine, ENVI IDL and IDRISI. Also a Virtual Reality theatre.
Course Structure
Semester 1
Semester 1
Option modules
After an Induction module, the taught part of the degree consists of two option modules chosen from:
Modules shown represent choices available to current students. The range of modules available and the content of any individual module may change in future years.
Semester 2
Semester 2
The major part of your MRes will be your research project, studying in depth a topic that fascinates you, with a view to possible publication in a research journal.
You will be expected to attend compulsory weekly research seminars (and keep a log of what is discussed). You will also contribute to the Department's postgraduate seminar series.
Examples of previous projects:
Best practices for mapping burned areas
NDVI and productivity in North American boreal forests
Mapping ecosystem services in Mexico from satellite data
Geomorphology as a determinant of savannah vegetation communities in Kruger National Park, South Africa
Vegetation phenology analysis with TIMESAT
13C and 18O of terrestrial gastropod shell calcite as a palaeoenvironmental proxy for the Neogene and Late Quaternary of the Western Cape of South Africa
Geochemical proxies for palaeo-fires preserved in Rock Hyrax middens
Mapping the quantity and quality of urban green space
Mapping the occurrence and impact of past extreme weather events
Middle to Late Pleistocene Palaeoclimate Reconstruction, NE Serbia
The role of soil heat transport in the energy balance of pristine and regenerating temperate fens
Modules shown represent choices available to current students. The range of modules available and the content of any individual module may change in future years.
Teaching and Assessment
Teaching includes lectures, problem classes, self-paced learning and directed reading. Module assessment is a mix of coursework and exams. Your project will be assessed through presentations and a written report.
Research Stories
Entry Requirements
2:1 degree (or equivalent) in a relevant subject and/or several years appropriate professional experience.
English Language Requirements
IELTS 6.5 or equivalent, with at least 6.0 in each component score. If your first language is not English, you may need to provide evidence of your English language ability. If you do not yet meet our requirements, our English Language Teaching Unit (ELTU) offers a range of courses to help you to improve your English to the necessary standard.
International Qualifications
Find your country in this list to check equivalent qualifications, scholarships and additional requirements.
Countries lists
Careers
Our Career Development Service is here to support you, with advice on interviews, CVs, work experience, volunteering and more. From Freshers' Week to Graduation and beyond, they are here to help you reach your professional goals.
| Course | Qualification | Duration | Start Dates | Availability |
| --- | --- | --- | --- | --- |
| Geography | MRes | 1 year full-time | September each year | Apply Now |
Course
Geography
Qualification
MRes
Duration
1 year full-time
Start Dates
September each year
Availability