English and History
English and History
BA, 3-4 years
This is for you if... you want to explore how the world changed and developed around the great authors of history and how those changes influenced their works.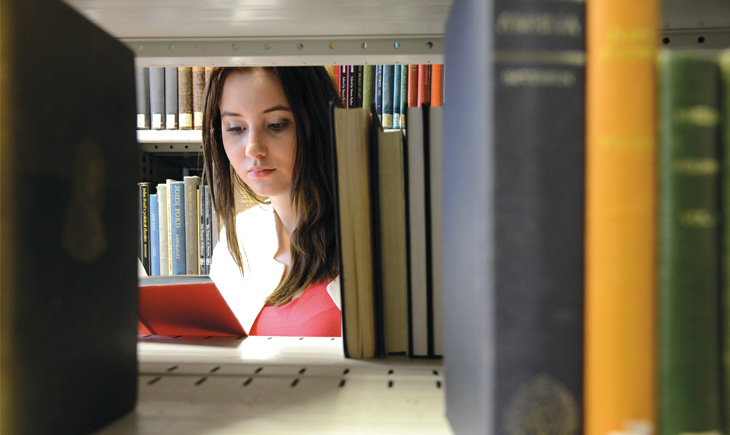 Course Description
The disciplines of English and History are almost inseparable. Events throughout history have influenced the shape of language and literature around it; from the all-consuming cataclysm of total war to the hushed intrigues of the English court. The BA in English and History brings together these two naturally complementary subjects by grouping modules in such a way that they support and enrich each other.
This course will help you to understand how writers have been inspired by historic events, how they have represented them and how to read between the lines of fact and fiction to extract the truth of history.
In your first and second year you will divide your time equally between English and History modules. You third year offers you the chance to specialise more in the area that interests you the most. You will have the opportunity to study a vast range of English and History modules from the Middle Ages to the present day.
You will explore English Literature and History in every period; a feature which makes graduates from our course remarkable for the breadth of their knowledge. A variety of option modules will allow you to add a deeper understanding of those subjects that you find most fascinating.
Why Leicester?
Our student drama society LUTheatre presents a programme of new and classic works every year. New writers can see their work performed at the popular Proteus nights.
Literary Leicester, our annual festival of local and international talent, has attracted such notable authors as Sue Townsend, Carol Anne Duffy, Will Self, Amitav Ghosh, Jacqueline Wilson and Sarah Waters.
Our staff teach and research across a wide range of topics - from medieval to modern periods and across all the continents. This is reflected in the diversity and breadth of modules that you can study.
Our New History Lab brings together staff and students every fortnight to discuss history over tea and cake. Guest speakers have included newsreader Julie Etchingham and historian Melvyn Bragg.
Major/Minor Degrees
Major/Minor options allow you to create your own degree. You can concentrate on one subject as your Major (75% of your course) while broadening your knowledge with a Minor subject (25% of your course).
Why not complement your Major with a subject that you enjoyed before, or which has vocational elements that can boost your career prospects? Alternatively, you may want to try something completely new that you've always been interested in, like a language.
Find out more
Teaching and Assessment
Teaching
For each you module you will typically have one or two lectures and a seminar each week, along with a number of additional events such as workshops on research and study skills, learning groups, and introduced film screenings. Lectures are designed to introduce you to important debates and contexts for understanding an author's work. Weekly seminars, in which a tutor leads a small group of students in discussion, will allow you to explore a text or topic in depth.
When you study the 'Renaissance Drama' module in your first year, you will take part in a workshop with local theatre companies, including the opportunity to stage the climactic scenes of Shakespeare's 'Richard III' actually on Bosworth Battlefield itself.
For your third-year dissertation you receive one-to-one tuition across the term from a tutor with an interest in your chosen subject
Assessment
You will be assessed through a combination of essays, group work, oral presentations, and exams. These assessments are designed to help you build confidence in a range of skills and to provide prospective employers with evidence that you can work effectively both as an independent researcher and as a team member.
You will have regular meetings with your Personal Tutor to discuss progress in your studies. Your Personal Tutor will also provide a sympathetic ear for all matters of personal concern, whether they be academic, financial, housing, career or social issues.
Entry Requirements
A/AS-levels: ABB at A-level including a Grade B English Language or English Literature, or English Language and Literature plus History. Two AS-levels may occasionally be considered in the place of one A2-level. General Studies is accepted. All joint degrees with English require at least grade B in A-level English.
EPQ with A-levels: BBB + EPQ at grade B. A level subjects to include English (Language or Literature or combined). Two AS-levels considered in place of one A-level. General Studies accepted.
International Baccalaureate: Pass Diploma with 30 points, including 6 in Higher Level English
Access to HE Diploma: An overall pass (i.e. 60 credits), with at least 45 credits at level 3, including some at Distinction.
BTEC Nationals: Pass Diploma with DDM and English A-level or equivalent. Please contact department regarding eligibility.
Other national and international qualifications considered.
Second Year Entry may be possible with suitable qualifications.
Selection Process
Applicants are not normally interviewed: If you receive an offer you will be invited to visit the University.
English Language Requirements
IELTS 6.5 or equivalent. If your first language is not English, you may need to provide evidence of your English language ability. If you do not yet meet our requirements, our English Language Teaching Unit (ELTU) offers a range of courses to help you to improve your English to the necessary standard.
International Qualifications
Find your country in this list to check equivalent qualifications, scholarships and additional requirements.
Countries list
Fees and Funding
Starting in 2016

£9,000 per year
The fee for a year abroad is £1,250, rather than £9,000

Find out more about scholarships and funding.

Starting in 2016

£14,630 per year
The fee for a year abroad is £3,657.50, rather than £14,630.

Find out more about scholarships and funding.
Career Opportunities
All students take part in the Talent Academy, which will introduce you to the resources provided by our Careers Development Service and provides opportunities to gain work experience with leading employers.
'History in the Classroom' is a Second Year module in which you can spend one afternoon a week under the direct supervision of a qualified classroom teacher in a local school where you will teach some History. If you are thinking of teaching as a profession, this is the module for you.
Careers
Our Career Development Service is here to support you, with advice on interviews, CVs, work experience, volunteering and more. From Freshers' Week to Graduation and beyond, they are here to help you reach your professional goals.
| Course | Qualification | Duration | UCAS Code | Availability |
| --- | --- | --- | --- | --- |
| English and History | BA | 3 years full-time | VQ13 | Apply Now |
| English and History with Year Abroad | BA | 4 years full-time | VQ13 | Apply Now |
Course
English and History
Qualification
BA
Duration
3 years full-time
UCAS Code
VQ13
Availability
Course
English and History with Year Abroad
Qualification
BA
Duration
4 years full-time
UCAS Code
VQ13
Availability