Education: Learning and Teaching
Education: Learning and Teaching
PGCert, 1 year, part-time
This is for you if... you would like to improve your professional practice by learning from expert practitioners and peers in the area of understanding and managing children with Social, Behavioural and Emotional Difficulties whilst studying part-time.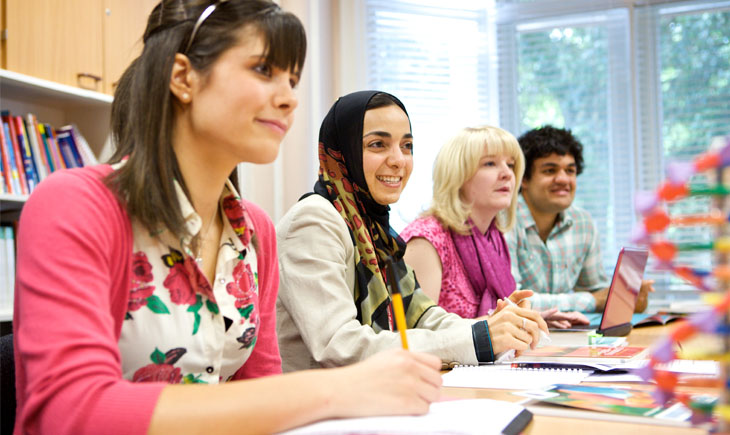 Course Description
The Postgraduate Certificate in Education: Learning and Teaching is offered in conjunction with the Social, Emotional and Behavioural difficulties Association (SEBDA). By studying on this course you will learn about effective provision for children with SEBD in a variety of settings, the legislation and guidance relating to SEBD, theories influencing approaches to working with children and young people with SEBD, and working with families and other services or agencies.
Key Facts
Start date

October 2016 only

Contact

Contact SEBDA directly for detailed information on the programme.
admin@sebda.org

The Admissions Office at the University can also provide advice regarding the application process.
pgadmissions@le.ac.uk
Why Leicester?
Course Structure
Course structure
Course structure
In this one-year course you will study two 30-credit modules focussing on Understanding and Managing Children with Social, Emotional and Behavioural Difficulties. These modules together allow you to achieve 60 credits needed for the Postgraduate Certificate in Education: Learning and Teaching.
Modules shown represent choices available to current students. The range of modules available and the content of any individual module may change in future years.
Additional Information
This course is being delivered for 2016/17 only. Students who wish to proceed with studies in this area after this point should contact SEBDA directly regarding other opportunities. Course fees for this programme will be payable directly to SEBDA.
Contact: admin@sebda.org
Teaching and Assessment
This course entails blended learning making full use of the University's Virtual Learning Environment (Blackboard) to create an academic learning community and includes:
A compulsory introductory residential weekend in October, a study day in March, engagement with structured online study work units, online discussion with fellow students and small scale action research in your professional workplace, all supplemented by online tutor support.
The course consists of two 30 credit modules. Module one is assessed by a literature review, reflective journal and an assignment based on your professional experience and practice. Module two is assessed by a literature review, reflective journal and a case study.
Entry Requirements
2:2 degree or above, or equivalent
Qualified teacher status or suitable experience in an educational setting
Please contact us if you are uncertain whether your qualifications are suitable.
English Language Requirements
IELTS 6.5 or equivalent. If your first language is not English, you may need to provide evidence of your English language ability. If you do not yet meet our requirements, our English Language Teaching Unit (ELTU) offers a range of courses to help you to improve your English to the necessary standard.
Fees and Funding
For 2016

The fee for the one year Postgraduate Certificate course is £1,825. However, if you are a member of SEBDA the fee is £1,625.

This course is not available to students from outside the EU.
Career Opportunities
Classroom practitioners and other professionals working in the field of Education may study on the PG Certificate in Education: Learning and Teaching in order to enhance their classroom practice, link current understandings of Social Emotional and Behavioural difficulties and develop the skills necessary to work effectively with this vulnerable group.
Education CPD+ offers a range of professional development opportunities for practicing teachers.
Our PhD opportunities are very popular with those wishing to pursue a particular research interest at doctoral level.
We are committed to training and developing outstanding teachers. We are proud to be able to support the career progression of so many teachers through the courses we offer, many of whom started their journey with us as PGCE students.
Careers
Our Career Development Service is here to support you, with advice on interviews, CVs, work experience, volunteering and more. From the first week to Graduation and beyond, they are here to help you reach your professional goals.
| Course | Qualification | Duration | Start Dates | Availability |
| --- | --- | --- | --- | --- |
| Education: Learning and Teaching | PGCert | 1 year, part-time | October 2016 only | Not currently available; contact admissions. |
Course
Education: Learning and Teaching
Qualification
PGCert
Duration
1 year, part-time
Start Dates
October 2016 only
Availability
Not currently available; contact admissions.