Chemical Research (Green Chemistry)
Chemical Research (Green Chemistry)
MSc, 1 year, full-time
This is for you if... you want to develop knowledge and skills in research techniques and methodologies, specifically focused on environmentally sustainability.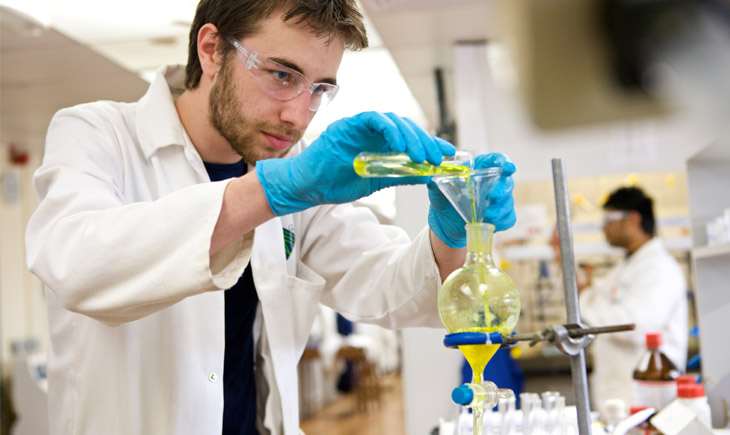 Course Description
On this MSc you will explore modern approaches to chemical products and processes that reduce or eliminate the use and generation of hazardous substances; in other words, how technologically important chemistry can be carried out without harm to the environment. You will consider waste minimisation and atom efficiency, solvent selection, and catalytic and energy efficient processes.
You will study the major methods of separation, purification, and characterisation of compounds and learn how to propose a possible synthetic routes for almost any chemical. You will also be introduced to the wider political and environmental issues which impact on the chemical industry today, not least the legislation and control of hazardous substances.
Why Leicester?
The Department of Chemistry at the University of Leicester has state-of-the-art facilities and strong industrial and international collaborations, ensuring that our research is cutting edge and addresses topical issues.
Our Masters graduates leave us with the knowledge and skills that will enable them to play leading roles in industry, business or in the world of academic research.
Course Structure
Modules
Modules
Advanced Structure Determination
Green Chemistry
Plus your Research Project
Modules shown represent choices available to current students. The range of modules available and the content of any individual module may change in future years.
Teaching and Assessment
Teaching methods include lectures, workshops, independent work, group and team work, supervised study and directed reading. Assessment is a mixture of written exams, marked assignments, assessed problems, oral exam (viva voce), oral presentations and written project reports.
All of our courses are linked to Blackboard, the University's online learning environment which gives you access to lecture notes, self-test exercises, supplementary information and background literature.
Entry Requirements
2:2 degree (or equivalent) in Chemistry or a related subject.
English Language Requirements
IELTS 6.0 or equivalent. If your first language is not English, you may need to provide evidence of your English language ability. If you do not yet meet our requirements, our English Language Teaching Unit (ELTU) offers a range of courses to help you to improve your English to the necessary standard.
International Qualifications
Find your country in this list to check equivalent qualifications, scholarships and additional requirements.
Countries list
Careers
Our Career Development Service is here to support you, with advice on interviews, CVs, work experience, volunteering and more. From Freshers' Week to Graduation and beyond, they are here to help you reach your professional goals.
| Course | Qualification | Duration | Start Dates | Availability |
| --- | --- | --- | --- | --- |
| Chemical Research (Green Chemistry) | MSc | 1 year full-time | September each year | Apply Now |
Course
Chemical Research (Green Chemistry)
Qualification
MSc
Duration
1 year full-time
Start Dates
September each year
Availability