Banking and Finance
Banking and Finance
MSc, 1 year
This is for you if... you want to increase your understanding of the theory and practice of banking and finance and apply that knowledge to your professional activities.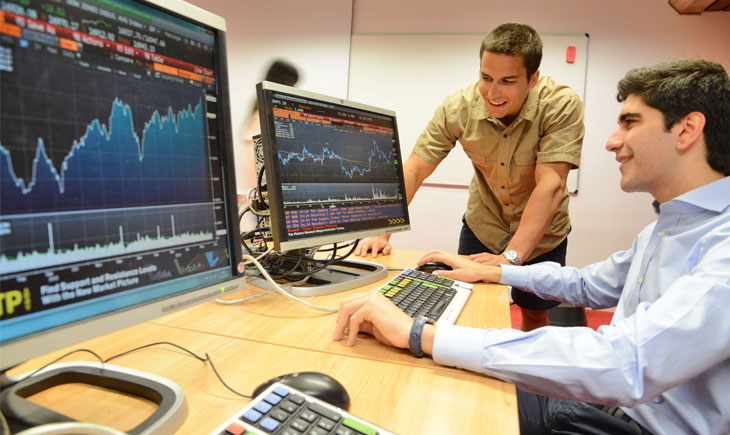 Course Description
The MSc in Banking and Finance provides a comprehensive insight into the principles of banking and finance and is the ideal foundation for a wide range of professional roles. The course combines rigorous academic standards with real-world practical insights and will open up a wide range of career opportunities.
You will gain an advanced understanding of the key theories and concepts of economics, finance and banking and how how these relate to the role of banking institutions in a national and global context. Option modules allow you to specialise in areas including business and financial forecasting, corporate finance, risk management and behavioural finance.
You will gain a strong command of analytical techniques, computing and research methods for problem solving and develop your critical analysis of economic theories and debates. The course will equip you with confidence in the use and presentation of economic arguments in your professional role.
To help you develop the skills that leading employers ask for, and let you see how traders work, we have 12 Bloomberg terminals in the University Library.
This MSc opens up career options as an economist in government, business and many international organisations and is good preparation if you wish to move into banking, more general financial management, the civil service or the financial sector. The course also prepares you for a PhD.
Key Facts
Start date

September each year

Department

School of Business

Contact

MSc Admissions Advisor
School of Business
+44 (0)116 252 2157 or 5113
economicspg@le.ac.uk
Why Leicester?
At Leicester you will be taught by leading experts, who have both an excellent academic reputation and real-world experience.
Academic staff at Leicester have produced research on economic growth and development, economic transition in Eastern Europe, the East-Asia crisis and UK monetary and fiscal policy.
Our staff are regularly consulted by government agencies around the world. We also provide expertise to international economic institutions such as the IMF, OECD and the World Bank.
Course Structure
Semester 1
Semester 1
Modules
Modules shown represent choices available to current students. The range of modules available and the content of any individual module may change in future years.
Semester 2
Semester 2
Core modules
Option modules
Choose two option modules from:
Modules shown represent choices available to current students. The range of modules available and the content of any individual module may change in future years.
Summer Term
Summer Term
Modules
Plus your Dissertation
Modules shown represent choices available to current students. The range of modules available and the content of any individual module may change in future years.
Additional Information
Hong Kong Partnership
Once you are studying here in Leicester you can apply to complete a six-month MSc International Banking and Finance (MIBF) programme in the Department of Economics at Lingnan University in Hong Kong. After completing a 12-month course at Leicester and a six-month course at Lingnan you will receive two MSc degrees - one from each university. You must meet certain criteria while studying at Leicester to be eligible.
You will also have the opportunity to remain in Hong Kong and search for employment, under Hong Kong's Immigration Arrangements for Non-local Graduates, even if you do not hold a formal job offer.
Teaching and Assessment
You will be taught through a combination of lectures, seminars, classes and computer practicals. You will be supported throughout your studies by staff who are also available for private supervision. Each week on average you will receive six to eight hours of lectures and four hours of seminars.
Your course modules will generally be assessed by a combination of exams and coursework projects. Some modules are assessed by demonstrated skills in computing or by seminar presentation where this is appropriate.
Your dissertation, which should be no longer than 5,000 words, will give you experience of a typical task that you may have to undertake in a graduate role. It will demonstrate a great deal of independent research along with analysis, critical thinking and the application of techniques.
Entry Requirements
2:1 degree or equivalent from a recognised university with substantial quantitative analysis and economics
English Language Requirements
IELTS 6.5 or equivalent. If your first language is not English, you may need to provide evidence of your English language ability. If you do not yet meet our requirements, our English Language Teaching Unit (ELTU) offers a range of courses to help you to improve your English to the necessary standard.
International Qualifications
Find your country in this list to check equivalent qualifications, scholarships and additional requirements.
Countries list
Career Opportunities
Our finance and economics courses have been developed to match the needs of employers and are highly regarded within business and government, whether national or international.
We have a strong history of supporting students throughout their studies and beyond into their future careers. Many of our students have gone on to work in major banks, companies, and governments, or pursued careers in academia and education.
A postgraduate qualification from the University of Leicester is career-changing. It can be the spring board to promotion with your current employer, the platform from which to launch a new career, or simply an aid to becoming more effective in your current role.
If you are already in employment, enhancing your career by studying at postgraduate level gives a clear signal to employers that you are committed to developing your skills and knowledge and have studied to a higher level.
Read about some of our recent graduates.
Careers
Our Career Development Service is here to support you, with advice on interviews, CVs, work experience, volunteering and more. From Freshers' Week to Graduation and beyond, they are here to help you reach your professional goals.
| Course | Qualification | Duration | Start Dates | Availability |
| --- | --- | --- | --- | --- |
| Banking and Finance | MSc | 1 year full-time | September each year | Not currently available; contact admissions. |
Course
Banking and Finance
Qualification
MSc
Duration
1 year full-time
Start Dates
September each year
Availability
Not currently available; contact admissions.